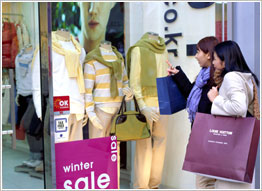 There are several phrases that describe Korea's capital, Seoul - a harmony of the traditional and modern, a center of the IT industry, and a shopper?s heaven. Seoul offers a satisfying shopping experience for all shoppers, from traditional souvenirs, arts, luxury brands, and fashion trends. The products also vary according to the interests of visitors from various parts of the world. Japanese tourists usually shop for kimchi and kim (dried seaweed lavers), which are two of Korea?s major food products. Visitors from Southeast Asia generally visit Dongdaemun Market area to shop for trendy clothes and accessories at bargain prices. European tourists are interested mostly in Asia and Korea?s unique cultural products and souvenirs.

[Shopping Tips]

1. Korean Sizes
Most sizes are measured in centimeters except for the waist size, which goes by inches. Shoe sizes are measured in millimeters.
? Korean size chart

2. Payment Methods
Except for street vendors, most shops follow a fixed price system, and these shops accept international credit cards (VISA, MASTER, etc). If you wish to shop at markets and street vendors, be sure to have cash ready.

3. Currency Exchange
Most banks have separate booths to exchange foreign currency. The banks are the most convenient places to exchange currencies, and business hours are usually 9:30 a.m. - 16:30 p.m., Mon - Fri. Also, the ?356 Days Corner? ATM (English) is usually located next to the banks, which are open from 7 a.m. to 11:30 p.m. Most convenience stores also provide 24-hour ATM services. However, using the banks during normal business hours will offer you the cheapest service charge. Note that service charges may vary according to each bank.
Namdaemun Market and Itaewon districts provide their own foreign currency exchange services, and you can find them through the tourist information centers located in the area.

4. Tax Refund
Shops with ?Tax Free Shopping? signs will provide you with duty free shopping and information for your tax refunds.

5. Refunds
Except department stores and large malls, some stores may not offer refunds for purchased products (especially for sale items), although they do allow customers to exchange items that they bought.

6. Sale Periods
Duty Free Shops: June - August, December - February
Department Stores: January, April, July, October, and December
Other large shopping malls also go on sale around the same time as the department stores do. Namdaemun Market, Dongdaemun Market, and other major markets usually go on sale around early July and mid-January, and the summer and winter sales offer the most discounts with 20-30% off of the regular items, and more than 50% off of items more than 2 or 3 years old.

7. Business Hours
Unlike the U.S. or Europe, Korea?s shopping hours are limitless. Most shops open until 10 p.m., and markets like Dongdaemun Market are open 24 hours. Shops are mostly crowded during holidays and weekends except during the New Year holidays and Chuseok during which most shops close to celebrate Korea?s major holidays. Shops in Myeong-dong and Insa-dong are usually open until 10 p.m., whereas Namdaemun Market and Dongdaemun Market are still open after midnight with shoppers and retailers, giving you a taste of Korea?s late-night shopping culture.

8. Korean Shopping Phrases
Except for duty-free shops or shops in Itaewon, you may run into communication problems. If you know a few Korean shopping expressions, you?ll find your shopping experience more enjoyable and you may even be able to bargain for lower prices.

• Major Shopping Phrases

| | | |
| --- | --- | --- |
| Korean | Pronunciation | Meaning |
| ????? | Eol-ma ye-yo | How much is it? |
| ???. | Bi-ssa-yo | It is expensive. |
| ? ?????. | Jom ggak-a-ju-se-yo | Give me a discount, please. |
| ? ????(????) ???? | Jom ibeo-bado doel-ka-yo? | Can I try it on? |

• Major Shopping Words

| | | | |
| --- | --- | --- | --- |
| ? Ot | Clothes | ??? T-sheo-cheu | T-Shirt |
| ?? Ba-ji | Pants | ?? Shin-bal | Shoes |
| ?? Chi-ma | Skirt | ??? Yeong-su-jeung | Receipt |

Myeong-dong - The Unavoidable N0. 1 Shopping District
[Main Products: Clothes, Accessories and Shoes]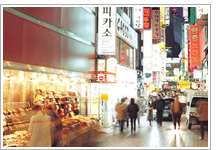 Shopping in Seoul will lead you first and foremost to Myeong-dong. Myeong-dong is quite well known for being a shopping Mecca as well as being a fashion trendsetting district. The side alleys are lined up with mid to low-priced shops selling clothes, accessories, and various restaurants. Each shop is unique in its style of products and interior decorations.
Also, large shopping malls including KOZNEY, Shinsegae, and Lotte Department Store are located in or around Myeong-dong. Namdaemun Market is also only minutes away. If you want to experience Myeong-dong at its best, visit during the sunset hours and enjoy the lively nightlife and the beautiful view of N Seoul Tower set against the horizon.
? Transportation
Take Subway Line No.4 to Myeong-dong Station and go out of Exit No.6. This will lead you to the main street of Myeong-dong.
? For more information, click here!

Namdaemun Market
[Main Products: Food, Tableware, Clothes, Jewelry, Shoes, Eyeglasses, and Cameras]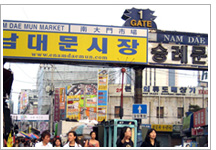 Namdaemun Market is Korea?s largest market, and is surrounded by Myeong-dong and Namsan. The Namdaemun district has been a major business area for merchants since the Joseon Dynasty, dating back 600 years as a commercial district. You can purchase items ranging from everyday necessities (clothes, kitchenware, food, electronics, accessories, etc.) to items such as cameras and eyeglasses. Namdaemun Market also offers Korean food products such as kimchi, kim (seafood dried lavers) and other souvenirs, and also numerous imported items from all parts of the world.
Furthermore, the distributive structure at Namdaemun Market is pretty straightforward from manufacturers to retailers or individual shoppers, offering bargain prices you cannot find anywhere else. Namdaemun Market?s energy, felt among the small crowded streets with merchants shouting out ?cheap! Very cheap,? will most definitely be impressive. The atmosphere at Namdaemun Market is very different from Myeong-dong, so try and stop by the market while you are at Myeong-dong since the two districts are located side by side.
? Transportation
Take Subway Line No.4 to Hwehyeon Station and go out of Exit No.5 which will lead you to the entrance of Namdaemun Market.
? Note
Many shops are closed on Sundays and Korean holidays. Also, Namdaemun Market follows a fixed summer vacation period.
? For more information, click here!

Dongdaemun Market - The Mecca of Fashion
[Main Products: Clothes (including Hanboks), Jewelry, Shoes, and Sports Wear]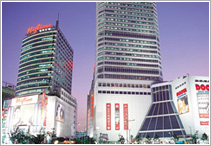 Only fashion! Dongdaemun Market is filled with trendy fashions and fashionable people night and day. You can find all sorts of fashions from your head all the way down to your feet, and also see Korea?s current fashion trends. The prices are affordable as well. Dongdaemun Market is very large, and the shops in the buildings surrounding Dongdaemun Stadium are fashion-related (clothes, materials, etc). Due to its grand scale, even those who frequent the area sometimes get confused.
From Dongdaemun Stadium to Dongdaemun, large shopping buildings such as Doota and Migliore line the street. Across these buildings are shops for retailers such as Jeil Pyeonghwa Market. It is easy to get lost in the crowded area of Dongdaemun at nighttime. Doota Mall is one of the largest buildings, selling clothes, accessories, and more, on segmented floors. You can also find unique products designed by individual shops. Migliore Mall and Hello Apm Mall, located next to Doota offer similar things. However, each shop provides unique items of their own, so it can be quite fun to go around and compare prices before deciding to buy something.
? Tourist Information Center
- Location: Take Subway Line No.2, No.4, No.5 to Dongdaemun Stadium Station and go out of Exit No.1; you will see the Tourist Information Center located 150m from the exit.
- Contact Number: 02-2236-9135
- Language Services: English, Japanese, Chinese Available
- Service Hours: 10:00 - 22:00 (No holidays)
? Transportation
Take Subway Line No.2, No.4, No.5 to Dongdaemun Stadium Station and go out of Exit No.14, walk in the direction of Dongdaemun about 200m down to get to Hello Apm, Migligore, and Doota malls.
? Note
- Korea?s most crowded night scene can be found at Dongdaemun Market. As the night gets darker, this area gets more congested with people and cars. Weekends are especially busy, so if you want to shop during a less crowded time, avoid the weeknights.
- Purchasing Hanboks (Korea?s traditional clothes)
Across the Cheonggyecheon stream from Doota, Dongdaemun Shopping Complex comes into view (take Subway Line No.4 to Dongdaemun Station and go out of Exit No.4), which has many Hanbok shops on the first floor. If you want to purchase a Hanbok as a souvenir, this is the place to go to find beautiful affordable Hanboks.
? For more information, click here!

Insa-dong - Shopping for Korean Traditional
[Main Products: Souvenirs, Traditional Crafts, and Artworks]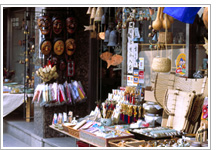 If you want to purchase Korea?s traditional souvenirs, head to Insa-dong. The streets are full of Korea?s historical artifacts, and the alleys are filled with Korean restaurants and traditional teahouses, galleries, antique shops, and more. Looking around Insa-dong will provide you with the experience of appreciating Korea?s traditional past. However, Insa-dong is not all about tradition. It is a harmony of the modern and traditional times. You can find Hanboks designed in a mix and match of the traditional and the modern, and other traditional items with modern features. This is a result of Insa-dong?s efforts to maintain traditional culture and at the same time try to make Insa-dong a refreshing, modernized place for the young and old to enjoy.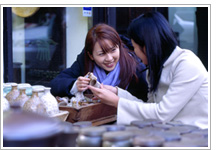 Insa-dong offers not only traditional craftwork, but it is also the largest art market for Korean artwork. Korea?s artists hold one to two-week exhibitions in the many galleries, during which you can purchase the exhibited artwork.
Insa-dong has one main street, along which many small alleys that branch out. The alleys are filled with things to see. Recently, with the creation of Ssamziegil and its unique architecture, many small unique shops are adding to the fun of Insa-dong. Sundays are ?no cars day? and you can walk around without the inconvenience of having to avoid oncoming cars. However, this also means that Sundays are the most crowded, and at the same time various events and street vendors freely come here to put on a show, making a visit on a Sunday to Insa-dong worthwhile.
Located near Insa-dong is Gyeongbokgung Palace and Unhyeungung Palace. You can extend your visit to include these two palaces to immerse yourself in Korean traditions and customs.
? Tourist Information Center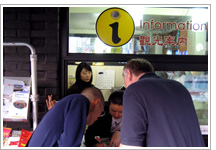 - Location: Take Subway Line No.3 to Anguk Station and go out of Exit No.6, you will find the Tourist Information Center about 20m down. The Tourist Information Center is located at the entrance of Insa-dong Street, and about 100m down along Insa-dong Street is another TIC. You can find detailed information about Insa-dong, a map of Insa-dong, and various other information brochures.
- Contact Number: 02-731-1622
- Language Services: English, Japanese, Chinese Available
- Service Hours: 10:00 - 18:00 (No holidays)
? Transportation
Take Subway Line No.1 to Jonggak Station and go out of Exit No.3, walk toward Jongno 2-ga and make a right at Kum Kang Shoes building.
Or take Subway Line No.3 to Anguk Station and go out Exit No.6, turn onto the street where Crown Bakery is located 30 meters away.
? For more information, click here!

Itaewon - Shopping Street for Everyone from
[Main Products: Clothes, Shoes, Antiques to Tailor Shops]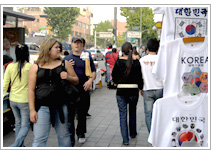 Seoul?s Itaewon has attracted foreigners since the end of the Korean War, and the shops in the district have naturally developed into a commercial area for foreigners residing in Korea. Today, many tourists and residents also hang out in this area. Located near Itaewon are the War Memorial, Leeum Museum, and the Islam Temple.
Hence, Itaewon is the most definite in its district?s distinct features in all of Seoul. Itaewon Street begins at Noksapyeong Station, leading to Itaewon Station, all the way down to Hangangjin Station. The street covers about 1.4km. The street is mostly lined with shops and street vendors on both sides. From Itaewon at Noksapyeong Station?s end to Itaewon Station, the shops mostly sell clothes, shoes, and bags. From Itaewon Station to Hangangjin Station, the streets are mostly lined with antique shops, and furniture shops selling Asian-style furniture.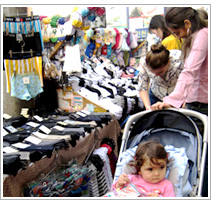 Also located around Itaewon Station are shirt and suit tailor shops, proud of their long history. Itaewon district is filled with items and souvenirs from all parts of the world, restaurants serving all types of international cuisine, and unique bars. You can enjoy shopping during the day and enjoy foods you miss from back home.
? Tourist Information Center
- Location:
1. Inside Itaewon Station (across from the ticket office) 9:00am - 10:00pm (no holidays) Interpreters are available in English, Japanese, Chinese.
2. 20meters toward Hangangjin Station from Itaewon Station 9:00am - 6:00pm Interpreters are available in English and Japanese.
? Transportation: Take Subway Line No.6 to Noksapyeong Station, Itaewon Station, or Hangangjin Station.
? Note
Most merchants, including the street vendors, at Itaewon can speak some English. Try to bargain for better prices in English; if all else fails, try Korean.
? For more information, click here!

Apgujeong
[Main Products: Luxury brand botiques such as CHANEL, FENDI, LUIS VUITTON, PRADA, VERSACE, etc]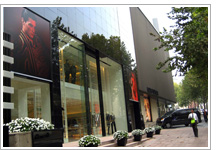 Cheongdam-dong is the Champs-Elyses and the Via Montena Poleone of Seoul. This area is lined with luxurious brand-named boutiques, exquisite restaurants, top of the line hair salons, and high-class galleries. This area has many of Korea?s top celebrities who come by frequently, and if you are lucky you may run into them while shopping. The imported luxury brand boutiques and major designer boutiques are mostly located between Galleria East and Cheongdam-dong intersection. The season?s top quality clothes and accessories are first seen here, and go on sale here.
If you visit this area at the right time, you may be able to purchase luxury brand items for discount prices. The streets are usually fairly empty, and very clean. So enjoy a shopping spree here if you are looking for some top luxury brands.
? Transportation
Take Subway Line No.3 to Apgujeong Station or take Subway Line No.7 to Cheongdam Station, transfer to a taxi to Galleria East. It is about a ten-minute ride from the subway station.
? Foreign Language Service
You will not find much difficulty in communications. The employees have been well trained.
? For more information, click here!

COEX Mall - Underground Shopping City
[Main Products: Clothes, Makeup, Accessories, and Interior Decorations]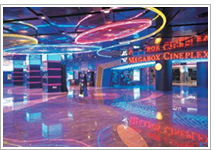 COEX Mall is a huge shopping arcade located beneath Samsung-dong Trade Center in Gangnam-gu. The mall offers shopping, culture, and entertainment, attracting mostly young people in their teens and early twenties. Located nearby are the COEX exhibition halls and international conference rooms, providing convenient shopping for business people.
The entrance to the mall is connected to Subway Line No.2 of Samsung Station, and the walls are named under the theme of ?as the water flows,? with names in the order of Summit Walk, Forest Walk, Lake Walk, Waterfall Walk, Canyon Walk, Riverside Walk, Tropics Walk, Ocean Walk, etc. This watercourse leads you to the Lake Food Court, the event hall featuring various music performances and plays, the large bookstore Bandi & Luni?s, the Valley Six fashion mall housing trendy shops selling clothes and accessories, and the Megabox Cineplex with 16 theaters. Also, Korea?s largest aquarium is located inside COEX Mall.
COEX Mall has about 100 various types of shops, and with more than just shopping. Time flies when you are inside COEX Mall. The mall also holds various events, attracting numerous young visitors.
? Location: 159, Samsung-dong, Gangnam-gu, Seoul
? Transportation
Take Subway Line No.2 to Samsung Station between Exit No.5 & No.6. (The Millennium Plaza, Megabox Cineplex, COEX Intercontinental Hotel, and the arcade all connect.)
? Homepage: www.coexmall.com (English)
? For more information, click here!

I'PARK MALL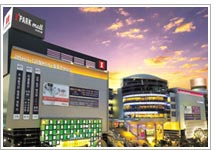 Connected to Yongsan Station, I?PARK MALL is conveniently accessible. Its original name was Space 9, but after renovation it reopened as I?PARK MALL. This shopping complex has made Yongsan Station more dynamic. The best feature of I?PARK MALL is its facilities consisting of a multiplex theater, shopping mall and food courts.
The electronics shops are located on the 3, 4, 5, 8 floors. On the 3rd floor, which is connected to Yongsan Station, are products such as MP3s, digital cameras and small household appliances. The 4th floor sells mid-sized household appliances and the 5th floor offers notebooks and computers. The 8th floor, one of the most crowded floors, sells cellular phones. Along with the digital electronics mall, the I?PARK Department Store is located across the street, with the Living Shopping Mall and Leports Shopping Mall providing a wide variety of shopping. The multiplex theater has 11 theaters and has a food court.
I?PARK MALL has a large parking area for your convenience, and depending on how much you spend shopping, the parking is free.
- Business Hours: 10:30 a.m.~ 8 p.m. (extended business hours on weekends)
- Closed for business on Mondays, which is posted on the homepage.
? Location: Seoul, Yongsan-gu, Hangang-no 3 ga 40-999
? Transportation
Get off at Yongsan Subway Station (Line No. 1) or Sinyongsan Subway Station (Line No. 4) an walk through the linked pathway
? Homepage: http://www.iparkmall.co.kr/ (English, Japanese, Chinese)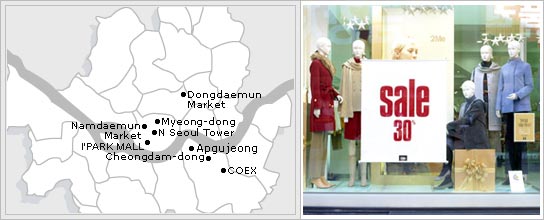 * This information is derived from KOREA TOURISM ORGANIZATION.