Managing coronary artery disease (CAD) in patients undergoing transcatheter aortic valve replacement (TAVR) means treading the delicate benefit-risk balance of coronary intervention, an expert said recently.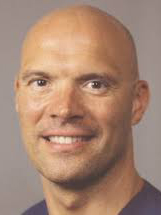 "CAD and TAVR often coincide, but the need for coronary revascularization before or after remains unsettled, indicating the decision may depend on patient characteristics like age and comorbidities," Nicolas M. Van Mieghem, MD, PhD(Erasmus University Medical Center, Rotterdam, Netherlands) said at TCTAP 2022 on Apr 28.
"It's always a balancing act when treating significant stenosis before or after TAVR," he said. "Although word is still out on the best strategy, multiple trials like TAVI-PCI and POTUS are ongoing for controversial pre- and post-TAVR PCI issues."
TAVR is a minimally invasive procedure that replaces a diseased aortic valve with a prosthetic, or man-made, valve for patients with aortic stenosis (AS), characterized by narrowing valves.
Since the U.S. Food and Drug Administration (FDA) approval in 2011, TAVR has become standard of care for patients with severe AS who are ineligible for surgical aortic valve replacement (SAVR). The procedure also gained expanded indications for younger, lower-risk populations.
To treat or not to treat: co-existing CAD with AS
The prevalence of CAD in patients with severe AS is reportedly high, with studies showing at least half of AS patients with co-existing CAD.
However, the issue of CAD diagnosis and treatment in AS patients undergoing TAVR has evolved into one of major controversy, owing to inconsistent study findings on the treatment of CAD and subsequent TAVR outcomes.
The exclusion of patients with non-revascularized CAD in major TAVR trials like the PARTNER I and U.S. CoreValve High Risk Study also confounded the development of standard treatment for TAVR candidates with CAD in guidelines.
Issues of coronary access after TAVR have also become an increasing problem, indicating the need for a feasible and reproducible post-TAVR CAD treatment strategy.
Particularly, the expansion of TAVR into lower-risk patients with longer life expectancy foreshadows more repeat coronary angiographies and revascularization with percutaneous coronary intervention (PCI) after the procedure.
"The question is when to treat significant stenosis – before or after TAVR," Mieghem said. "There are benefits and risks for both, so it's not a one-size-fits-all approach since some patients need valve implants first while others require priority CAD treatment."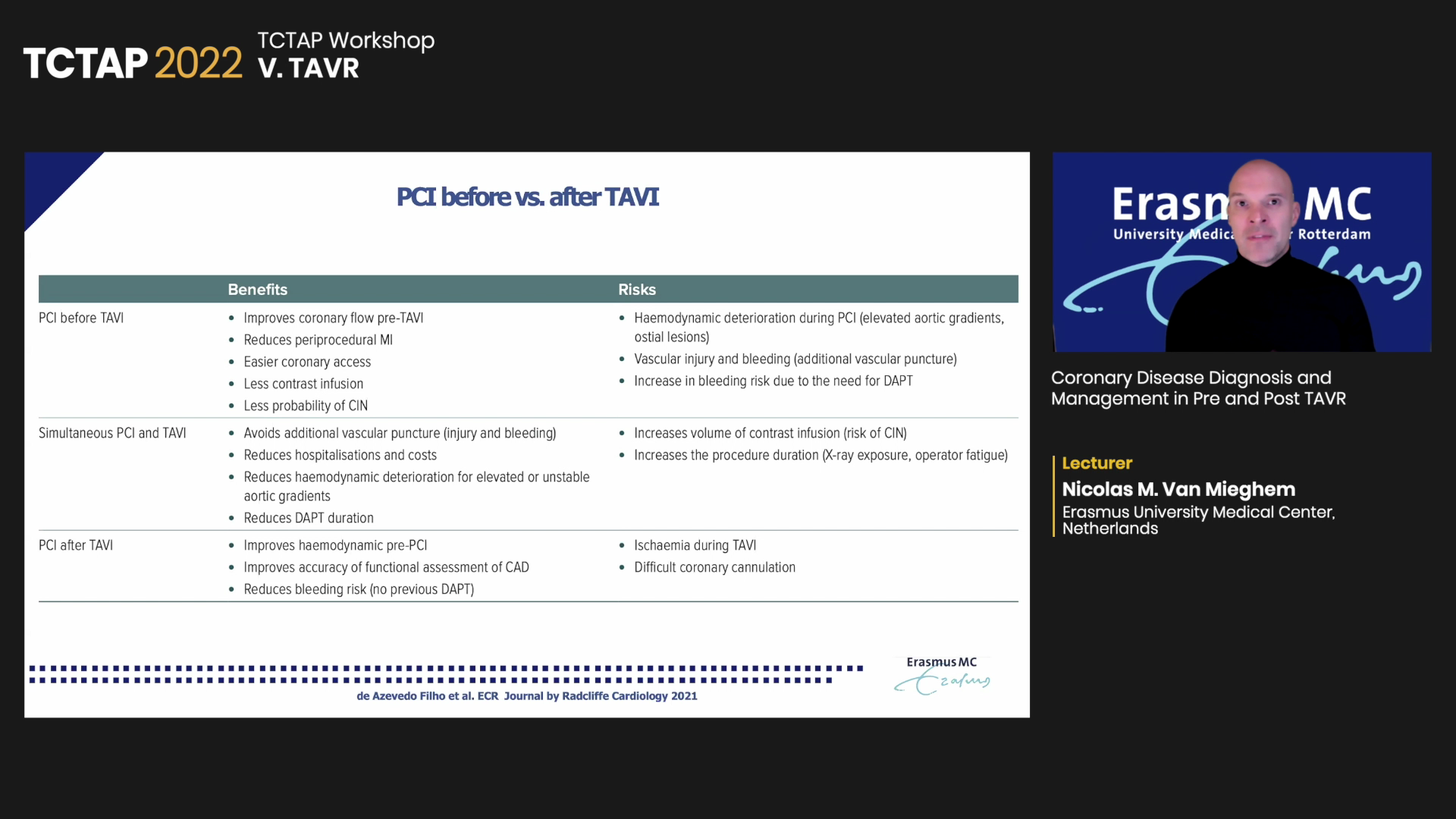 'Impact of complete revasc, pre-TAVR PCI not significant'
Mieghem noted that the lack of a standard CAD management strategy calls for assessing patient and valve characteristics to determine the benefits and risks of PCI before TAVR.
A single-center cohort study on 250 patients who received either complete or incomplete revascularization found no difference in overall survival between the two groups, and patients with complete revascularization gained only "modest" reductions in the SYNTAX score compared to those with incomplete revascularization.
The results were replicated in the small randomized ACTIVATION trial that compared pre-TAVR PCI versus no pre-TAVR PCI in 235 elderly patients at intermediate-risk at 17 centers in the U.K. (mean age 83, STS score 4.4).
Findings showed no significant improvement with pre-TAVR PCI over no coronary intervention at 1-year for the primary composite endpoint (PCI arm 41.5% vs. no-PCI arm 44.0%; difference -2.5%; 1-sided upper 95% CI limit: 8.5%; 1-sided noninferiority test P = 0.067). PCI also had higher rates of mortality (13.4% vs. 12.1%) and all-cause bleeding (p=0.021).
"If we compare the outcomes of complete revascularization versus incomplete revascularization –and we're talking about more than 250 patients – there was basically no difference between the two," Mieghem said. "RCT data also shows no clinical impact with PCI, which had increased bleeding risk due to the more intense antithrombotic regime."
Post-TAVR coronary access
For coronary access after TAVR, Mieghem stressed the importance of valve specifications and the relationship between transcatheter heart valves (THV), coronary physiology and aortic root anatomy, among the numerous known determinants.
Post-TAVI determinants of coronary access
Patient-related:
TAV-related (procedure):
Abnormal, difficult or height take-off of coronary
VIV TAV-in-TAV
Length and calcification volume of the native valve
Commissural alignment
Height or width of the aortic bulb
TAV type
Sinus of Valsalva dimensions
Implantation height
Sinotubular junction dimensions
TAV/Sinus of Valsalva relation
"The spatial relationship between the valve frame, sinuses and coronary ostia is important, as is the push-away of the native/bioprosthetic leaflets compared to sinuses and coronary ostia," he said. "You need to be aware of the specifics of the valve being implanted and confirm details like the fabric of the skirt ceiling, height of the fabric and framework."
A previous study on the risk of impaired coronary access and obstruction after redo TAVR showed that 96% of CoreValve patients had coronary access issues versus only 4% of patients with a balloon expandable valve (BEV).
The findings triggered an editorial that identified coronary height, transcatheter frame height, THV leaflet height, commissural alignment and THV to coronary distance as the most important factors for coronary access.
"Expect no issues with a valve remaining below the coronary ostia," Mieghem said. "But when interacting with the ostia, the commissural alignment and the distance between the valve and wall become important."
The RE-ACCESS study further found that the use of Evolut R/PRO transcatheter aortic heart valves (TAV) (OR 29.6; 95% CI, 2.6-335.0; p<0.01); the TAV–sinus of Valsalva relation (OR 1.1 per 1-mm increase, 95% CI: 1.0-1.2; p<0.01); and the mean TAV implantation depth (OR 1.7 per 1-mm decrease, 95% CI, 1.3-2.3; p<0.01) were independent predictors of unsuccessful coronary cannulation after TAVR, and a state-of-the-review confirmed the importance of aortic root dimensions.
"These findings elegantly demonstrate that coronary access, which was 100% before TAVR, became more difficult after the procedure, especially for the right coronary in a third of patients," Mieghem said. "Also, more time and more contrast were needed after TAVR to re-access for both the right coronary and left coronary artery"
"In principle, PCI can be done in a standard fashion if selective access to the coronary ostia is possible, but if coronary cannulation is difficult, changing the guiding catheter or changing the frame cell could help. If unsuccessful, the 'fishing technique' with hydrophilic wire and guiding catheter extension may be useful.
"As the lifetime management of CAD after TAVR becomes essential, further research is needed to understand the THV-aortic root anatomy relationship and the value of coronary physiology before and after TAVR."
Edited by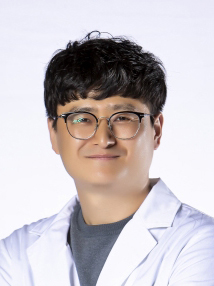 Sang-Cheol Cho , MD
Yeosu Jeil Hospital, Korea (Republic of)
Written by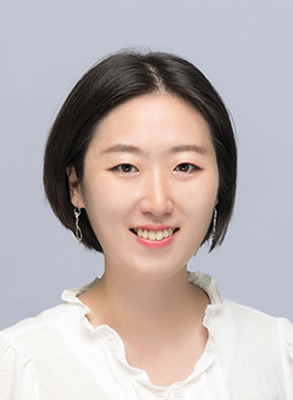 Mieghem declared research grant support from Abbott Vascular, Boston Scientific, Edwards Lifesciences, Medtronic, PulseCath, Daiichi Sankyo, Teleflex, Abiomed and Pie Medical