Lots of interesting abstracts and cases were submitted for TCTAP 2021 Virtual. Below are accepted ones after thoroughly reviewed by our official reviewers. Don't miss the opportunity to explore your knowledge and interact with authors as well as virtual participants by sharing your opinion!
TCTAP C-015 . Presentation
Presenter
Tanveer Iqbal Penwala
Authors
Tanveer Iqbal Penwala1, Nay Thu Win1, Jayakhanthan Kolanthaivelu1
Affiliation
National Heart Institute, Malaysia1,
TCTAP C-015
CORONARY - Acute Coronary Syndromes (STEMI, NSTE-ACS)
Wellen's Syndrome: The Widow Maker - A Pre-infarction State of Coronary Artery Disease
Tanveer Iqbal Penwala1, Nay Thu Win1, Jayakhanthan Kolanthaivelu1
National Heart Institute, Malaysia1,
Clinical Information
Patient initials or Identifier Number
Mr K I
Relevant Clinical History and Physical Exam
69-year-old gentlemen, non-smoker with underlying hypertension with no prior history of IHD presented with intermittent central chest pain for 1 week which worsen on the day of presentation. It was associated with diaphoresis and palpitation. BP was stable. Lungs were clear. No audible murmur heard on cardiovascular examination.
Relevant Test Results Prior to Catheterization
Trop I was elevated on presentation. Patient was admitted with diagnosis of NSTEMI. However, Trop I was further elevated on Day 2 of admission 1159 to 40413. ECG on day 2 showed evolving change biphasic T wave in V2 and V3, a characteristic finding of Wellen's syndrome.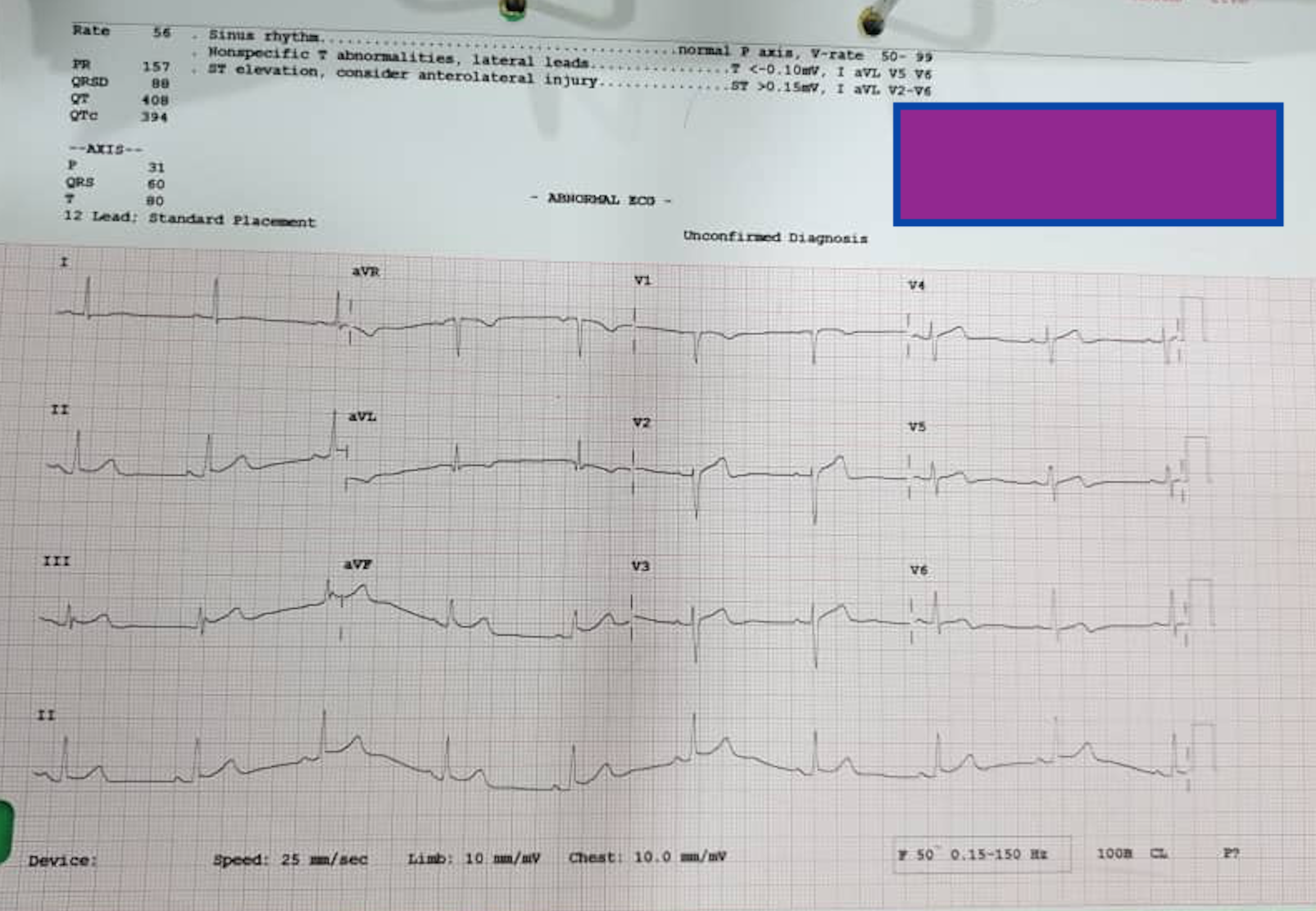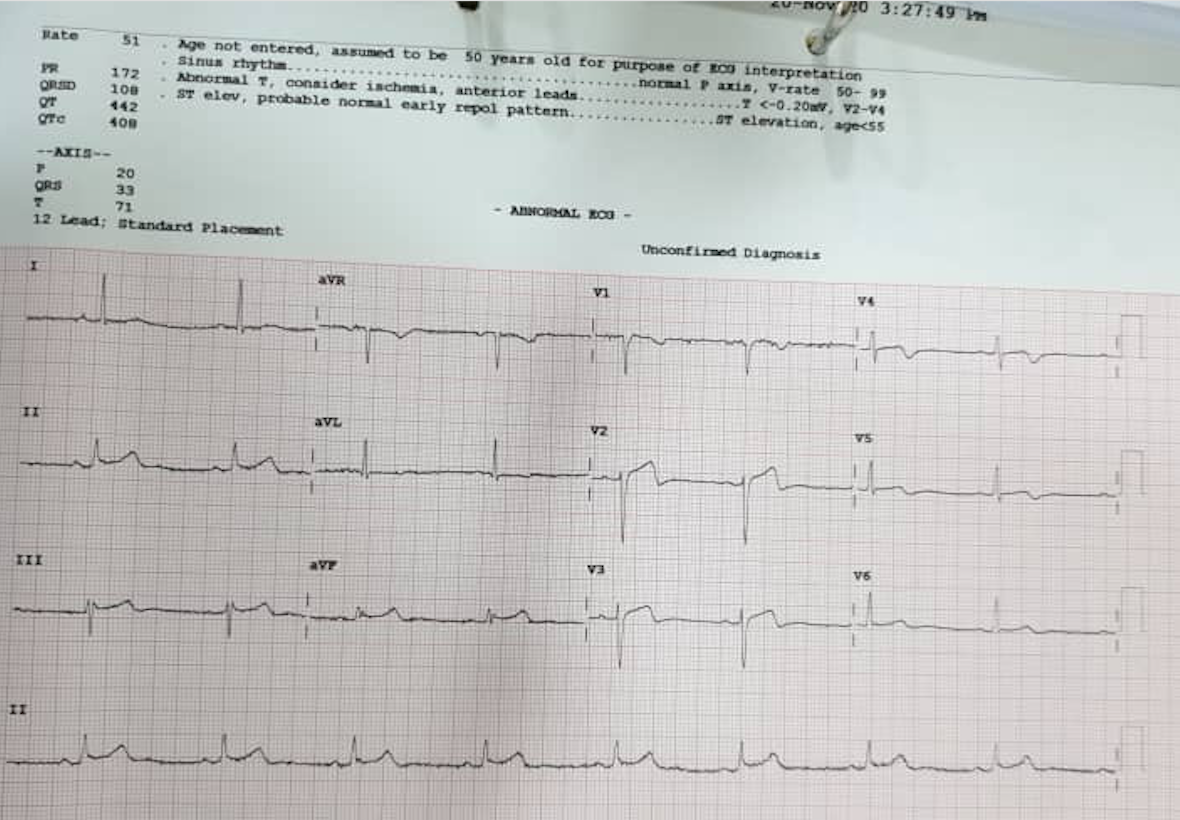 Relevant Catheterization Findings
Coronary angiogram was done using right radial approach. 6 F radial sheath and OPTITORQUE (Terumo) 5F diagnostic catheter used. The left main stem was normal. There was severe proximal LAD stenosis. There was a mild disease at bifurcation of first obtuse marginal branch and there was mild disease in proximal RCA.

Ap Caudal.avi

AP Cranial.avi

LAO.avi
Interventional Management
Procedural Step
Patient was informed and we decided to proceed with PCI of the LAD. EBU 3.5 /6F guiding catheter was used to engage the left coronary artery. The LAD was wired with Runthrough Floppy wire (Terumo) and diagonal was wired with ASAHI Sion Blue (Asahi Intecc). The lesion was predilated with Sapphire II Pro (OrbusNeich) 2.5x 15mm at 10-12 atm. The lesion was stented with Resolute Onyx (Medtronic) 3.5 x 18 mm at 12-14 atm. Lesion was finally postdilated with Sapphire II NC (OrbusNeich) 3.5 x 12mm. at 14 -20atm. Final view was taken at several views. Good results with TIMI III flow seen.

predilation.avi

stent.avi

Final View.avi
Case Summary
Wellen's syndrome has a characteristic ECG pattern, particularly deep inverted or biphasic T waves in V2 -V3. This syndrome represents a pre-infarction state for coronary artery. It is highly specific for critical stenosis of proximal LAD. This sinister nature of this lesion is why it is also called a widow maker. Patients with these patterns of ECG are at high risk for extensive anterior myocardial infarction. If seen in a non-PCI hospital, it should prompt immediate cardiologist consultation. The definite treatment for this condition is procedural and not medical. Timely referral and procedure are needed to reduce the mortality in these patients.
Leave Comments
TCTAP 2021 Virtual
Apr 12, 2021
Very interesting study!