Lots of interesting abstracts and cases were submitted for TCTAP 2021 Virtual. Below are accepted ones after thoroughly reviewed by our official reviewers. Don't miss the opportunity to explore your knowledge and interact with authors as well as virtual participants by sharing your opinion!
TCTAP C-113 . Presentation
Presenter
Chak Yu So
Authors
Chak Yu So1, Guson Kang2, Marvin Eng3
Affiliation
Prince of Wales Hospital, Hong Kong, China1, VAPAHCS & Stanford Health Care, USA2, Henry Ford Hospital, USA3,
TCTAP C-113
STRUCTURAL HEART DISEASE - Valvular Intervention: Mitral or Tricuspid
Chase the Leak - A Case of Valve-in-Ring with Mitral PVL Closure
Chak Yu So1, Guson Kang2, Marvin Eng3
Prince of Wales Hospital, Hong Kong, China1, VAPAHCS & Stanford Health Care, USA2, Henry Ford Hospital, USA3,
Clinical Information
Patient initials or Identifier Number
CT
Relevant Clinical History and Physical Exam
CT is a 75-year-old jehovah's witness with a history of Ca breast, chemotherapy induced cardiomyopathy, atrial fibrillation and severe mitral regurgitation with prior mitral valve annuloplasty using a 30mm St Jude Saddle Ring. She presented with 6 months of worsening shortness of breath.
Relevant Test Results Prior to Catheterization
Her echocardiogram found recurrent severe mitral regurgitation due to leaflet tethering and a partial mitral ring dissidence, and LVEF 30%.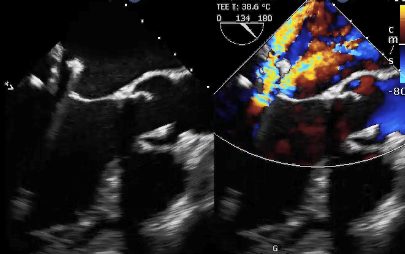 Relevant Catheterization Findings
Heart team deems her inoperable candidate due to frailty and status of jehowah's witness refusing any blood product transfusion. Mitral valve edge to edge repair was thought to be challenging due to presence of mitral ring, restricted posterior leaflet and shadowing by the ring in imaging the posterior leaflet during intra-procedural TEE. In view of these, heart team recommended for transseptal transcatheter mitral valve replacement - valve in ring, with transcatheter ring dissidence repair.
Interventional Management
Procedural Step
Transseptal TMVR was performed using a 26mm SAPIEN 3 valve. Mitral paravalvular leak was repaired with 2 occluder devices (VSD 8mm and ADO2 6/4 devices). Yet procedure was complicated with iatrogenic ring dehiscence over lateral trigon region, and one of the occluder device was found to interact with the newly implanted S3 valve leaflet leading to new valvular and paravalvular leak. We implanted a new S3 valve inside the newly implanted S3 valve and eliminated the intra-valvular leak. Afterwards, we also repaired the new paravalvular leak with a ADO2 device. The valve was stable in position and the leak reduced to trace-mild.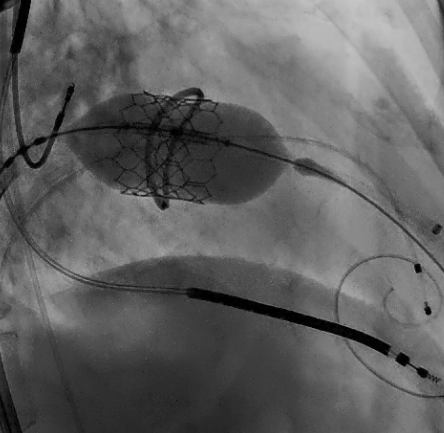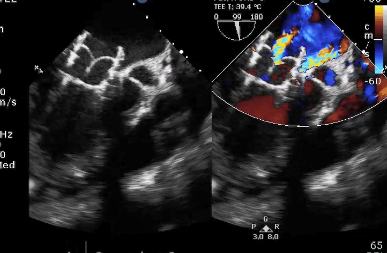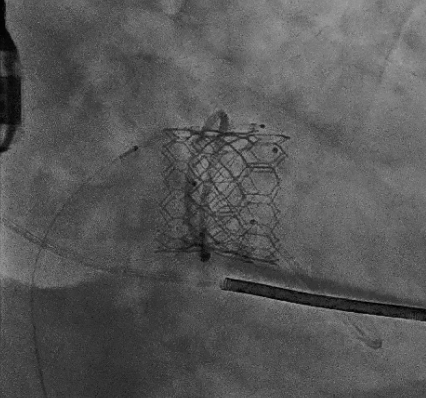 Case Summary
Learning points: 1. TMVR with PVL Closure is feasible to tackle recurrent mitral regurgitation post mitral ring annuloplasty with ring dehiscence. 2. Obtaining access across the ring dehiscence before TMVR valve implantation is important to avoid wiring crossing into newly implanted valve stent strut3. Valve in ring TMVR could result in ring dehiscence, commonly at trigone region4. Be ready to chase the leak in all VIR TMVR
Leave Comments
TCTAP 2021 Virtual
Apr 12, 2021
Great case study! It's very interesting and educational.