Lots of interesting abstracts and cases were submitted for TCTAP 2021 Virtual. Below are accepted ones after thoroughly reviewed by our official reviewers. Don't miss the opportunity to explore your knowledge and interact with authors as well as virtual participants by sharing your opinion!
TCTAP C-095 . Presentation
Presenter
Kala Jeethender Kumar
Authors
Kala Jeethender Kumar1
Affiliation
Nizam's Institute of Medical Sciences, India1,
TCTAP C-095
IMAGING AND PHYSIOLOGIC LESION ASSESSMENT - Imaging: Intravascular
OCT Guided PCI of Left Main Coronary Artery with Single Stent Strategy
Kala Jeethender Kumar1
Nizam's Institute of Medical Sciences, India1,
Clinical Information
Patient initials or Identifier Number
JI
Relevant Clinical History and Physical Exam
55-Year-old male, with a history of Hypertensive, known smoker presented with chest pain in Emergency room.Examining the patient we found out that his pulse was 80 per minute and Blood pressure was 120/80
Relevant Test Results Prior to Catheterization
Investigation revealed Hb – 12.5gm/dl, Serum Creatinine – 1.2mg/dl, Blood urea -42 mg/dl, RBS – 105 mg/dl. ECG showed evolved AWMI. 2D echo showed RWMA presented in LAD territory. Moderate LV function, EF – 45%.
Relevant Catheterization Findings
Coronary Angiogram Revealed Left main coronary artery to LAD disease.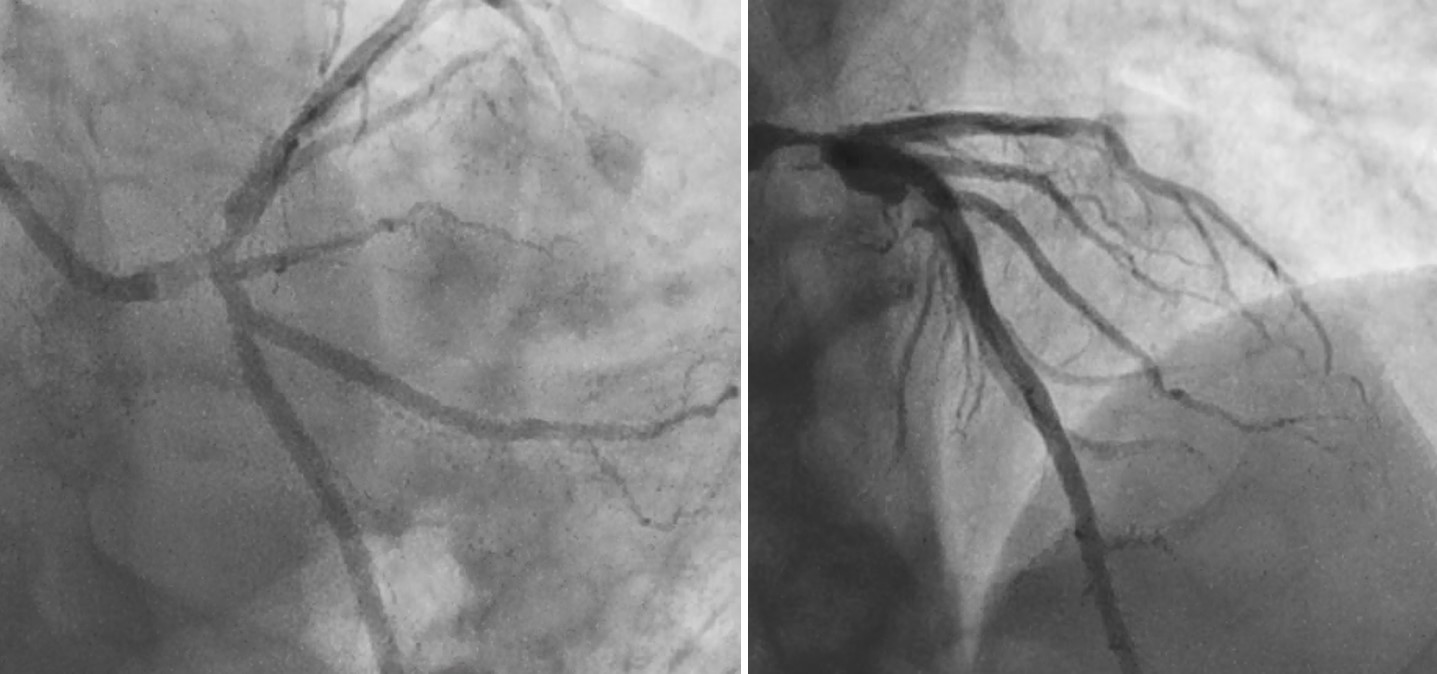 Interventional Management
Procedural Step
Procedure performed through right radial 7Fr EBU 3.5 guiding catheter. Check angiogram reveled LMCA to LAD disease. 0.014 Cougar XT wire placed in LAD and LCX. Pre-procedure OCT showed proximal to mid LAD thrombotic lesion. Proximal to mid LAD direct stenting done with 3.0x28mm Xience prime stent (DES). Then LMCA to LAD direct stenting done with 4.0x15mm Xience prime stent(DES). POT of LMCA done with5.0x8mm NC Balloon. Post OCT showed well apposed stent struts, no edge dissection and no malapposition. Final Angio showed good TIMI-III Flow without any dissection. Patient was discharged on 3
rd
post-procedure day in a stable status.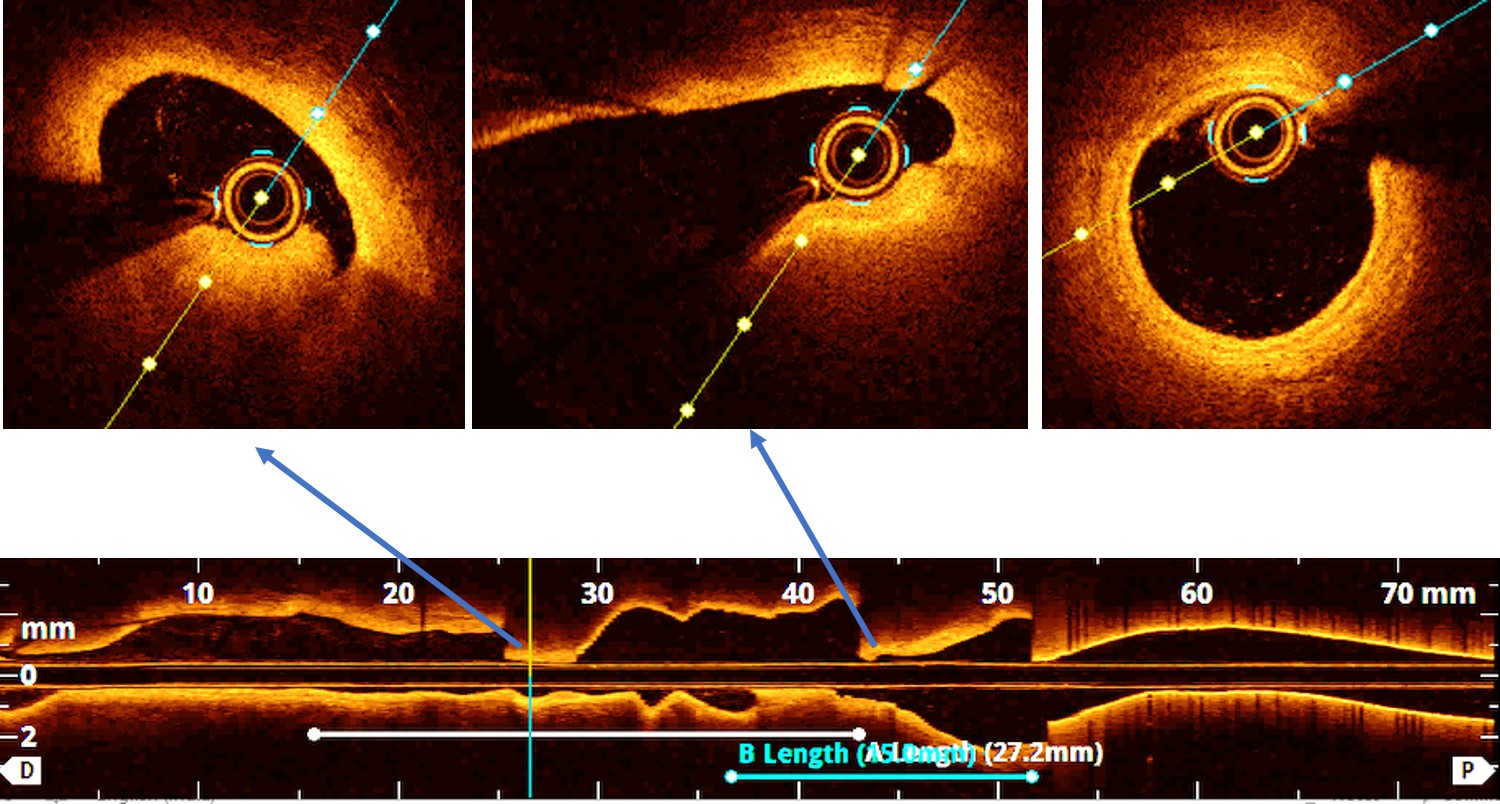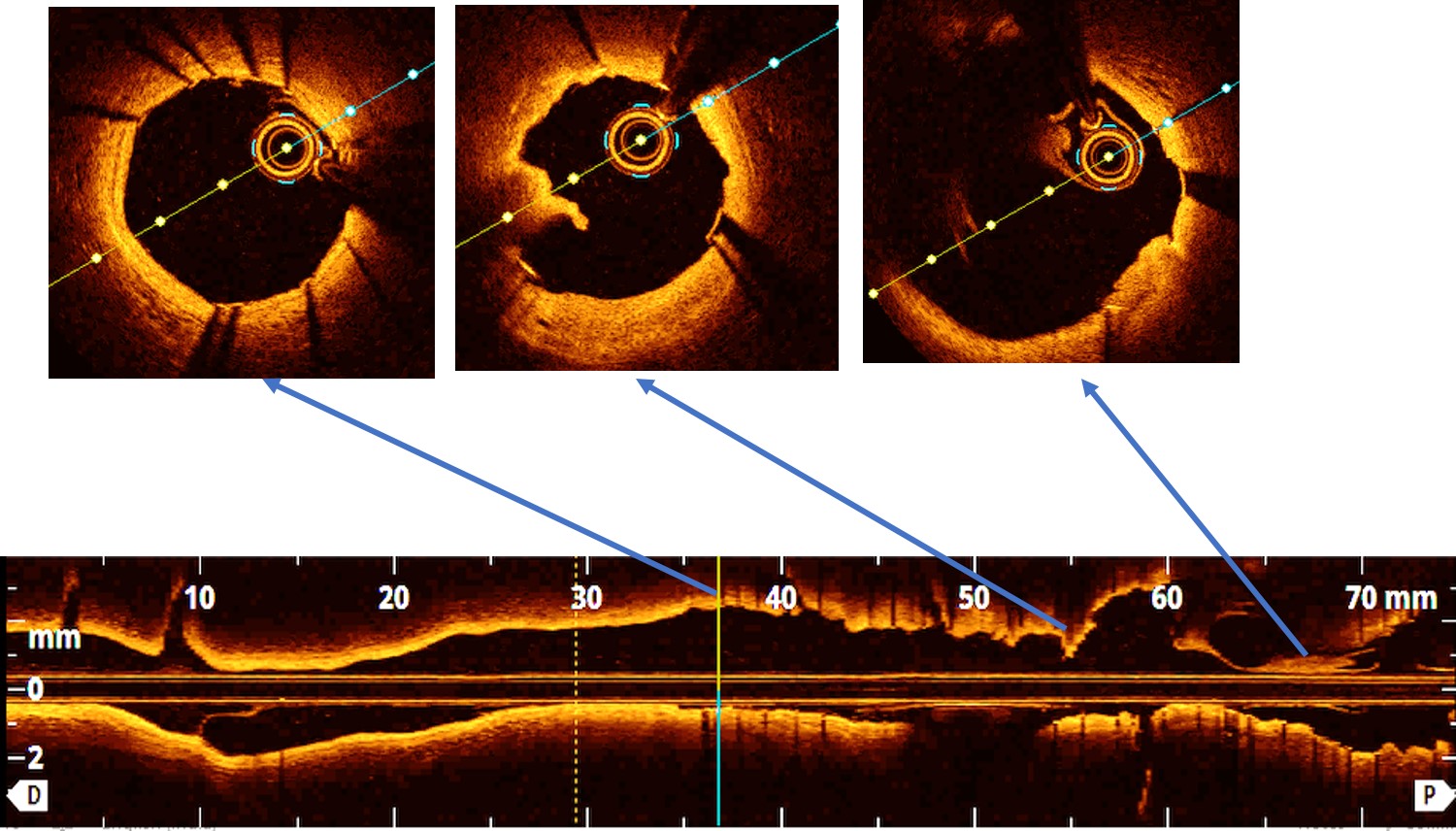 Case Summary
OCT guided left main stenting is avalidated and safe method at specially in provisional stent strategy.OCT enables better identification ofincomplete stent apposition and ideal for optimizing stenting in the LMCA.
Leave Comments
TCTAP 2021 Virtual
Apr 12, 2021
Excellent management! Thank you for sharing it.