Lots of interesting abstracts and cases were submitted for TCTAP 2021 Virtual. Below are accepted ones after thoroughly reviewed by our official reviewers. Don't miss the opportunity to explore your knowledge and interact with authors as well as virtual participants by sharing your opinion!
TCTAP C-052 . Presentation
Presenter
Shang-Ju Wu
Authors
Shang-Ju Wu1, Chin Hung Lai1
Affiliation
Taichung Veterans General Hospital, Taiwan1,
TCTAP C-052
CORONARY - Complex and Higher Risk Procedures for Indicated Patients (CHIP)
Multimodalities to Achieve Complete Revascularization for Sequential Undilatable Calcified Lesions
Shang-Ju Wu1, Chin Hung Lai1
Taichung Veterans General Hospital, Taiwan1,
Clinical Information
Patient initials or Identifier Number
Mr. Mo
Relevant Clinical History and Physical Exam
A 90-year-old man, Mr. Mo with past medical history of hypertension was referred to our hospital, with diagnosis of non-ST-elevation myocardial infarction (NSTEMI), pulmonary edema, acute respiratory failure status post intubation and cardiogenic shock with inotropic support. Physical examination showed regular heart beats, S3 and S4 gallops, unpalpable heart impulse, and elevated jugular venous pressure.
Relevant Test Results Prior to Catheterization
Blood test showed acute hepatitis (ALT 870 U/L), acute kidney injury (AKI) (baseline serum creatinine 0.8 mg/dL, 1.97 mg/dL this time), elevated troponin-T (6275 ng/L) and NT-pro BNP >35000 pg/mL. Echocardiogram disclosed left ventricular lateral wall akinesia, LVEF 23% with moderate to severe mitral regurgitation.
Relevant Catheterization Findings
Coronary angiography (CAG) showed triple-vessel coronary artery disease (CAD) with diffuse heavy calcification over the ostial to proximal right coronary artery (RCA), distal left main coronary artery (LMCA) to middle left anterior descending artery (LAD), and chronic total occlusion of left circumflex artery (LCX).
Interventional Management
Procedural Step
Fielder FC GW was advanced to LAD-d. NC 2.0 mm balloon catheter (BC) could not cross LAD-p. We tried to exchange the wire with the Finecross microcatheter for rotational atherectomy, but Finecross failed to cross LAD-p either. Therefore, we used Turnpike Gold to ablate LAD-p calcification. After tunneling successfully through LAD-p, with Guideliner coverage, we sequentially dilated proximal to distal LAD with small BC. Due to critical calcified stenosis, the balloons did not reach full expansion, so we proceeded to rotablation. We exchanged Fielder FC by Finecross with Rota wire and then proximal to mid LAD was debulked with 1.25 and 1.5 mm Burr smoothly. Considering the highly tortuous calcified vessel might cause wire bias and even coronary perforation, we didn't perform rotablation further at that moment, and decided to perform proximal to mid LAD stenting first. A Resolute Onyx 3.5 x 38 mm was deployed at from LMCA-d to mid-LAD. The instent was further post-dilated by NC 3.75 and 4.0 mm BC. Then, we tried to advance the 1.25 mm rotablation Burr to cross LAD-p instent but failed due to extreme tortuosity. Small BC was dilated at mid to distal LAD, but severe recoil developed. So we used NSE Alpha 2.75 x 13 mm scoring BC, and eventually improving blood flow was seen. A Resolute Onyx 2.5 x 26 mm was deployed at LAD-d and a Resolute Onyx 3.0 x 26 mm at LAD-m. After post-dilation, final angiogram showed full expansion of the three stents with a TIMI III flow.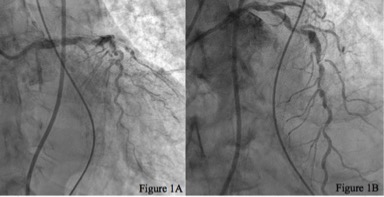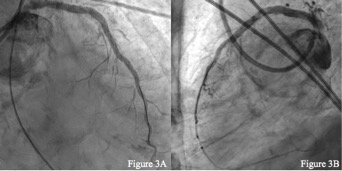 Case Summary
Here we present a case with sequential undilatable calcified coronary lesions along a single vessel. It is essential to examine the physician's own devices and establish a strategy for undilatable calcified lesions. If sequential small balloon dilation fails, you may try cutting balloons or scoring balloon. If the balloon cannot cross the stenotic calcified lesions, manual tunneling devices or rotational atherectomy may help debulk the lesions. With the progress of modern coronary interventional devices, setting up a toolbox and a strategy for complex intervention is necessary to achieve an optimal result.
Leave Comments
TCTAP 2021 Virtual
Apr 12, 2021
Congratulations on the successful result!