Lots of interesting abstracts and cases were submitted for TCTAP 2021 Virtual. Below are accepted ones after thoroughly reviewed by our official reviewers. Don't miss the opportunity to explore your knowledge and interact with authors as well as virtual participants by sharing your opinion!
TCTAP C-059
Presenter
Viroj Muangsillapasart
Authors
Viroj Muangsillapasart1, Tanyarat Aramsareewong2
Affiliation
Chulabhorn Hospital, Thailand1, Phramongkutklao Hospital, Thailand2,
TCTAP C-059
CORONARY - Complex and Higher Risk Procedures for Indicated Patients (CHIP)
Coronary Artery Perforation
Viroj Muangsillapasart1, Tanyarat Aramsareewong2
Chulabhorn Hospital, Thailand1, Phramongkutklao Hospital, Thailand2,
Clinical Information
Patient initials or Identifier Number
610004097
Relevant Clinical History and Physical Exam
A 69-year-old Thai male with no known underlying disease presented with typical chest discomfort on exertion for several months.The previous coronary angiogram revealed TVD and PCI to RCA was performed 4 weeks ago. On this admission, he was arranged for elective PCI to LAD. His blood pressure was 130/70 mmHg and physical examination showed unremarkable finding.

Relevant Test Results Prior to Catheterization
Laboratory tests were within normal limits with serum LDL cholesterol of 110 mg/dL. A 12-lead electrocardiogram revealed normal sinus rhythm with TWI in the anterior leads and pathological Q wave in the inferior leads. Baseline echocardiography demonstrated normal LV ejection fraction 60% which was no regional wall motion abnormality.
Relevant Catheterization Findings
Baseline angiogram showed diffuse 90% LAD stenosis from ostial to mid segment. Severe calcification was seen in proximal LAD. A 6 French EBU 3.5 guiding catheter was advanced into the left coronary ostium and a 0.014 Sion wire was placed in LAD. A 2.5x15 SC balloon and 2.5x20 NC scoreflex were used for predilatation at proximal segment which was not fully dilated. Therefore, rotablation procedure with 1.5 mm burr accompanied by short ablation run was applied to the LAD for debulking the calcified lesion.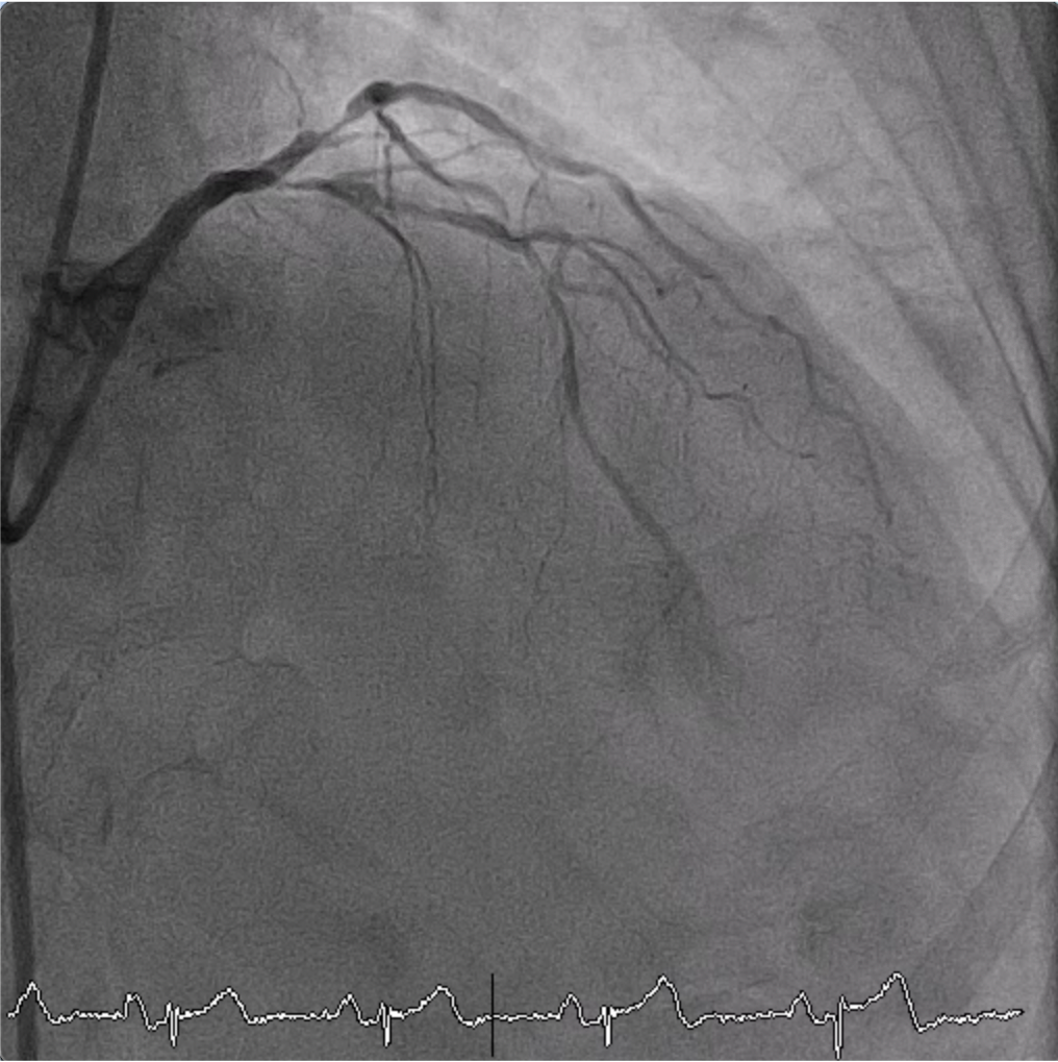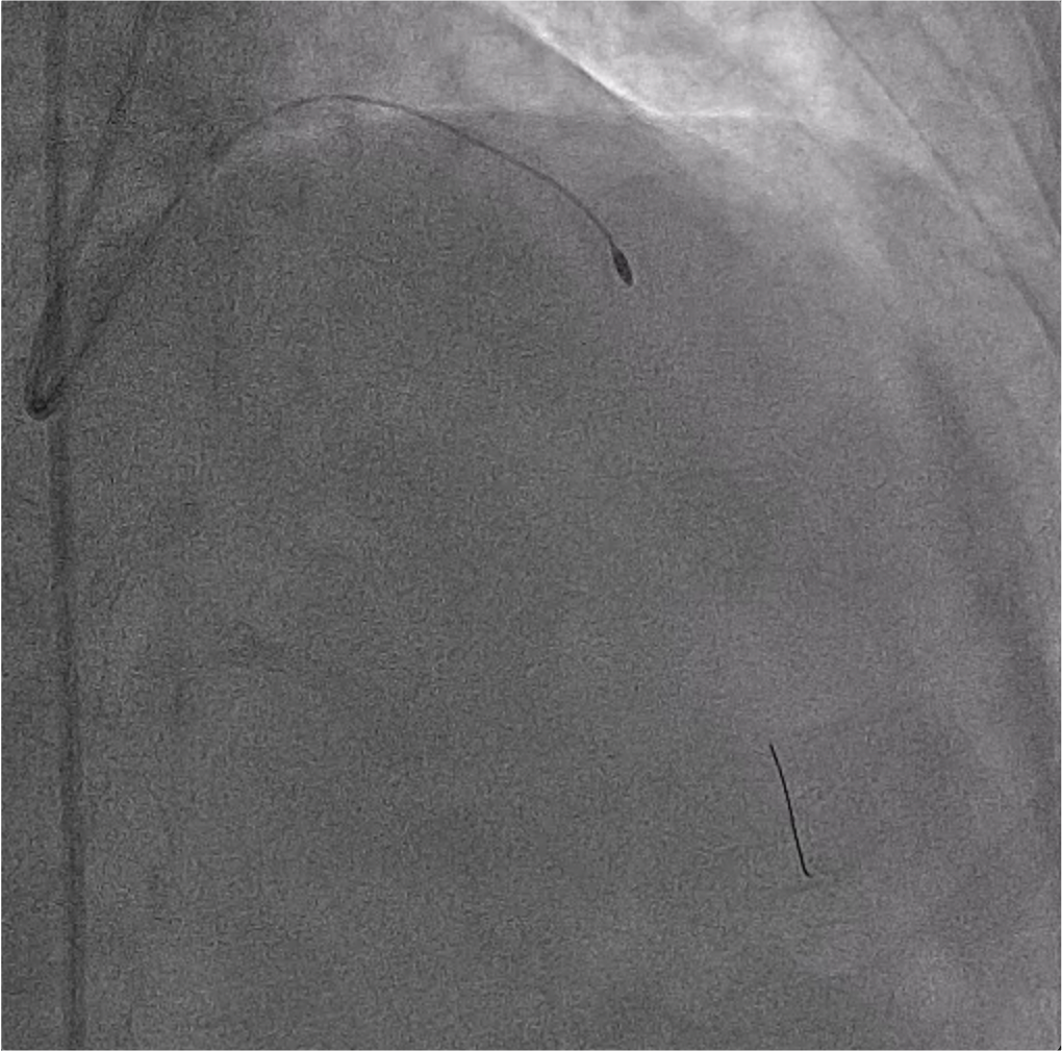 Interventional Management
Procedural Step
After debulking the calcified lesion with rotablation, IVUS study was performed for assessment of the reference vessel size. A 2.75 x 33 mm DES was placed at mid LAD.Then, a 3.0 x 33 mm DES was deployed from ostial LAD to overlap with mid LAD stent. Angiogram post stenting showed the proximal stent was not fully expanded. Therefore, a 3.0 x 15 mm NC balloon was used for post dilatation especially at proximal stent. Angiography revealed the presence of Ellis grade 3 coronary perforation at the mid part of the proximal stent with extravasation of contrast media into pericardial space. The stent' balloon was reinflated to 6 atm for prolonged balloon inflation periodically. After prolonged balloon inflation, angiogram revealed diminished extravasation with hemodynamic stability. A 3.0 x 18 Begraft (stent graft) was deployed up to 12 atm covering the perforation site. Angiographic data revealed the perforation area was completely sealed with no extravasation. An echocardiogram demonstrated minimal pericardial effusion and the patient still remained hemodynamically stable.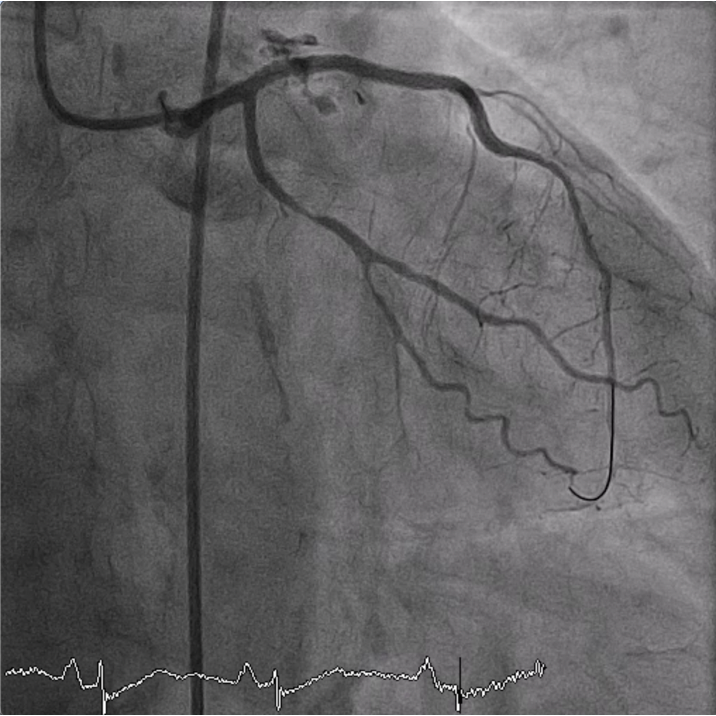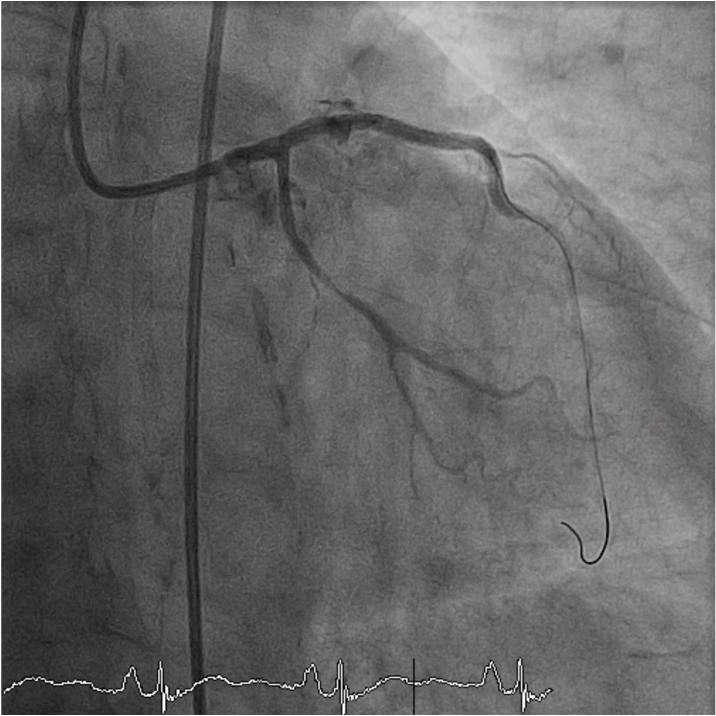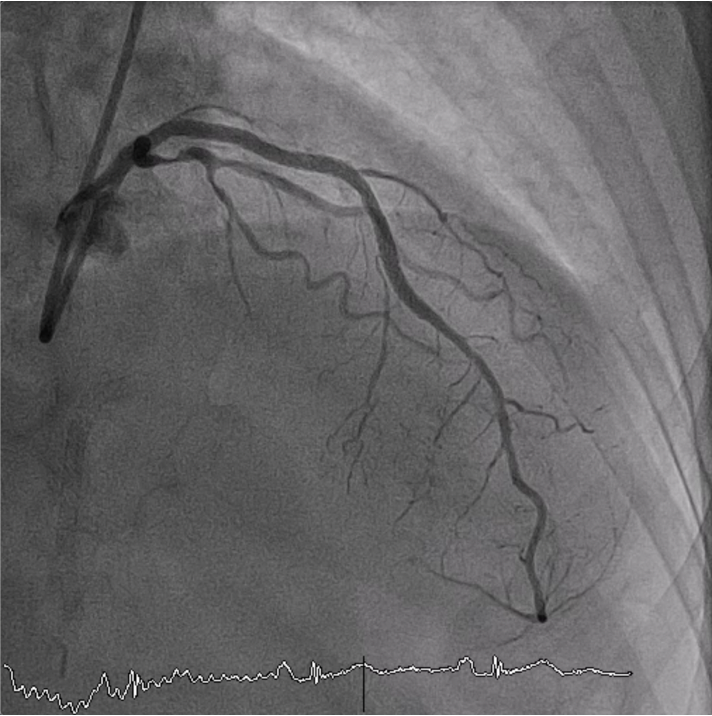 Case Summary
Coronary artery perforation is an infrequent complication of PCI but it is associated with high morbidity and mortality. There are several risk factors of coronary artery perforation such as using of oversized balloons or stents, complex coronary anatomy, excessive post dilatation, and use of atheroablative procedures. Hemodynamic status, individual coronary anatomy, and CAP location are associated with determining treatment strategies. Conventional treatment includes prolonged balloon inflation, covered stent, coiling, distal embolization or surgery. Additionally, urgent and serial echocardiographic monitoring is essencial and plays an important role for long-term follow-up.
Leave Comments
TCTAP 2021 Virtual
Apr 12, 2021
Excellent management! Thank you for sharing it.