Lots of interesting abstracts and cases were submitted for TCTAP 2021 Virtual. Below are accepted ones after thoroughly reviewed by our official reviewers. Don't miss the opportunity to explore your knowledge and interact with authors as well as virtual participants by sharing your opinion!
TCTAP C-093 . Presentation
Presenter
Sridhar Kasturi
Authors
Sridhar Kasturi1
Affiliation
Sunshine Hospital, India1,
TCTAP C-093
ENDOVASCULAR - Peripheral Vascular Disease and Intervention
Peripheral Angioplasty For Gangrenous Left Ring Finger With Septicaemia
Sridhar Kasturi1
Sunshine Hospital, India1,
Clinical Information
Patient initials or Identifier Number
SR
Relevant Clinical History and Physical Exam
A 60 years old male known diabetic, hypertensive, presented with a history of fever, associated with chills and rigors, severe agonizing hand pain and gangrenous changes with blackish discolouration of the left ring finger. Past history of PCI with stenting of LAD in 2011, failed attempts of PCI of RCA in 2013 twice with six months' interval period due to balloon-uncrossable lesion. Finally underwent successful PCI with stenting of RCA (3X38mm Xience Xpedition) in 2016
Relevant Test Results Prior to Catheterization
ECG – Normal, 2D Echo - good LV function with EF: 62%. Investigations:Leukocytosis, Hb – 13.4 g/dL, S.Cr – 0.82 mg/dL, RBS – 282 mg/dL, Right hand blood culture - organism isolated (Serratia marcescens). CT Aortogram - Atheromatous changes in radial and ulnar arteries of the left upper limb with complete occlusion of distal one-third of the ulnar artery, radial artery, and palmar arch(Fig-1)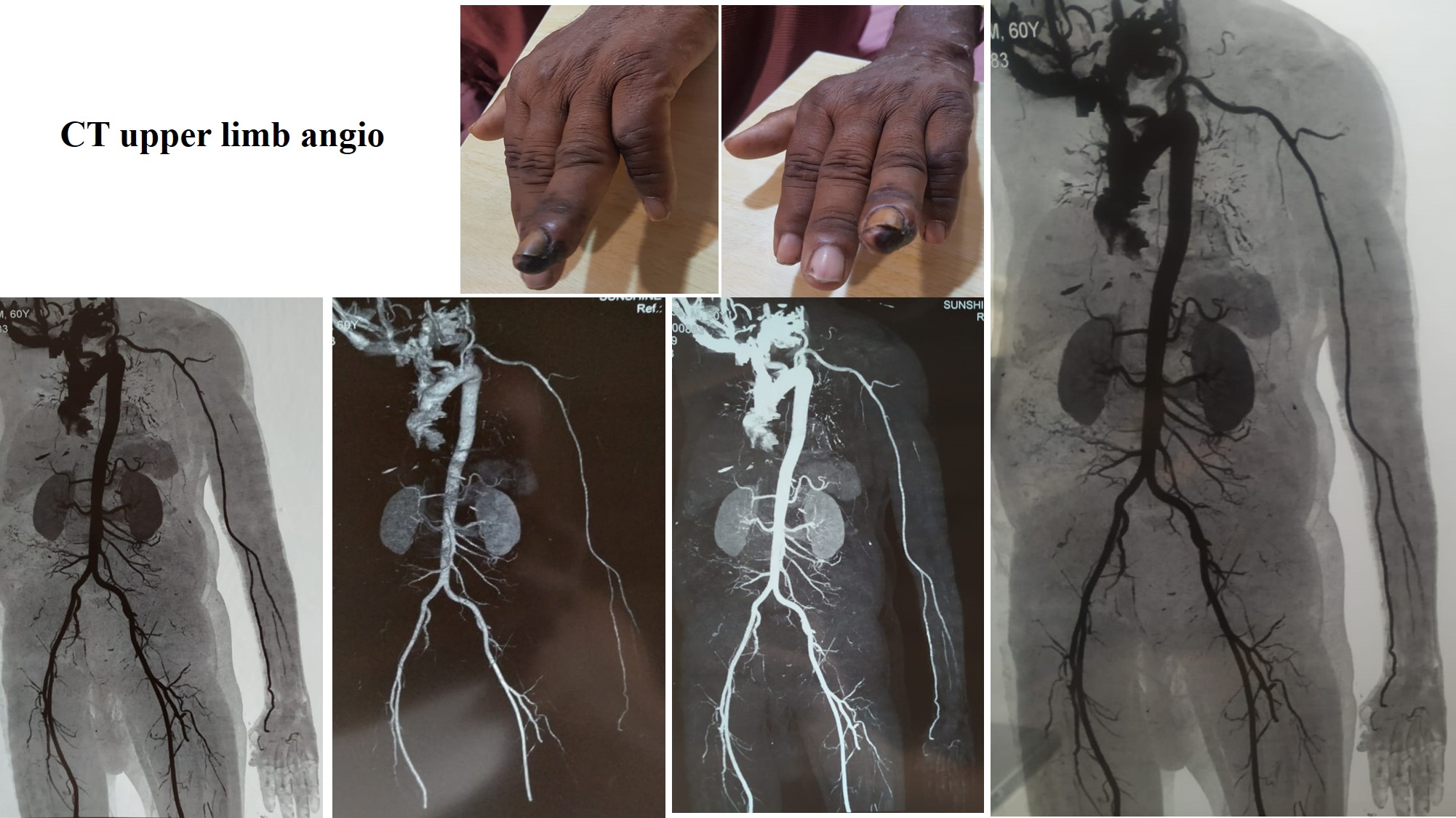 Relevant Catheterization Findings
Access through the right femoral artery, JR diagnostic catheter placed in the brachial artery and hand injection with contrast showed totally occluded Left ulnar, radial artery & Palmar arch.
Interventional Management
Procedural Step
JR 6 Fr, placed in brachialartery, Fielder FC wire was placed with finecross support in ulnar artery, dilatedwith 2.0 x 120mm balloon. Ulnar artery, Palmar archand digital arteries dilated with 2.0 x 10mm & 2.5 x 15mm Tazuna Balloons. Ulnar artery dilated with 2.0 x 80mm Balloon. Contrast through JR showedTIMI I flow in Ulnar artery & Palmar Radial artery. Ulnar artery re-dilated with 3.0 x 120mm Balloon.Retrogradely Fileder XT was placed in radial artery from Ulnar artery throughPalmar arch, and dilated with 3.0 x 120mm Balloon, Antegradely 2nd Fielder XTwire passed from brachial artery through radial artery to Palmar arch, dilated with 2.5 x 15mm Tazuna Balloon. Palmar arch & radial artery re-dilatedwith 2.5 x 120mm Balloon. Angio showed decreased flow in ulnar artery, treated with Intra-arterial NTG 200mcg& Nikoran 2mg. Finally, Ulnar artery re-dilated with 3.0 x 120mm Balloon. Angio showed good flow in ulnar, radial artery,palmar arch & digital arteries (Figure-2). Post procedure, patient relievedof left upper-limb pain with improved sensation of fingers except peri-gangrenousarea of left ring finger. Fever subsided with anti-biotics, amputation of lastdigit of left ring finger, and patient was discharged in a stable state withrelief of claudication. Patient's 1-month follow-up CT upper limb angio showedgood flow in ulnar, radial artery, palmar arch and digital arteries without anyischemic changes and symptoms of limb (Figure-3)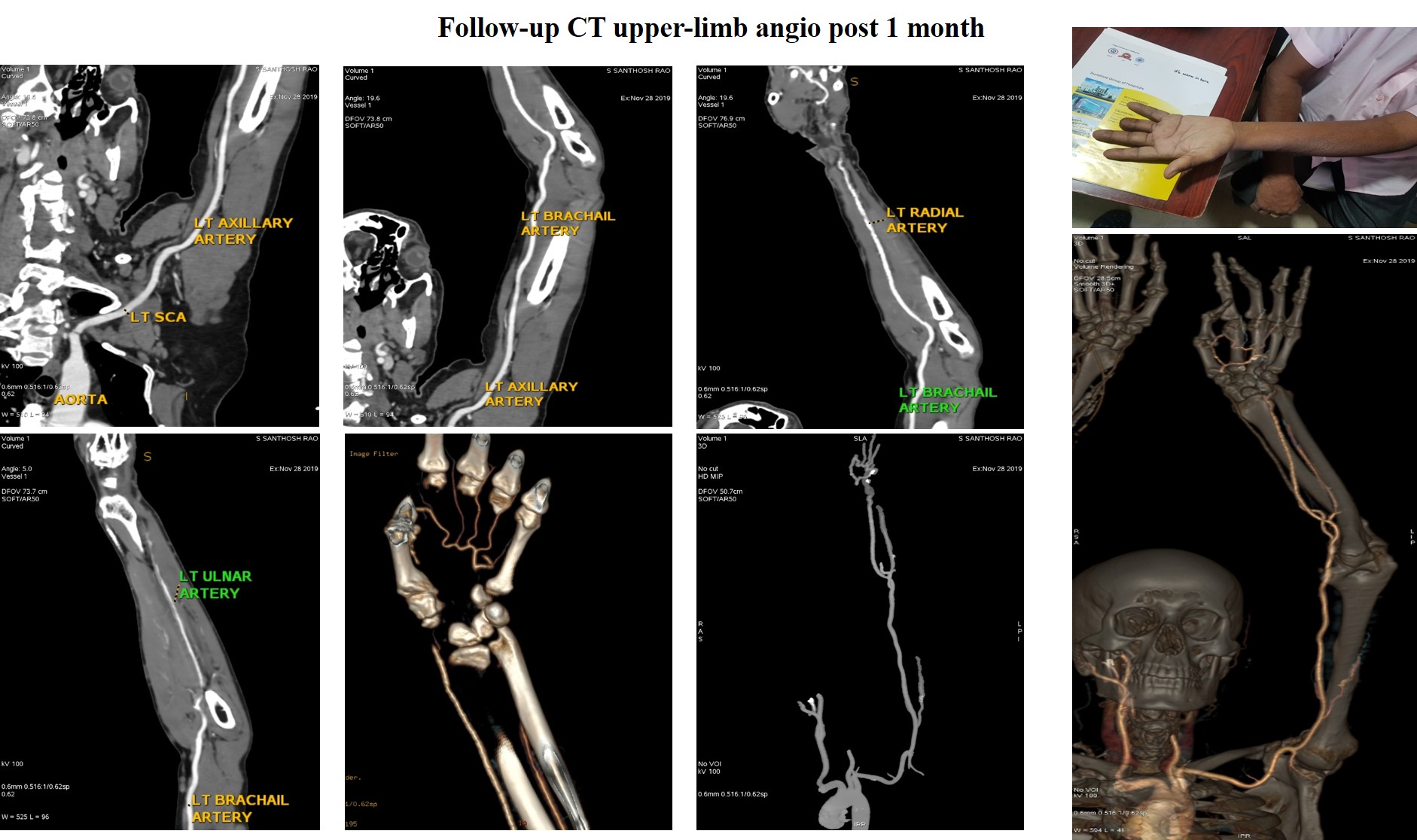 Case Summary
Angioplasty of fore-arm vessels for critical hand ischemia is a feasible and safe procedure that is characterized by the acceptable high rate of technical success with careful planning with necessary hardware.
Leave Comments
TCTAP 2021 Virtual
Apr 12, 2021
It's very well organized. Thanks for sharing!