Lots of interesting abstracts and cases were submitted for TCTAP 2021 Virtual. Below are accepted ones after thoroughly reviewed by our official reviewers. Don't miss the opportunity to explore your knowledge and interact with authors as well as virtual participants by sharing your opinion!
TCTAP C-057 . Presentation
Presenter
Mohamed Mahmoud Ramadan Abdelrazek
Authors
Mohamed Mahmoud Ramadan Abdel Razek1, Mahmoud Khalil1, Osama Shoeib1
Affiliation
Tanta University Hospital, Egypt1,
TCTAP C-057
CORONARY - Complications
Can Aortic Cusp Dissection Be Managed Conservatively?
Mohamed Mahmoud Ramadan Abdel Razek1, Mahmoud Khalil1, Osama Shoeib1
Tanta University Hospital, Egypt1,
Clinical Information
Patient initials or Identifier Number
OS
Relevant Clinical History and Physical Exam
58 years old male, hypertensive, ischemic heart disease with a history of coronary angiography that showed mid-segment chronic total occlusion of LAD, with recurrent chest pain. The patient was referred to our center for elective PCI. His physical examination at the time of admission showed stable vital signs with HR-75/min, BP -130/80 mmHg, R.R 15 cycle/minute, RBS-118 mg/dl, heart sounds normal, lungs-clear.
Relevant Test Results Prior to Catheterization
Investigations revealed ECG-NSR without significant changes; creatinine-1.2 mg/dl, 2D echocardiogram- regional wall motion abnormalities of anterior wall with fair LV function, EF – 50% with mild mitral incompetence. Technetium-99m myocardial perfusion scan showed viable anterior wall with reversible ischemia.
Relevant Catheterization Findings
Normal LM, LAD mid-segment chronic total occlusion at the origin of first diagonal, LCX is a non-dominant vessel without significant lesions. His right coronary showed no significant lesions, giving retrograde collaterals to LAD.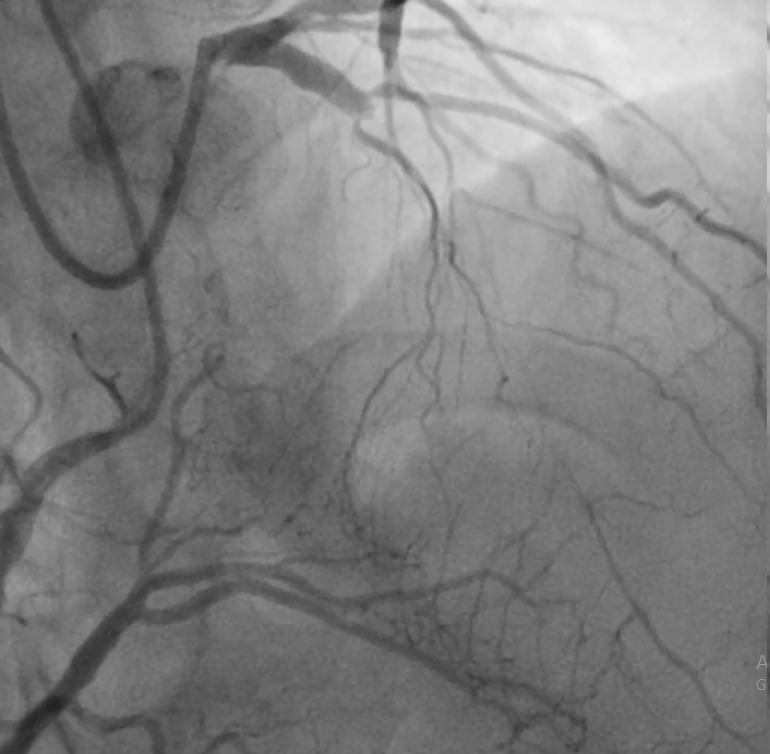 Interventional Management
Procedural Step
Bilateral radial access was done; engagement of LM by XB 3.5 and RCA by JR 4. Antegrade wire escalation strategy was adopted, we started with Fielder XT wire that went subintimal so we upgraded to a runthrough intermediate wire that went into the diagonal branch and was not able to penetrate the distal cap.
So we went with Gaia 2
nd
with the Fielder XT wire in place (parallel wire technique), the distal position true lumen was confirmed by retrograde injection. PTCA by 1.5x12 mm semi-compliant balloon; Stenting of distal then proximal LAD by 3x28 mm and 4x24 mm DES respectively.
Post-dilatation of distal LAD stent using 3x15 mm NC balloon and proximal LAD using 4x12 NC balloon.
During the final angiogram, we noticed dissection of LM body by catheter tip that extended when we tried to do another injection to confirm to aortic cusp.
We went immediately to stenting ofLM-LAD by 4x28 mm DES then POT and flaring by 5x12 mm NC balloon inflated at increasing pressure.Final angiography showed sealing of the dissection flap at the LM by the stent with stained dye in the aortic cusp dissection, the patient was asymptomatic and hemodynamically stable, echocardiographic assessment of aortic root showed intact aortic valve and no dissection flap nor pericardial effusion.The patient was transferred to CCU and was followed up clinically and follow-up echo was done the next day with stable hemodynamics.Out-patient follow-up after one week showed no clinically significant symptoms nor signs.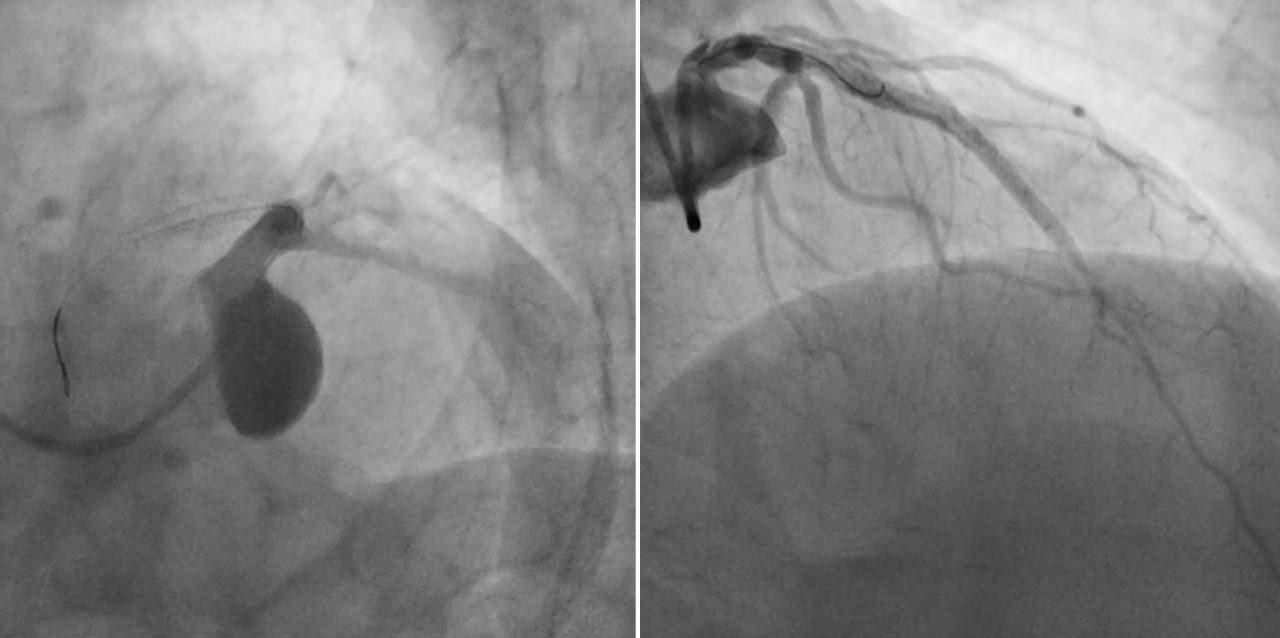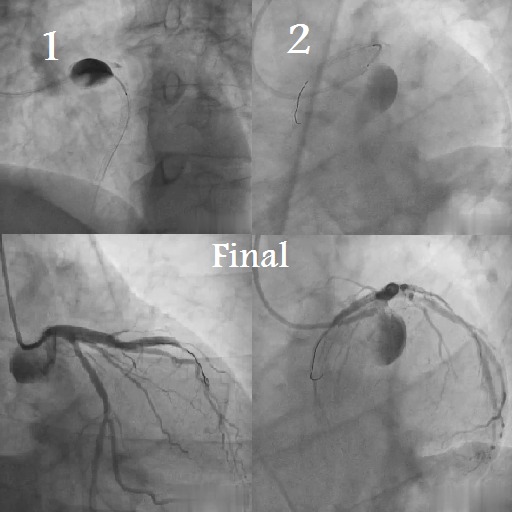 Case Summary
Extra backup guiding catheters are injuries so the operator should be careful regarding deep intubation and apply safety measures such as the floating wire technique if applicable to protect against deep intubation. When doing PCI with one of these guiding catheters, we recommend always have a final caudal view to check the integrity of the LM at the end of the procedure. Rapid intervention with stenting to seal the dissection flap is a life-saving measure.
Leave Comments
TCTAP 2021 Virtual
Apr 12, 2021
Congratulations on the successful result!