Lots of interesting abstracts and cases were submitted for TCTAP 2021 Virtual. Below are accepted ones after thoroughly reviewed by our official reviewers. Don't miss the opportunity to explore your knowledge and interact with authors as well as virtual participants by sharing your opinion!
TCTAP C-046 . Presentation
Presenter
Jayanta Saha
Authors
Jayanta Saha1, Kuntal Bhattacharyya1
Affiliation
Kolkata Medical College & Hospital, India1,
TCTAP C-046
CORONARY - Chronic Total Occlusion
Retrograde Chronic Total Occlusion Intervention in Right Coronary Artery
Jayanta Saha1, Kuntal Bhattacharyya1
Kolkata Medical College & Hospital, India1,
Clinical Information
Patient initials or Identifier Number
M B
Relevant Clinical History and Physical Exam
A 60-year-old hypertensive male patient presented with CCS 3 angina for the last 3 months. He had an inferior wall myocardial infarction 4 months back, which was not thrombolyzed due to late presentation and managed conservatively. Physical examination was unremarkable.
Relevant Test Results Prior to Catheterization
Blood reports showed hemoglobin 13.6 gm/dl, creatinine 0.9 mg/dl, FBS 92 mg/dl, LDL 110 mg/dl.ECG showed Q waves in inferior leads.Echocardiography showed inferior wall hypokinesia with preserved ejection fraction of 55% and good RV function.
Relevant Catheterization Findings
Coronary angiogram revealed:Normal left systemRight Coronary Artery was dominant. There was a long segment CTO from proximal part, with distal refilling of the vessel through septal collaterals from LAD.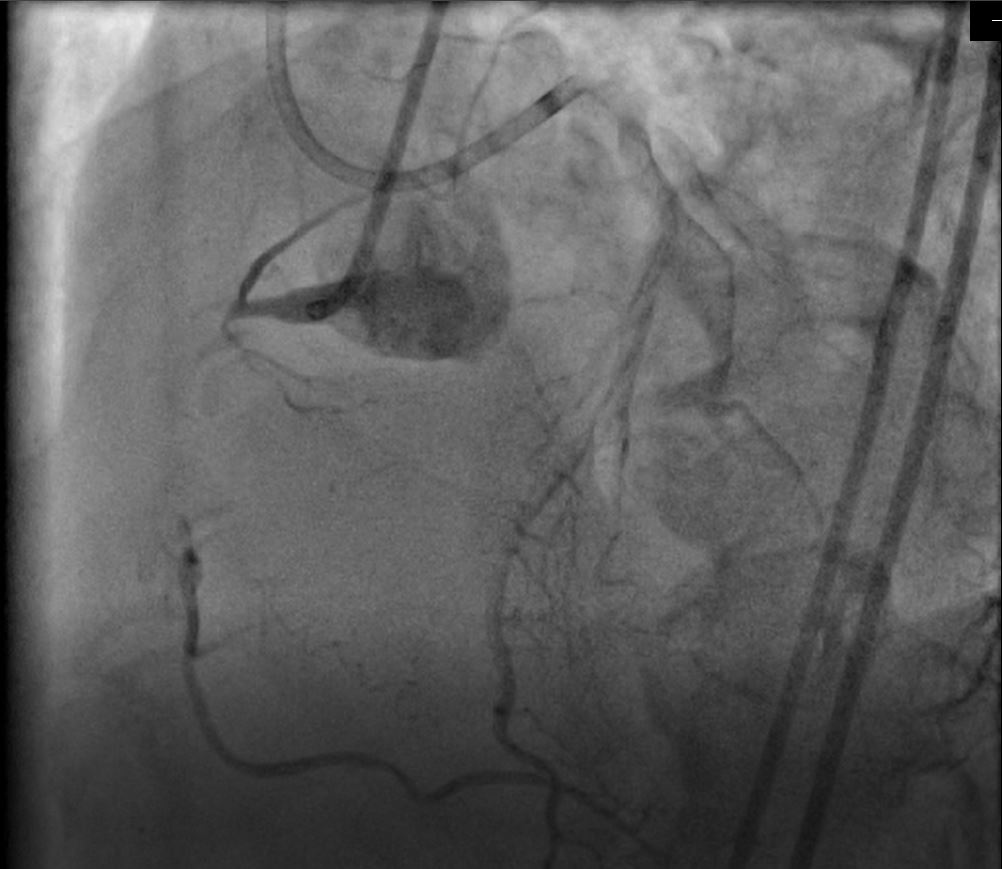 Interventional Management
Procedural Step
At first the RCA CTO was attempted antegrade. After repeated use of different available wires, the lesion could not be crossed. In view of presence of adequate septal collaterals, a plan for retrograde approach was made.The RCA was cannulated with JR 3.5 6F [Medtronic], and LAD with EBU 3.5 7F [Medtronic]. With the help of Caravel microcatheter [Asahi Intecc], a Runthrough NS Extra-floppy wire [Terumo] was exchanged with a Sion Blue [Asahi Intecc] for entering the septal collateral. Selective contrast injection through the Caravel was done to delineate the collateral channel and exclude wire-induced perforation. After wire entered the distal RCA, the Caravel could be negotiated into the distal RCA. Then the Sion blue was exchanged with a Fielder XTR [Asahi Intecc] in an attempt to cross the lesion. It was escalated to Runthrough NS Intermediate wire [Terumo]after the lesion could not be crossed with Fielder XTR. After successful crossing, the Caravel was also negotiated proximal to the lesion, and the wire and Caravel were passed inside the JR guide-catheter. Intermediate wire was then exchanged with RG3 wire [Asahi] for externalization. Then, antegrade pre-dilation with 2 X 10mm semi-compliant Tazuna Balloon, and stenting of RCA with 3.5 X 38mm Promus Element Plus [Boston] at 14 atmospheres was performed. Post dilation with 3.5 X 15 mm NC balloon yielded a satisfactory angiographic outcome.Procedure was uneventful.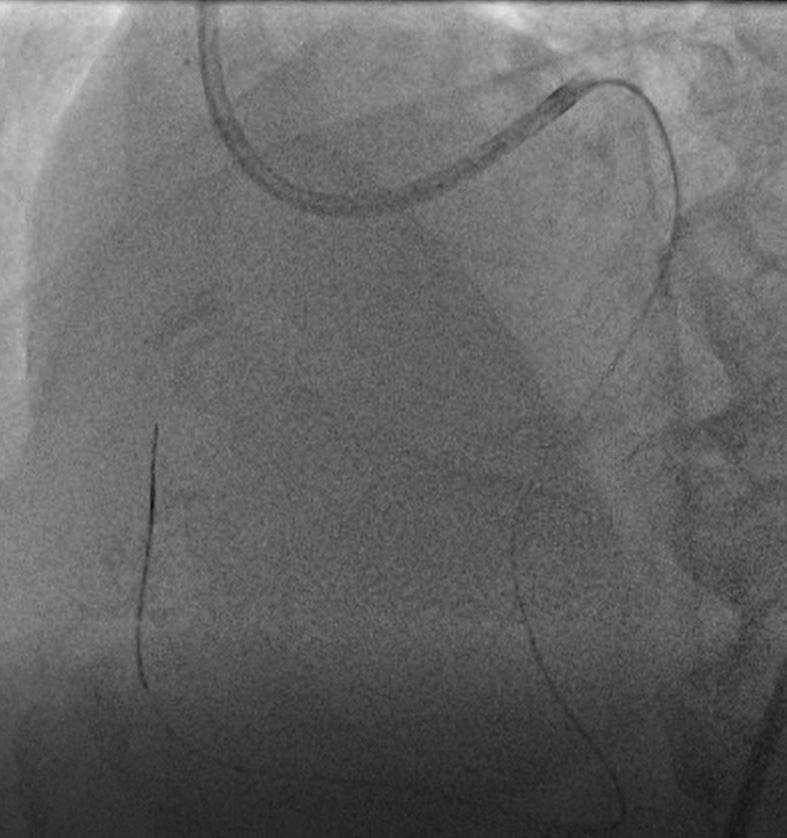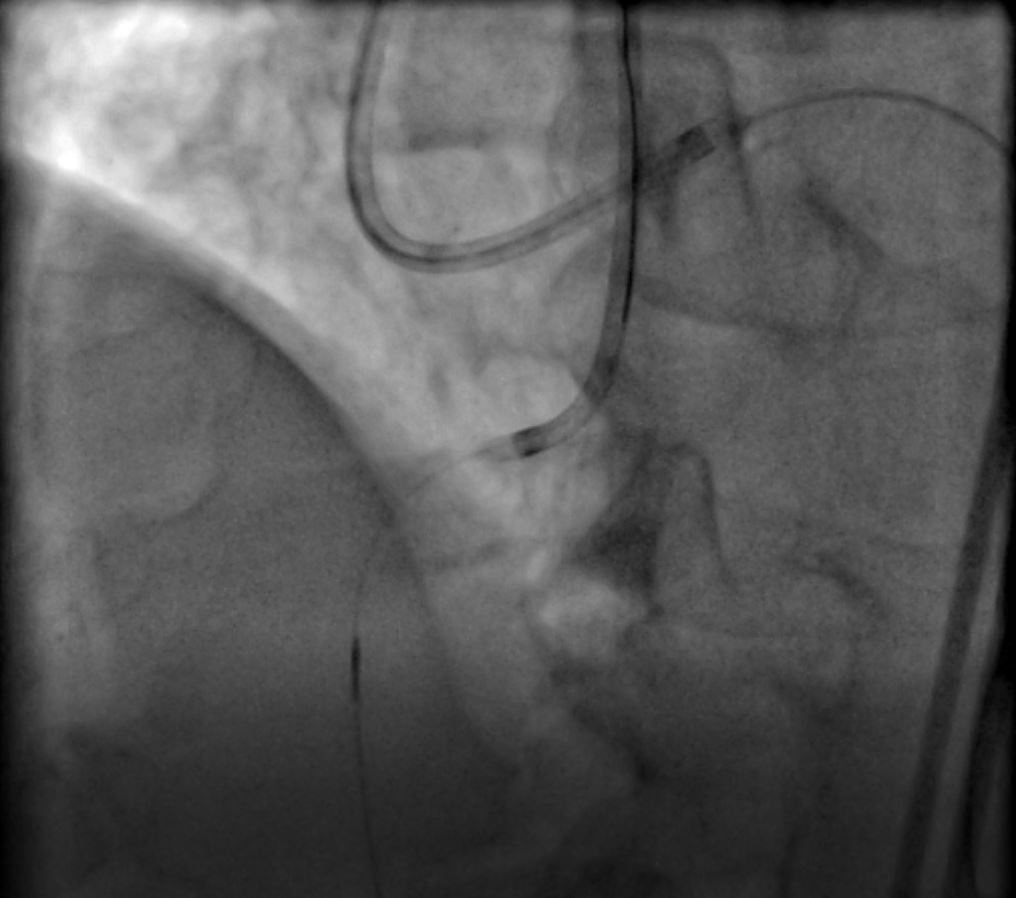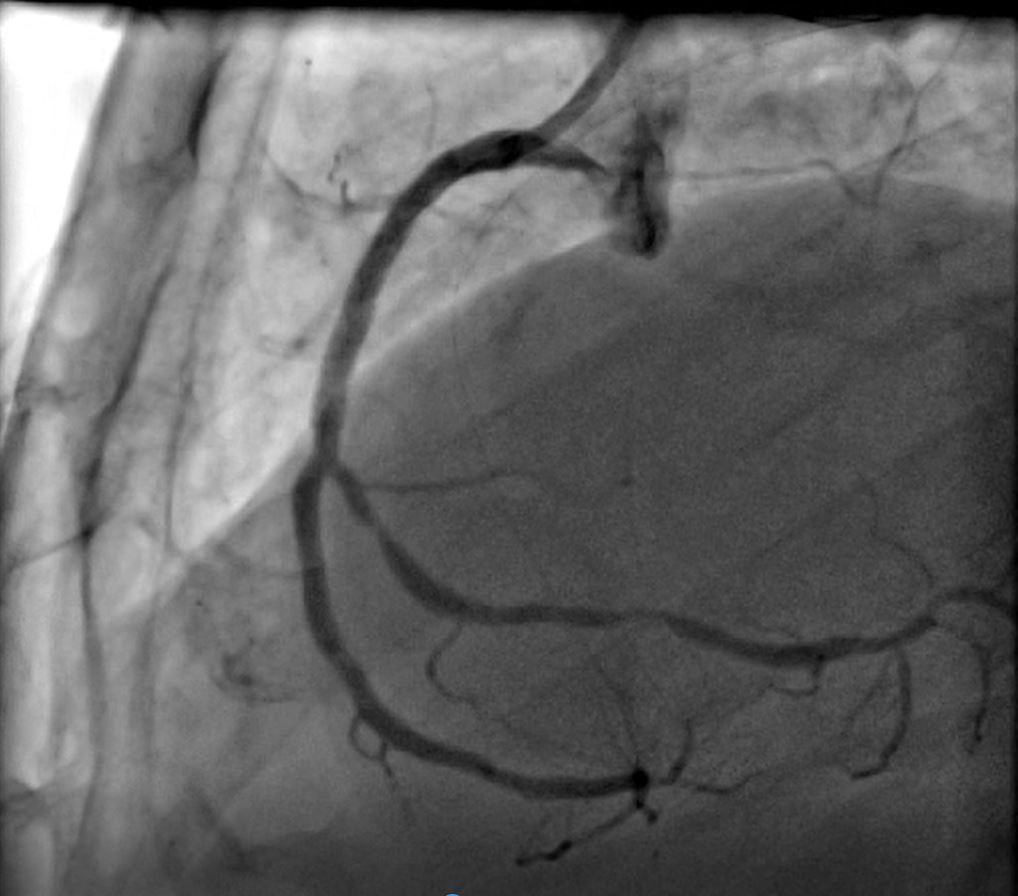 Case Summary
Antegrade approach, though preferred in most CTO interventions, is not always successful. Retrograde approach is a good alternative in those cases. Appropriate collateral selection is the key to success. Comprehensive knowledge of all instruments and wires is essential for a favorable outcome.
Leave Comments
TCTAP 2021 Virtual
Apr 12, 2021
Good strategy! Congratulations on the great result!