Lots of interesting abstracts and cases were submitted for TCTAP 2021 Virtual. Below are accepted ones after thoroughly reviewed by our official reviewers. Don't miss the opportunity to explore your knowledge and interact with authors as well as virtual participants by sharing your opinion!
TCTAP C-009 . Presentation
Presenter
Ahmed Rashad
Authors
Ahmed Rashad1, Mahmoud Khalil1, Osama Shoeib1
Affiliation
Tanta University Hospital, Egypt1,
TCTAP C-009
CORONARY - Acute Coronary Syndromes (STEMI, NSTE-ACS)
Midnight Culotte Adventure
Ahmed Rashad1, Mahmoud Khalil1, Osama Shoeib1
Tanta University Hospital, Egypt1,
Clinical Information
Patient initials or Identifier Number
SA
Relevant Clinical History and Physical Exam
75 years old female, had no significant medical and surgical history. One evening ,the patient shifted from one hospital to our tertiary care center with the complaint of severe chest pain of 2 hours duration. Her physical examination at the time of admission showed stable vital signs with HR-75/min, BP -130/80mmHg, R.R 15cycle/minute, RBS-115 mg/dl, heart sounds normal, lungs-clear.
Relevant Test Results Prior to Catheterization
Investigations revealed ECG-NSR with ST elevations in I, avL and posterior chest leads; creatinine-1.0mg/dl, troponin T positive, CPK-MB-48mg/dl; 2D echocardiogram- regional wall motion abnormalities of lateral& posterior wall with good LV function, EF –50% with mild mitral incompetence.

Relevant Catheterization Findings
Left main coronary artery: osteal 90% stenosis and trifurcating to LAD LCX and Ramus. LAD: 90% narrowing involving its ostium and 80% lesion involving its proximal segment.LCX is a small non-dominant vessel with proximal segment subtotal occlusionRamus branch showed proximal subtotal lesion.Her right coronary showed no significant lesion.

Series_004_Left Coronary 15 fps.wmv

Series_005_Left Coronary 15 fps.wmv

Series_006_Left Coronary 15 fps.wmv
Interventional Management
Procedural Step
Prior to insertion, the XB 3.5 guide catheter was preloaded with 2 BMW wires. The first wire (vessel wire) was shaped using standard technique according to the LAD curvature. An exaggerated, large loop was formed to use as a floating wire. The vessel wire was easily advanced into the LAD; and the catheter was then carefully withdrawn to disengage the LM, while constantly maintaining distal wire position. Next, the floating wire was advanced into the aortic root to protect against guiding catheter deep intubation. Then a third wire was introduced into the Ramus branch.The LAD lesion stenosis was predilated with 1.5 x 12 mm balloon. A roadmap cineangiogram was then performed then a 3 x 38 mm DES stent was advanced into the left main- LAD lesion and deployed.POT of the left main was done by a 4.5 x 12 mm NC balloon. Meticulous distal rewiring was done followed by kissing technique with a 3 x 12mm balloon in the LAD and 3 x 12 mm balloon in the Ramus.Another DES stent 2.75 x 38 mm was advanced and deployed into the left main- Ramus with minimal protrusion into LM intending for mini Culotte technique. 2
nd
POT was done with 4.5 x 12 mm NC balloon followed by another distal rewiring and 2nd kissing balloon using the same 2 balloons 3 x 12 mm each. Final POT using 4.5 x 12mm NC balloon was done with an excellent final result.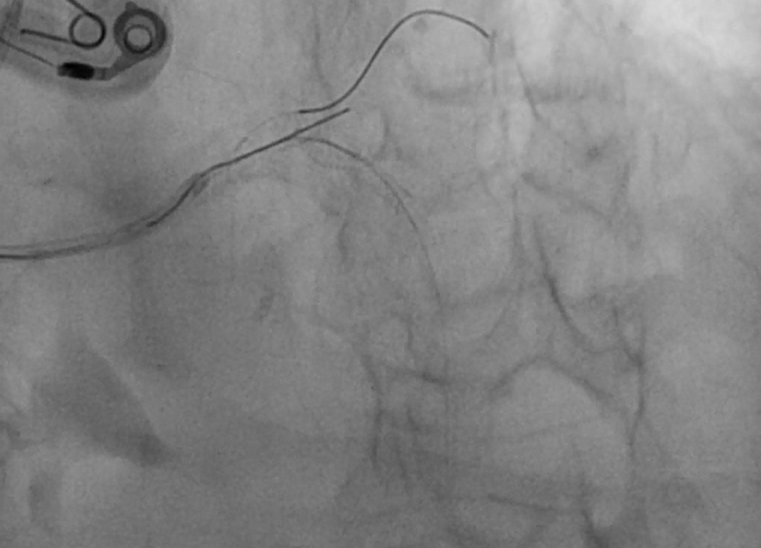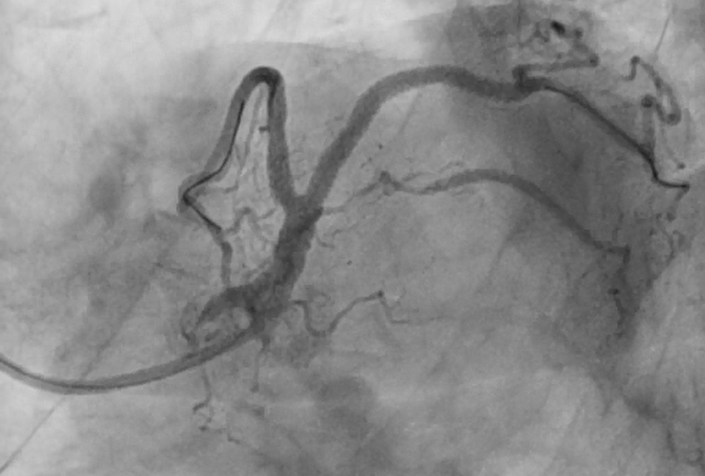 Case Summary
In patient with acute coronary syndrome the final TIMI flow together with the residual lesions will shape the long term outcome in such patients, in spite of being debatable, two stent technique in acute settings may be practiced provided the good preparation and the whole team experience with such procedures and techniques.When choosing a two-stent technique in acute setting ,techniques with minimal stent overlap and metal layers may be preferable such as the TAP but in our patient with such an acute angle between both branches, mini Culotte with the minimal overlap may be a viable option.
Leave Comments
TCTAP 2021 Virtual
Apr 12, 2021
Thanks for sharing your report. It's very helpful for us.