Lots of interesting abstracts and cases were submitted for TCTAP 2021 Virtual. Below are accepted ones after thoroughly reviewed by our official reviewers. Don't miss the opportunity to explore your knowledge and interact with authors as well as virtual participants by sharing your opinion!
TCTAP C-092 . Presentation
Presenter
Donna Shu-Han Lin
Authors
Donna Shu-Han Lin1, Jen-Kuang Lee1
Affiliation
National Taiwan University Hospital, Taiwan1,
TCTAP C-092
ENDOVASCULAR - Peripheral Vascular Disease and Intervention
Hold on! – When Filters are a Must But Deployment a Must Not
Donna Shu-Han Lin1, Jen-Kuang Lee1
National Taiwan University Hospital, Taiwan1,
Clinical Information
Patient initials or Identifier Number
6696431
Relevant Clinical History and Physical Exam
A 58-year-old woman presented with progressive exertional dyspnea and orthopnea for one month. Her past medical history was significant for right upper lung adenocarcinoma, with multiple metastases. She also noted progressive edema of bilateral upper limbs, accompanied with marked plethora on exertion. Computed tomography demonstrated tumor encasement of the superior vena cava (SVC). Her symptoms failed to improve despite radiotherapy and she was admitted for intervention.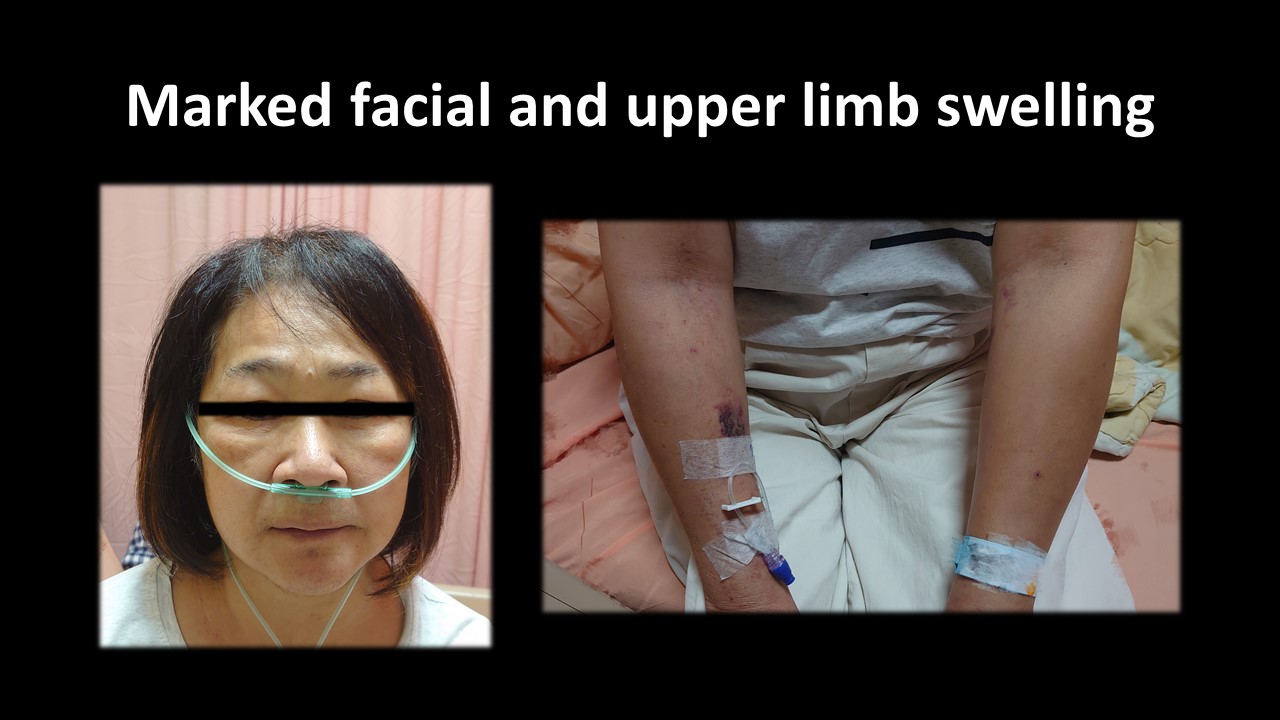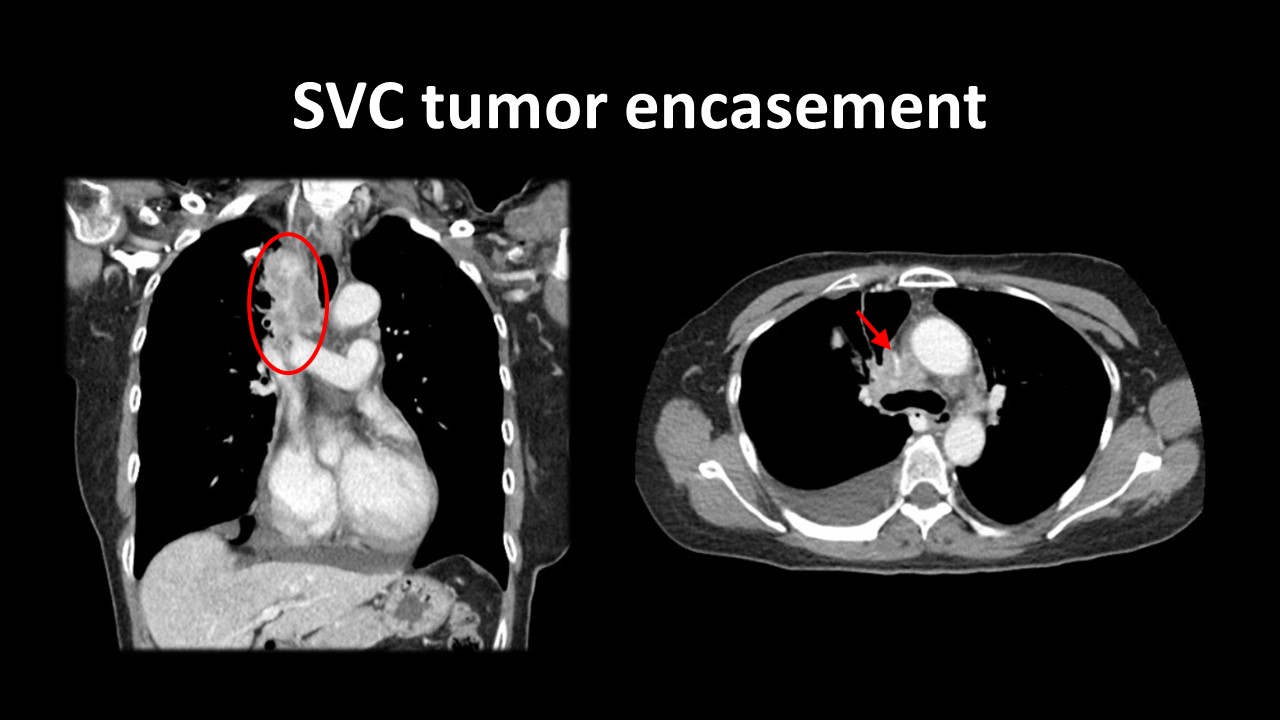 Relevant Test Results Prior to Catheterization
The right femoral vein was punctured. SVC total obstruction was found. Bilateral subclavian veins (SCV) were wired with Terumo stiff shaft 0.035" Glidewires with supporting CXI 4.0 Fr catheters. Simultaneous kissing Venovo® stents were deployed from both SCVs to SVC. Residual stenosis at the SVC bifurcation was post-dilatated aggressively with kissing balloons. The patient was suddenly very dyspneic; dye stasis in and outside both SCV stents and SVC total occlusion with large thrombi was found.

diagnosis.mp4

pre cath 1.mp4
Relevant Catheterization Findings
Due to lack of SVC outflow, additional E-Luminexx stents were deployed from both SCV stents into the SVC just above the SVC-RA junction. SVC outflow was established with slow flow into RA. The patient was transferred to the critical care unit for parenteral anticoagulation. However, the patient's symptoms failed to improve. Three days after the initial procedure, bilateral stent thrombosis with total occlusion was found.

pre cath 2.mp4

pre cath 3.mp4
Interventional Management
Procedural Step
Due to massive thrombus burden, SVC filter was considered prior to further manipulation. However, there is no room for SVC filter deployment after SVC stenting. Thus, the SVC filter was opened at the SVC-RA junction but was not deployed. We performed catheter-directed thrombolysis (CDT) with two EkoSonic catheters from the SVC to both SCVs for the massive in-stent thrombus with occlusive stents. The patient's symptoms improved drastically thereafter. After 24hours of EKOS therapy, venogram demonstrated near complete resolution of thrombi in both SCV and SVC. The SVC filter remained in place and was successfully retrieved.

cath 1.mp4

cath 2.mp4

cath 3.mp4
Case Summary
Large thrombus burden may be present in SVC syndrome and aggressive balloon angioplasty should be avoided. In cases where there are massive thrombi, SVC filters are mandatory prior to catheter directed thrombolysis or thrombectomy to prevent pulmonary embolism. When landing zones for the filter are a concern, opening the filter but not deploying it is a solution.
Leave Comments
TCTAP 2021 Virtual
Apr 12, 2021
It's very well organized. Thanks for sharing!