Lots of interesting abstracts and cases were submitted for TCTAP 2021 Virtual. Below are accepted ones after thoroughly reviewed by our official reviewers. Don't miss the opportunity to explore your knowledge and interact with authors as well as virtual participants by sharing your opinion!
TCTAP C-107 . Presentation
Presenter
Siddhartha Mani
Authors
Siddhartha Mani1, Ayan Kar, Debabrata Bera
Affiliation
NH-Rabindranath Tagore International Institute of Cardiac Sciences, India1,
TCTAP C-107
STRUCTURAL HEART DISEASE - Others (Structural Heart Disease)
CRT-D Implantation From A Persistent Left Sided Superior Vena Cava
Siddhartha Mani1, Ayan Kar, Debabrata Bera
NH-Rabindranath Tagore International Institute of Cardiac Sciences, India1,
Clinical Information
Patient initials or Identifier Number
SKR
Relevant Clinical History and Physical Exam
58 year old patient of Dilated Cardiomyopathy with Shortness of Breath on exertion NYHA class III despite 6 months of Guideline directed medical therapy.on presentation patient is euvolemic and has a baseline 6MWD of 200m only.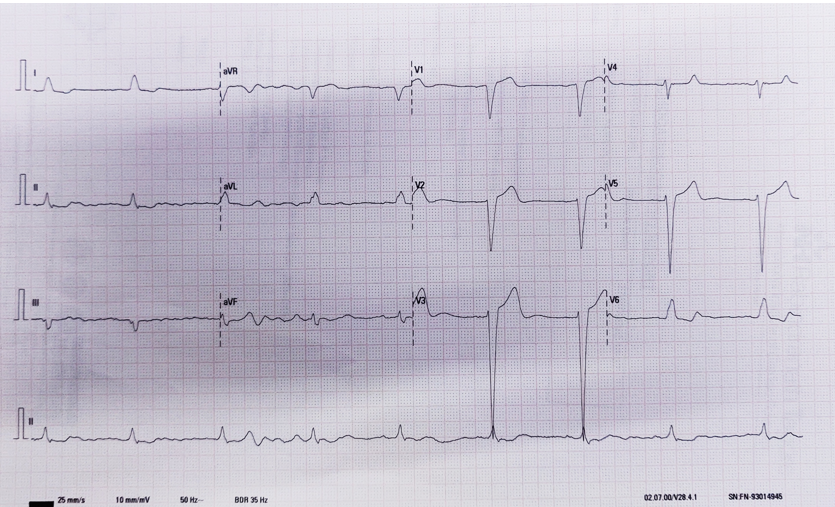 LSVC on venogram.avi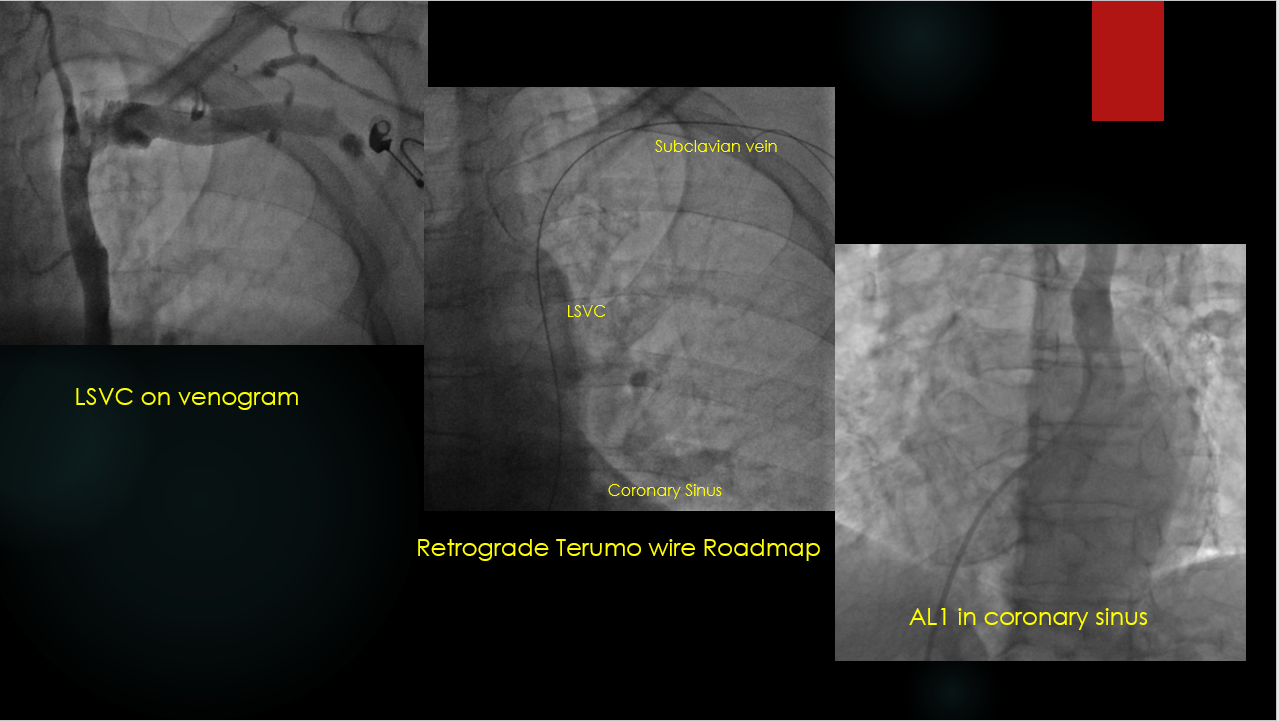 Relevant Test Results Prior to Catheterization
Hemoglobin 11.2g/dlcreatinine:0.92 mg/dl
ECG:LBBB with a QRS of 130msecEcho:Generalized wall hypokinesia with an LVEF of 32%
on Sacubitril Valsartan 100mg twice dailyTorsemide 10mg twice dailyEpleronone 25mg once dailyCarvedilol 6.25mg twice daily

prolapsing RV leadafter contralateral support from RA wall.avi
Relevant Catheterization Findings
Patient prepped for CRT-D
Routine pre-procedural venogram shows Persistent Left sided Vena Cavae(LSVC)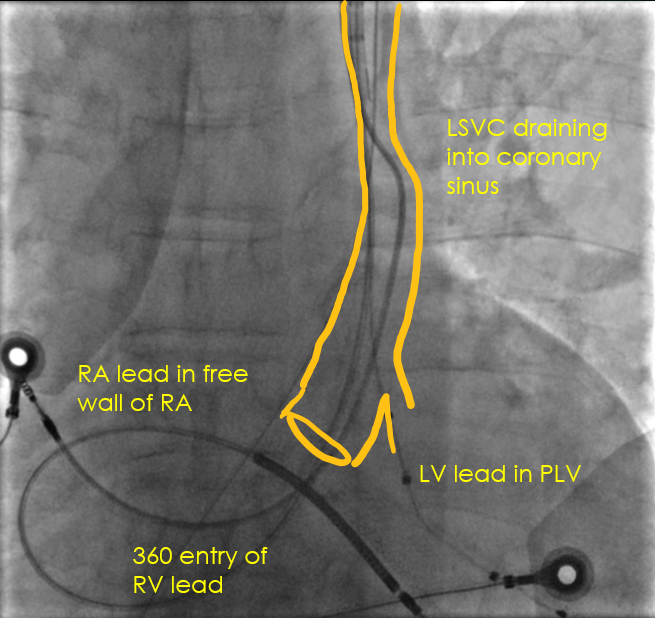 Interventional Management
Procedural Step
Procedural steps for CRT-D via LSVC1.Once LSVC was noted an AL1 catheter was taken from the femoral route and engaed in the patulous Coronary Sinus(CS) and a terumo wire was passed into the LSVC to Left subclavian establishing a Roadmap2.Three separate left subclavian punctures were taken with fluoro guidance over the terumo wire3.CS sheath was introduced with 6F multipurpose(MP) catheter and terumo wire to probe and engage the posterolateral vein of interest .Here the MP catheter acted as a subselector.4.Once engaged the PLV was wired and LV lead was placed and we found acceptable q to LV and acute thresholds5.Guiding the bulky RV lead with coil was a challenge and required significant manipulation to turn it on its head in the RA and enter the RV and was screwed in place.Acute pacing thresholds were acceptable6.RA lead could not be placed in the appendage and was screwed in to place in the RA free wall with acceptable pacing thresholds and no phrenic nerve stimulation.

final result.avi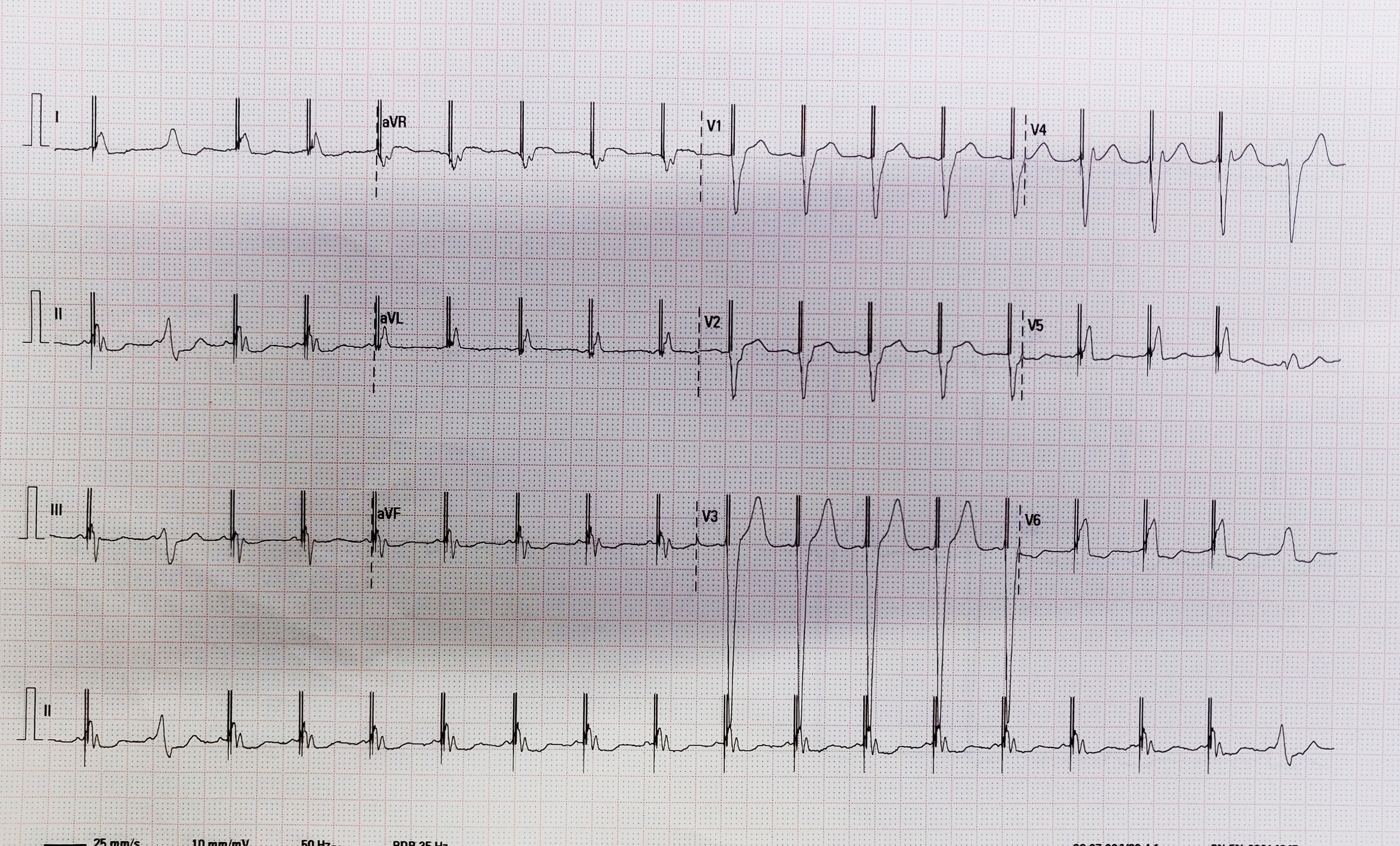 Case Summary
CRTD via LSVC presents unique challenges and opportunities in equal measures;Right sided AICD are generally avoided to have good shocking vectors.Hence here we adopted the LSVC as our working access.On one hand as the LSVC was draining proximally in the CS engaging the PLV was easier as the wire placement in the cardiac vein were antegrade unlike the retrograde access we generally have to take.Difficult part was maneuvering the RV lead via the CS with almost a 360 turn in the RA and prolapsing it into the RV via the tricuspid orifice.Final ECG showed adequate narrowing of the QRS with stable and continuous biventricular pacing. Patient has improved 6MWD of 500m at 3 months
Leave Comments
TCTAP 2021 Virtual
Apr 12, 2021
Good strategy! Congratulations on the great result!