Lots of interesting abstracts and cases were submitted for TCTAP 2021 Virtual. Below are accepted ones after thoroughly reviewed by our official reviewers. Don't miss the opportunity to explore your knowledge and interact with authors as well as virtual participants by sharing your opinion!
TCTAP C-072 . Presentation
Presenter
Naoya Yabumoto
Authors
Naoya Yabumoto1, Wataru Nagamatsu1
Affiliation
Hokusetsu General Hospital, Japan1,
TCTAP C-072
CORONARY - Complications
The Bail Out Case of Iatrogenic Left Main Coronary Artery Dissection - What Should We Do?
Naoya Yabumoto1, Wataru Nagamatsu1
Hokusetsu General Hospital, Japan1,
Clinical Information
Patient initials or Identifier Number
A.N.
Relevant Clinical History and Physical Exam
80 Y.O. female. She suffered from acute myocardial infarction 2 years ago. And primary coronary intervention was performed with deploying DES at culprit RCA. At this time, follow up angiogram was planned.
Relevant Test Results Prior to Catheterization
Follow up CAG revealed no ISR and progression LAD lesion. During FFR study for LAD, LMCA dissection, which extended to LAD and LCx distal part, occurred during injection using 6F Launcher EBU 3.5 guiding catheter. ECG ST level was elevated in broad leads and she suffered from chest pain, nevertheless, blood pressure level remained.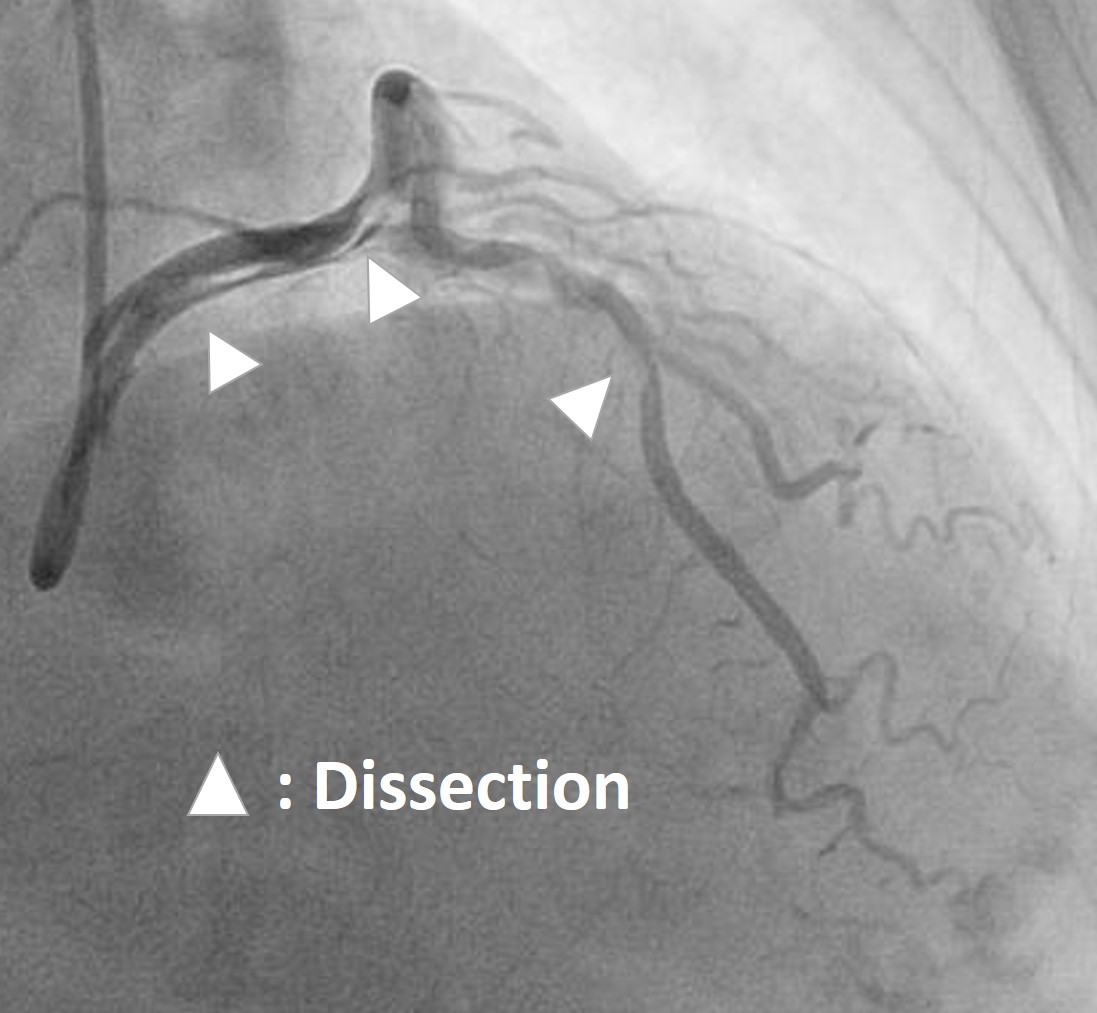 Relevant Catheterization Findings
NA
Interventional Management
Procedural Step
Immediately bail out PCI was started. Firstly LAD wiring was done with Sion blue guide wire, however, this wire tip was difficult to reach to distal part. There was a potential for subintima wiring. Next, we try to insert another Sion blue wire to LCX. This second guide wire got advance to LCX distal part smoothly and could select small branches. For the confirmation of LCX and LAD guide wire position, IVUS study performed. IVUS study clearly showed that LCX guide wire was in true lumen and LAD guide wire was in subintima lumen. The key point of getting advance to LAD true lumen was the wiring starting position where was carina. IVUS study indicated actual carina part without dissection entry. For intentional bifurcation wiring, a double lumen catheter (DLC) was used. After the wire was got advance to LAD and ECG ST level was improved. IVUS study showed this third wire was in LAD true lumen. Under IVUS guidance two DESs were deployed from LMT to LAD. After deployed stent, ECG ST level was re-elevated. IVUS study revealed big and long hematoma at stent distal part. This hematoma made a limitation of blood flow at LAD. For resolving this status, cutting balloon inflation was performed for creating fenestration. Eventually cutting balloon made fenestration. IVUS showed modified-small hematoma. LAD blood flow was resumed and ECG ST level was improved. For avoiding additional dissection, we had never done injection from guiding. IVUS guidance and injection using DLC were done instead. Those options and issues overcame the LMCA complication. After 7days from this procedure, Coronary CT angiogram showed healed vessel lumen and optimal stenting.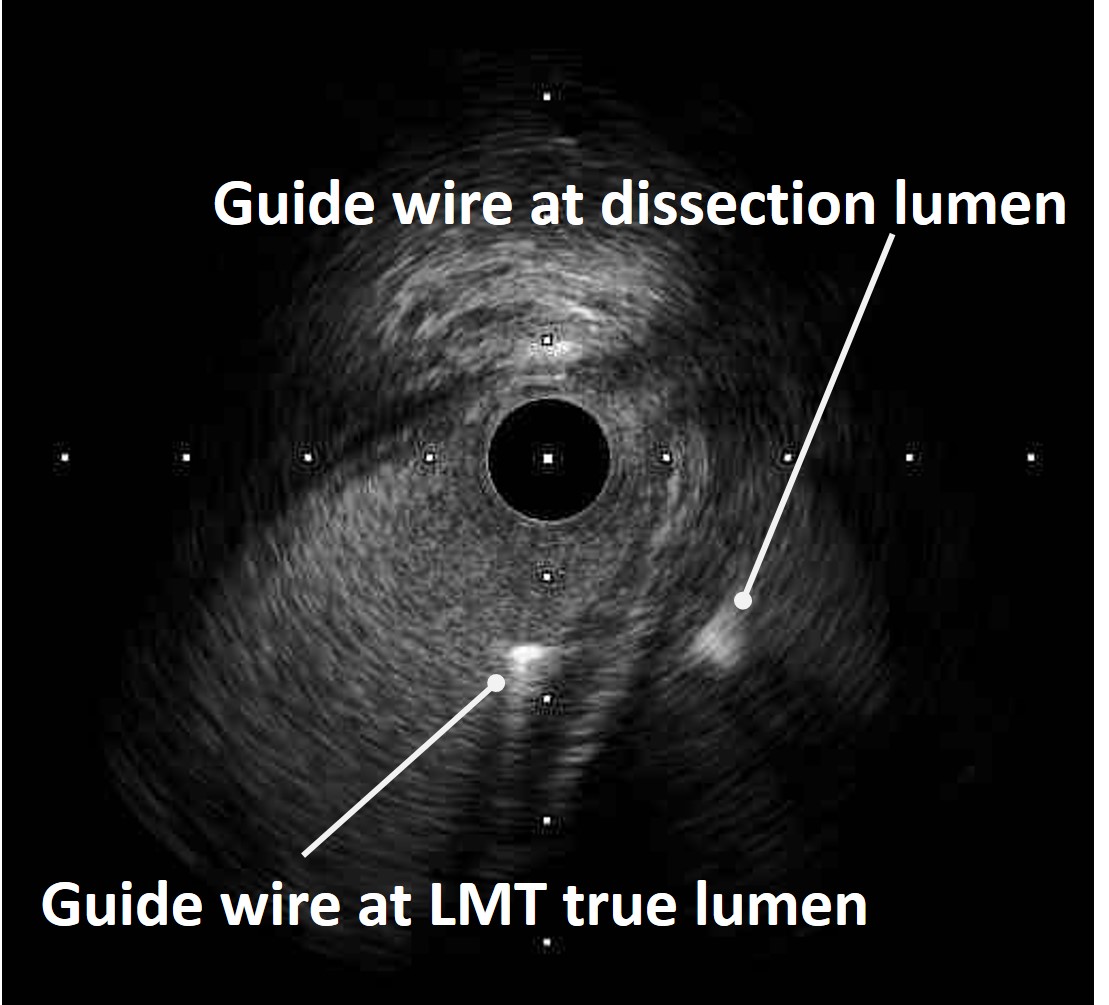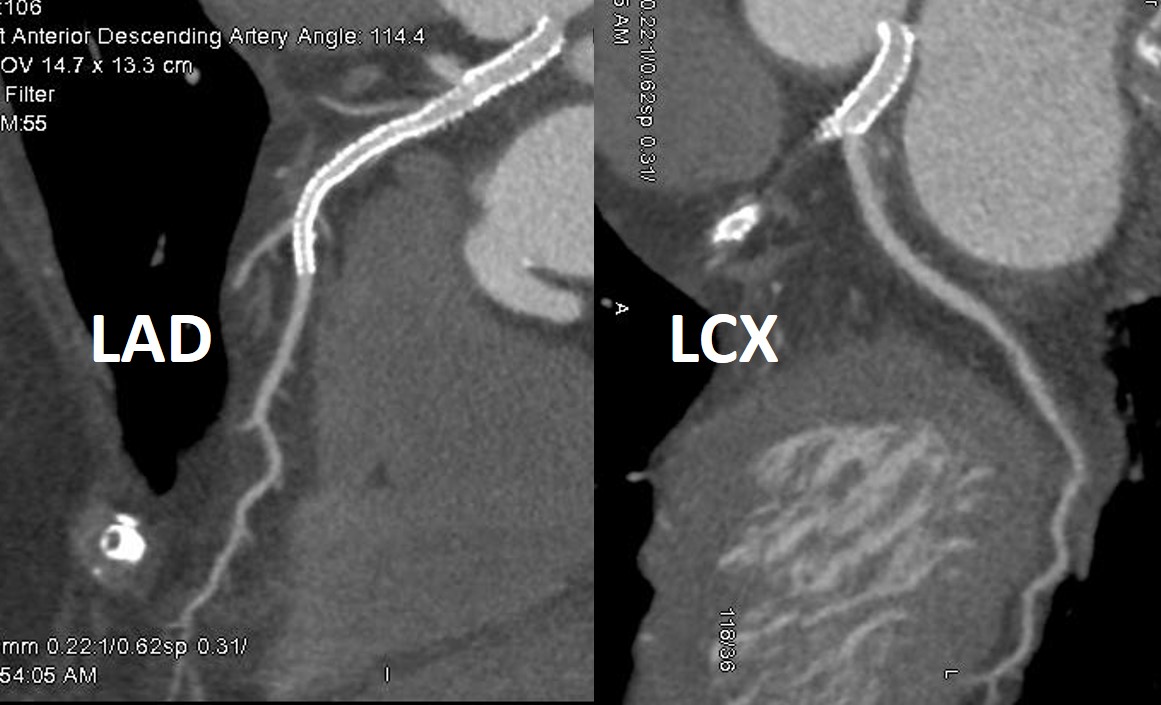 Case Summary
For the bail-out of LMCA dissection, we performed 1. IVUS guided wiring, 2. Intentional wiring using DLC, 3. Fenestration using cutting balloon, 4. Avoiding injection from guiding catheter. LMCA complication is a common cause of periprocedural mortality. Emergent coronary artery bypass surgery (CABG) is an option for managing LMCA complications. However, because of hemodynamic deterioration during the preparation of CABG, the probability of a high postoperative mortality rate has been considered. We describe a bail-out case of iatrogenic LMCA dissection. Some tips will have efficacy for bail management.
Leave Comments
Sohail Khan
(
Queen Elizabeth Hospital)
Apr 21, 2021
Very good save, the cutting balloon is very useful in this scenario
TCTAP 2021 Virtual
Apr 12, 2021
Very interesting study!