Lots of interesting abstracts and cases were submitted for TCTAP 2021 Virtual. Below are accepted ones after thoroughly reviewed by our official reviewers. Don¡¯t miss the opportunity to explore your knowledge and interact with authors as well as virtual participants by sharing your opinion!
TCTAP C-022 . Presentation
Presenter
Jiunn-Cherng Lin
Authors
Jiunn-Cherng Lin1
Affiliation
Taichung Veterans General Hospital, Taiwan1,
TCTAP C-022
CORONARY - Adjunctive Procedures (Thrombectomy, Atherectomy, Special Balloons)
STEMI with Heavy Thrombus Burden
Jiunn-Cherng Lin1
Taichung Veterans General Hospital, Taiwan1,
Clinical Information
Patient initials or Identifier Number
CYVH 2021-001
Relevant Clinical History and Physical Exam
This 47-year-old man has a history of hyperlipidemia. However, he suffered from sudden onset of chest pain since around 5-6 pm while he was driving on the highway. He described the pain as oppressive, severe and constant. He has been experiencing palpitation, diaphoresis and heartburn. So he called 119 and pre-hospital ECG showed inferior STEMI. The ECG signal was transmitted to hospital via 4G network. While he arrived ER, the heart team was ready.His consciousness was clear.

J121264745_001.mov

J121264745_016£¨ì«ï®üµ£©.mov

J121264745_023£¨ì«ï®üµ£©.mov

J121264745_001.mov

J121264745_016£¨ì«ï®üµ£©.mov

J121264745_023£¨ì«ï®üµ£©.mov

J121264745_001.mov

J121264745_016£¨ì«ï®üµ£©.mov

J121264745_023£¨ì«ï®üµ£©.mov

J121264745_001.mov

J121264745_016£¨ì«ï®üµ£©.mov

J121264745_023£¨ì«ï®üµ£©.mov
Relevant Test Results Prior to Catheterization
ECG: inferior wall STEMIOther lab data: all normal.CPK, CPK-MB, cardiac troponin-I: all within normal range.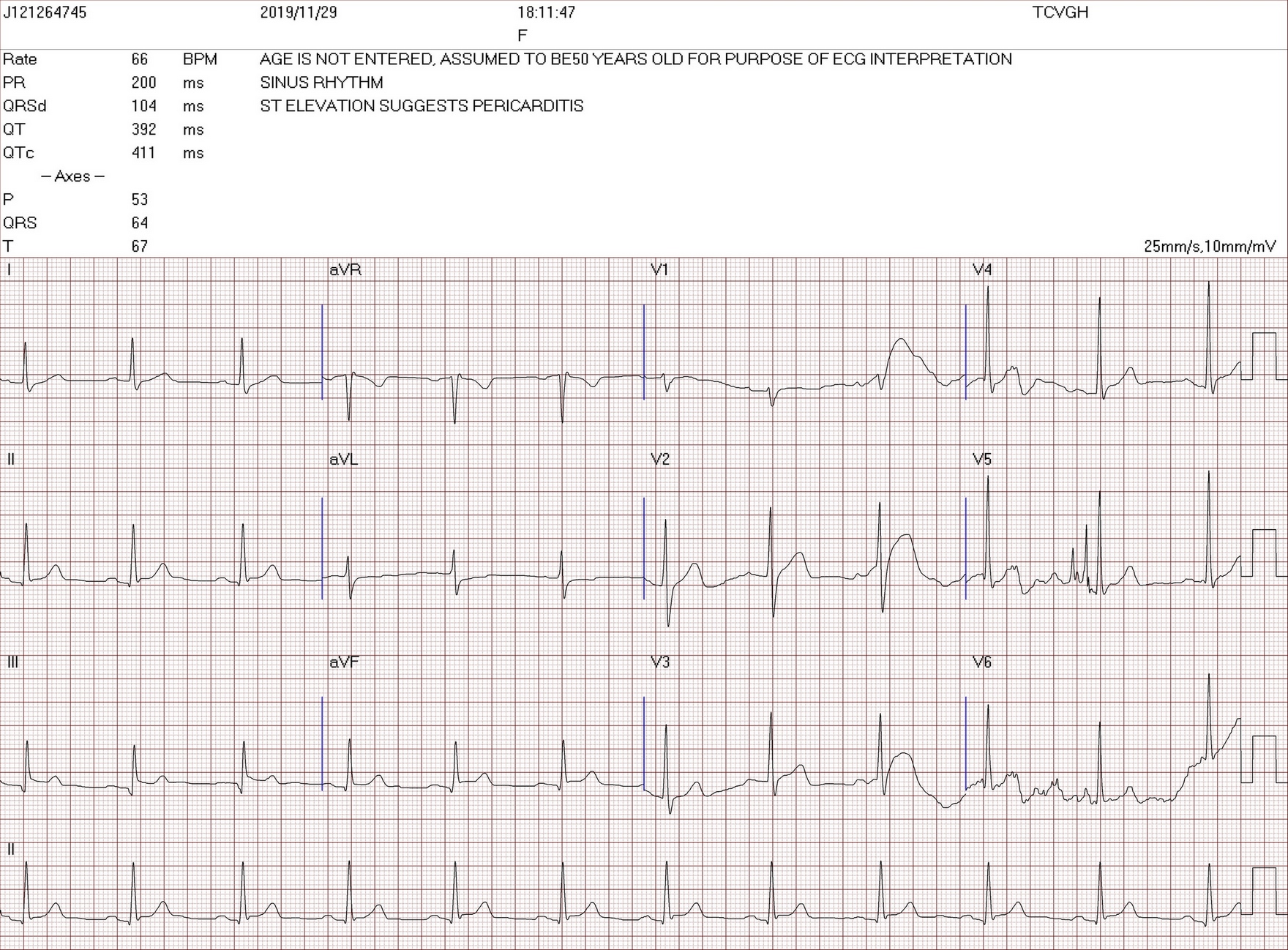 J121264745_001.mov
Relevant Catheterization Findings
Bil. CAG: right dominant. LM: 10-20% stenosis. LAD: Mild AS change & -D myocardial bridge, -D1 & -D2 ostium 80% stenosis. LCX: -M angioectasia with aneurysm formation, -D 90% stenosis. RCA: Diffuse angioectasia and aneurysm formation, -P to -M acute totally occluded. *Vessels to be treated: RCA.

J121264745_039.mov

J121264745_004.mov

J121264745_050.mov
Interventional Management
Procedural Step
For RCA lesion, a JR 4/6 guiding catheter was used first. Due to poor support, a Sion blue guide wire was used for better support, but the support was poor. So a SAL 1/6 GC was used later. A temporary pacing wire was inserted from RFV. Fielder FC guide wire was managed to distal RCA. An Export Advance aspiration catheter (6Fr) was used for thrombosuction & some small thrombi was taken out. After thrombosuction several times, TIMI 0-1 flow was gained & RCA-D was pre-dilated with a Spriner BC (2.5x15mm) with 14. TIMI 1 flow was gained and angiography showed a very heavy thrombus burden. An EagleEye IVUS catheter was used for lesion evaluation and heavy thrombus burden and large vessel size (6-7mm) were impressed. Then an Angioject Spiroflex catheter was used for thrombosuction. Coronary flow increased but the patient had progressive angina. For hemodynamic support, an IABP was inserted from RFA. Then Angiojet was used for thrombosuction again. But the coronary flow was still 1-2. Then RCA-D was pre-dilated with an NC Euphora BC (5.0x15mm) with 12 atm But TIMI flow decreased to 0-1 after POBA. The Export Advance Aspiration catheter was used again but no any thrombus was taken out. Angiography and IVUS catheter both showed dissection. So an Energy stent (5.0x40mm) was deployed later with 12 atm pressure. Post-diltation was done with an NC Emerge BC (6.0x12mm) with 18 atm pressure. Final result was TIMI flow 2. F/U CAG 3 days later showed TIMI 3 flow.

J121264745_051£¨ì«ï®üµ£©.mov

J121264745_058£¨ì«ï®üµ£©.mov

J121264745_008£¨ì«ï®üµ£©.mov
Case Summary
Pre-hospital wireless transfer ECG system helps to identify STEMI patients.Manual aspiration thrombectomy has it¡¯s limitation.Although Angiojet thrombectomy is not recommended routine use, it is helpful in high thrombus burden ACS patients.DAPT with anti-coagulation and aggrastat is effective pharmacological thrombectomy.IABP is also helpful to improve perfusion in high thrombus burden ACS case.
Leave Comments
TCTAP 2021 Virtual
Apr 12, 2021
It¡¯s very well organized. Thanks for sharing!