Lots of interesting abstracts and cases were submitted for TCTAP 2021 Virtual. Below are accepted ones after thoroughly reviewed by our official reviewers. Don't miss the opportunity to explore your knowledge and interact with authors as well as virtual participants by sharing your opinion!
TCTAP C-017 . Presentation
Presenter
Thurston Erng
Authors
Thurston Erng1, Asri Ranga2
Affiliation
Serdang Hospital, Malaysia1, Hospital Serdang, Malaysia2,
TCTAP C-017
CORONARY - Adjunctive Procedures (Thrombectomy, Atherectomy, Special Balloons)
Balloon Uncrossable Calcific Lesion
Thurston Erng1, Asri Ranga2
Serdang Hospital, Malaysia1, Hospital Serdang, Malaysia2,
Clinical Information
Patient initials or Identifier Number
YFH
Relevant Clinical History and Physical Exam
A 57 year old male with background of diabetes mellitus, dyslipidaemia, thalassaemia trait underwent coronary angiography for evaluation of recurrent angina (CCS 2). He has normal renal function and an LVEF of 48% on echocardiography.
Relevant Test Results Prior to Catheterization
Coronary angiography revealed distal left main (LM) disease (30%) and a highly calcified ostium-to-mid left anterior descending (LAD) artery with tight 95% stenosis (Fig.01). Left circumflex (LCX) and right coronary artery (RCA) showed mild to moderate disease not requiring intervention.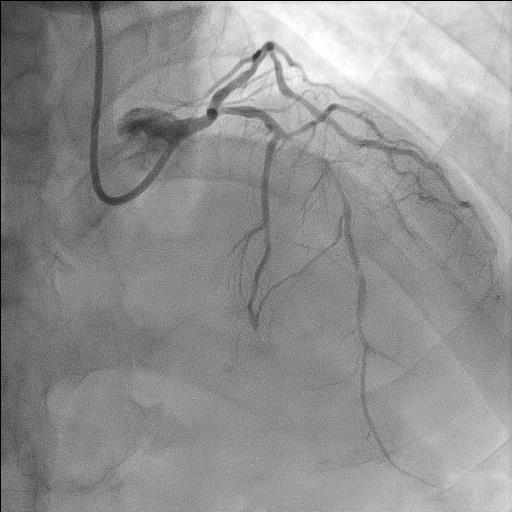 Relevant Catheterization Findings
Initial PCI of the LAD was attempted by a different operator. Despite success in wire crossing, multiple trials to pass predilation balloons, downsizing from 2.0 to 1.5 to 1.0 mm, failed, even with buddy wire technique for added support (Fig.02). PCI was then deferred and he was referred for complex PCI with adjunctive tools.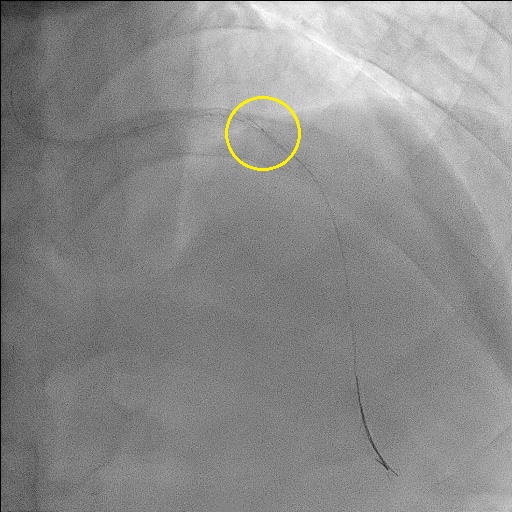 Interventional Management
Procedural Step
For his second PCI, we opted for right radial approach with 7-in-6 slender sheath and EBU 3.5 guiding catheter. LAD was wired using Sion Blue in Finecross microcatheter. However, microcatheter could not pass beyond mid-segment of the lesion. With the microcatheter in this position, we exchanged to Rotawire and manoeuvred this down to distal LAD (Fig.03). We then performed high-speed rotational atherectomy (HSRA) beginning with 1.25 burr before upsizing to 1.5 burr at 180,000 rpm (Fig.04). Multiple passes were performed respectively. After thinning of the tight stenosis with HSRA, we were able to achieve commendable luminal gain and pass IVUS catheter to study the lesion. IVUS confirmed areas of near circumferential calcium with apparent fractures after atherectomy. Sequential predilation was then performed with non-compliant 2.5 mm balloon up to 16 atm. We were however unable to unable to pass our first stent (Biomime 2.50 x 44 mm) despite using an extension catheter (Guidezilla) for additional support. Further predilation with 2.5 NC balloon was performed at higher pressure, up to 20 atm at mid to distal LAD and 3.5 NC balloon at proximal LAD. Following this, we utilized the anchor balloon technique to deep-seat the Guidezilla catheter, allowing the stent to be advanced into position and deployed. Similar technique was used for delivery of the second LM-proximal LAD stent (Biomime 3.50 x 44 mm). Postdilation was achieved with 3.0, 3.5 and 4.0 NC balloons at high pressures (Fig.05).

Rotawire passed down.avi
Case Summary
Angiographic results were excellent and this was confirmed with post-PCI IVUS which showed good stent apposition. MSA was 12.37 mm2 at LM, 8.42 mm2 at ostial LAD and 6.06 mm2 at area of tight LAD stenosis not crossable with microcatheter and balloon.This case highlights the use of high-speed rotational atherectomy (HSRA) followed by sequential NC balloon dilatation to debulk and modify a highly calcified stenosis which was uncrossable with balloon and microcatheter initially. Additionally, an anchoring balloon technique was utilized to advance an extension catheter which allowed passage of two long stents into position for deployment.
Leave Comments
TCTAP 2021 Virtual
Apr 12, 2021
Very impressive! Thanks for sharing this study report.