Lots of interesting abstracts and cases were submitted for TCTAP 2021 Virtual. Below are accepted ones after thoroughly reviewed by our official reviewers. Don't miss the opportunity to explore your knowledge and interact with authors as well as virtual participants by sharing your opinion!
TCTAP C-082 . Presentation
Presenter
Kuntal Bhattacharyya
Authors
Jayanta Saha1, Kuntal Bhattacharyya1
Affiliation
Kolkata Medical College & Hospital, India1,
TCTAP C-082
ENDOVASCULAR - Aorta Disease and Intervention
A Case of Mesenteric Ischemia Treated with Celiac Artery Stenting
Jayanta Saha1, Kuntal Bhattacharyya1
Kolkata Medical College & Hospital, India1,
Clinical Information
Patient initials or Identifier Number
A S
Relevant Clinical History and Physical Exam
A 43-year-old diabetic, hypertensive, smoker and alcoholic male patient presented with post-prandial abdominal pain, weight loss and melena for two years.Physical examination revealed pallor, glossitis, stomatitis and body mass index of 16.2kg/m2.Gastrointestinal and cardiovascular system were normal
Relevant Test Results Prior to Catheterization
Investigations revealed hemoglobin 9 g/dl, serum albumin 2.9 g/dl, HbA1C 7.8%, LDL of140mg/dl.Vasculitis work-up was negative.ECG and echocardiogram showed left ventricular hypertrophy.Abdominal ultrasound, upper gastrointestinal endoscopy and CT abdomen were normal.CT angiogram of abdomen showed narrowed coeliac trunk origin with completely occluded origins of superior and inferior mesenteric arteries with distal refilling of these vessels by collaterals from celiac trunk [Picture 1]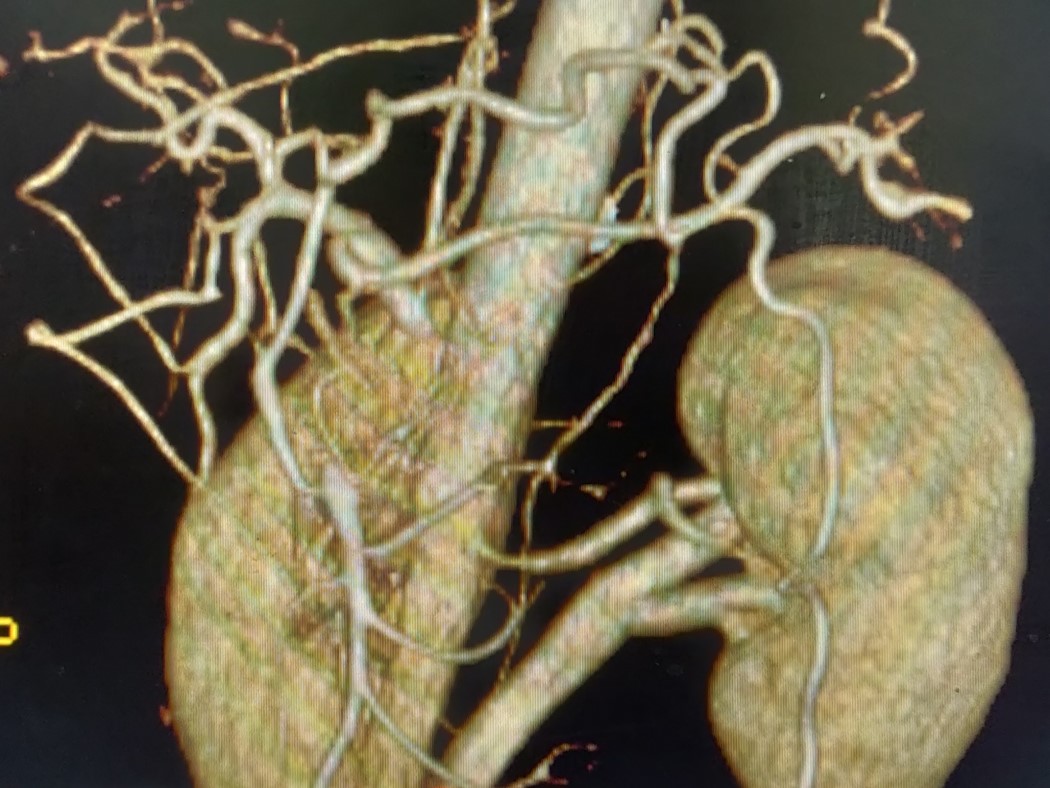 Relevant Catheterization Findings
Abdominal aortogram showed significantly stenosed coeliac trunk origin with non-visualization of superior and inferior mesenteric arteries with distal refilling of these vessels by collaterals from celiac trunk [Vide Celiac trunk angiogram]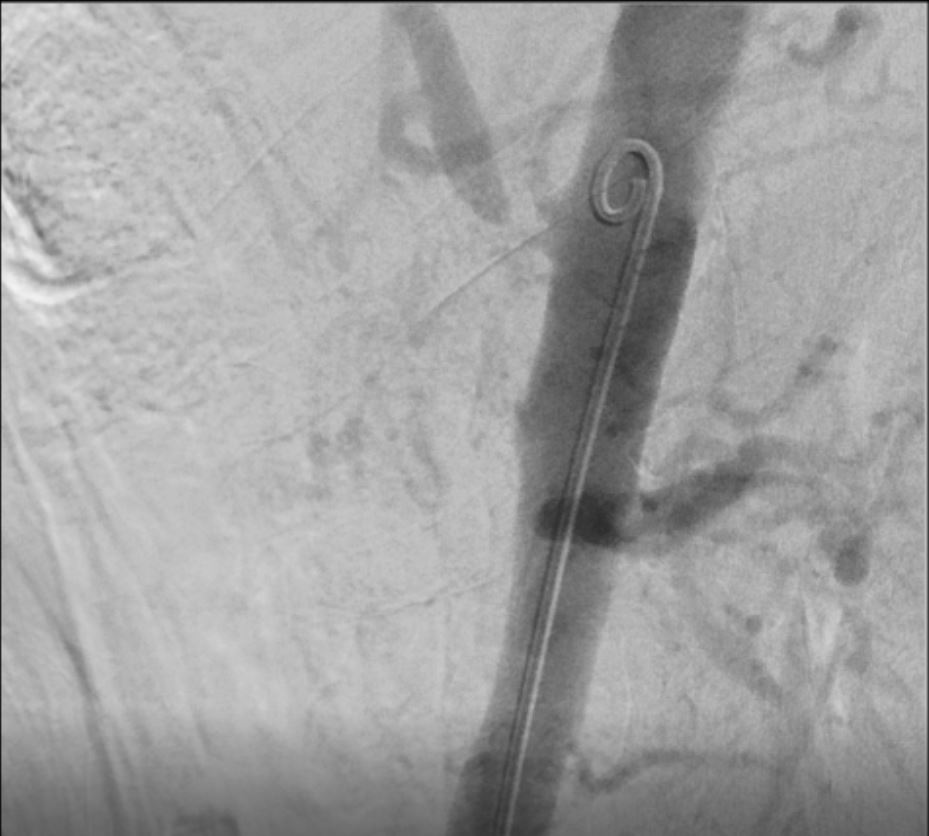 Interventional Management
Procedural Step
As there was significant stenosis of celiac trunk origin, and there was collateral supply to superior and inferior mesenteric arterial territories, angioplasty of celiac trunk was planned to salvage the patient.Right femoral artery was used for vascular access. 7 F JR 3.5 guide catheter was used. A Run-through NS Extra-floppy 0.014 inch PTCA wire was used to cross the lesion. [Procedural step 1] After serial balloon pre-dilation [2.5 by 10mm, then 3 by 12mm], a 6 by 18mm Express vascular stent [Boston Scientific] was placed in celiac ostium, with 1-2 struts hanging in the aorta. The stent was inflated at 10-atmosphere pressure. [Procedural step 2]Final outcome was minimal residual stenosis of celiac ostium with satisfactory distal flow, as well as increase in collateral flow. [Procedural step 3]Post-operative period was uneventful. Patient was discharged with dual anti-platelets, statins along with anti-hypertensive and anti-diabetic medications.At one month follow-up, there was no further abdominal pain, and the patient had started to gain weight.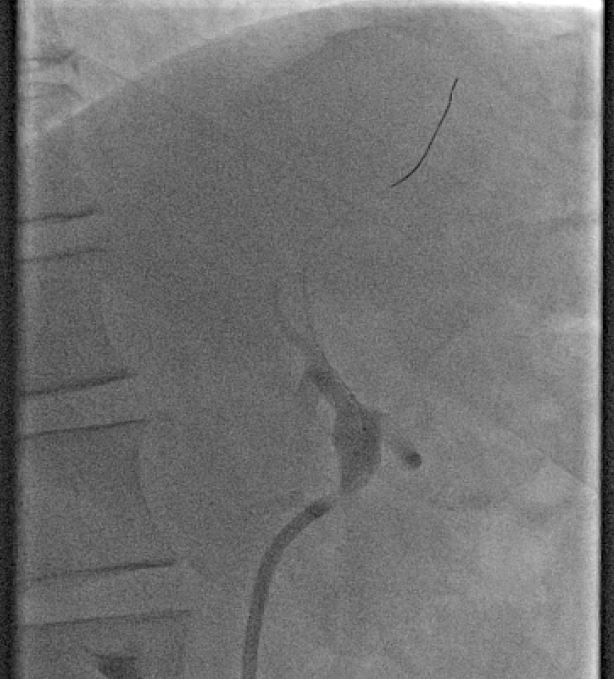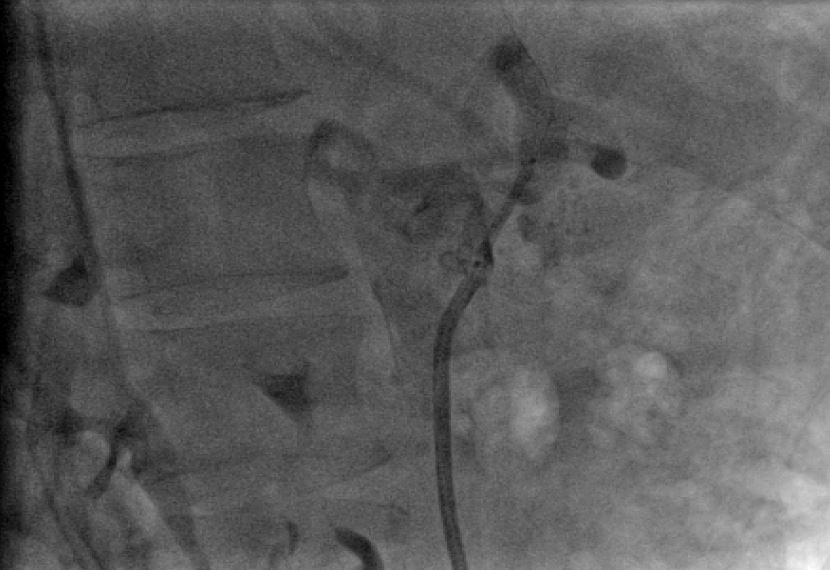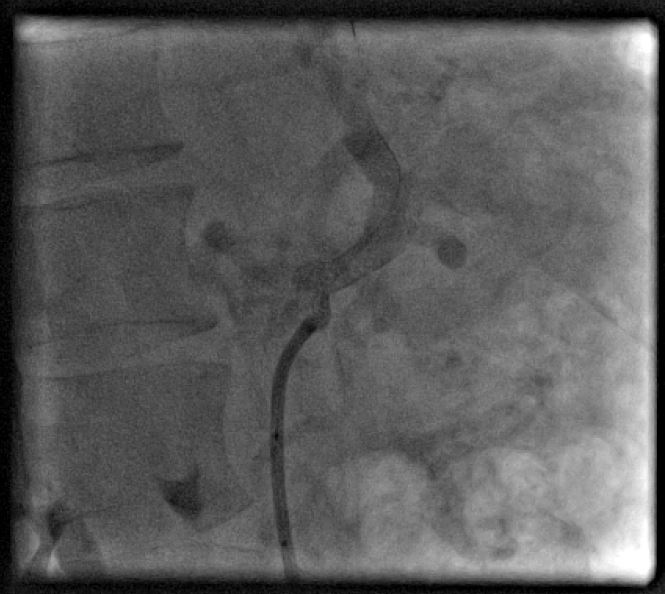 Case Summary
Whenever feasible, endovascular treatment [EVT] for chronic mesenteric ischemia should be undertaken. [Class 1B indication] It has got less mortality compared to surgical management. Vessels mostly targeted for EVT are superior mesenteric artery followed by celiac trunk. Celiac trunk stenting is undertaken when superior mesenteric artery intervention is not feasible and is shown to be non-inferior.
Leave Comments
TCTAP 2021 Virtual
Apr 12, 2021
Thanks for sharing your report. It's very helpful for us.