Lots of interesting abstracts and cases were submitted for TCTAP 2021 Virtual. Below are accepted ones after thoroughly reviewed by our official reviewers. Don't miss the opportunity to explore your knowledge and interact with authors as well as virtual participants by sharing your opinion!
TCTAP C-087 . Presentation
Presenter
Osama Shoeib
Authors
Osama Shoeib1, Hazem Warda
Affiliation
Tanta University Hospital, Egypt1,
TCTAP C-087
ENDOVASCULAR - Carotid & Neurovascular Intervention
Transradial carotid artery stenting complicated with neck hematoma, conservative is a valid option!
Osama Shoeib1, Hazem Warda
Tanta University Hospital, Egypt1,
Clinical Information
Patient initials or Identifier Number
FA
Relevant Clinical History and Physical Exam
Male patient 56 years old, he is diabetic and hypertensive with previous history of ischemic heart disease that was treated with multiple percutaneous coronary intervention (PCI), the patient experienced an attack of transient ischemic attack (TIA) three weeks ago.
Relevant Test Results Prior to Catheterization
carotid doppler was done and revealed right internal carotid artery stenosis with systolic flow velocity of 300cm/sec, that was confirmed by a computational tomography (CT)scan.
Relevant Catheterization Findings
The patient was discussed at our heart team meeting and percutaneous carotid artery stenting was advised given the high cardiovascular risk for the carotid artery endarterectomy.

Interventional Management
Procedural Step
Right radial access waschosen with regular 6 fr sheath, a guiding catheter XB 3.5 was introduced tothe aortic arch, then guide wire withdrawn to allow the catheter to bend onitself with slight rotation we directed the catheter tip toward thebrachiocephalic trunk then a Terumo stiff 300 cm wire was advanced toward the CCA,with the help of road map the wire was advanced to good distal portion of the ECA.Then the guiding catheterand the sheath was withdrawn and exchanged with a 6 fr long sheath 90 cm boughtto the CCA.A floppy wire was usedinto distal ICA, followed by spider FX filter wire advancement and placeddistal to the ICA lesion, a Portege Rx carotid stent was advanced and placedfollowed by post dilation with 5.0x20 mm balloon.One hour later, thepatient started to complain with neck pain at the site of intervention, and weobserved a small supraclavicular soft swelling. Ultra sound (U/S) was done andrevealed a fluid collection around the sternomastoid muscle with nocontinuation with the CCA (Figure 2 A).We returned to review theangiograms again and we discovered a small perforation at a small branch of theECA (Figure 1). As the patient was stable and this small hematoma was notaffecting his respiration we decided for conservative management and closefollow upAfter 4 hours the US confirmed that hematoma is not increasing. Afterone week, US confirmed complete resolution of hematoma and patient wascompletely asymptomatic (Figure 2 B).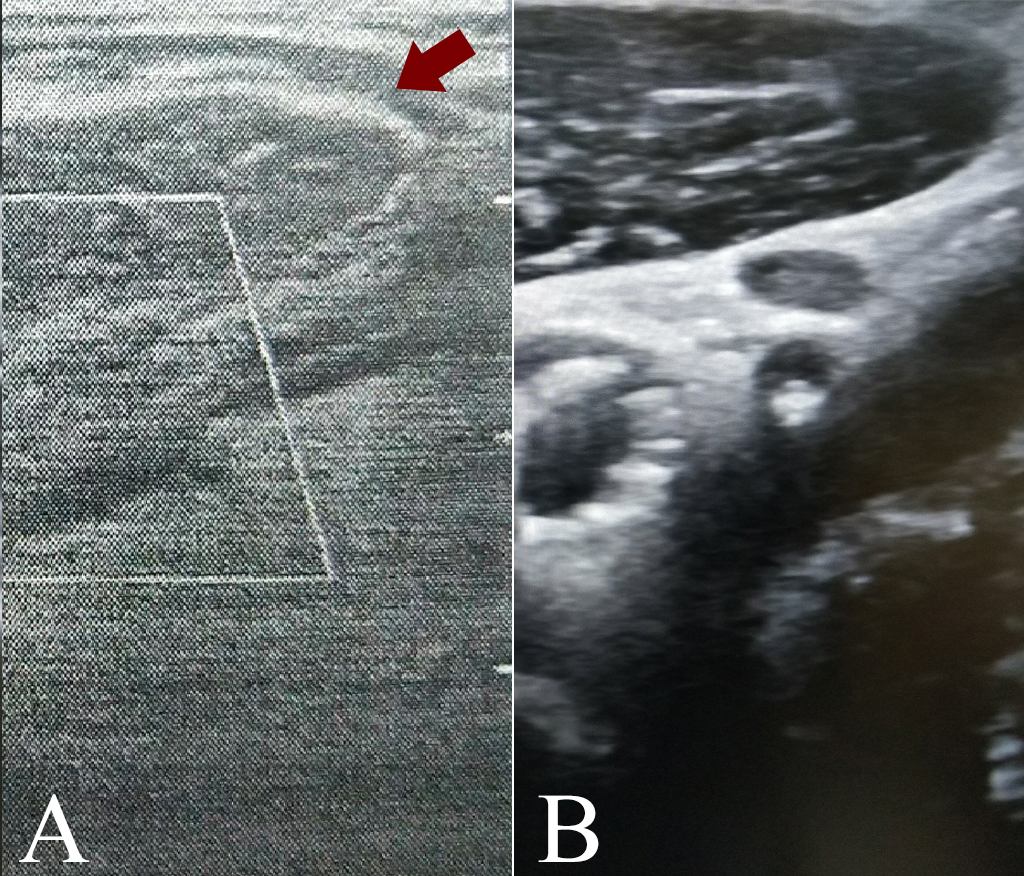 Case Summary
Usage of stiff Treumo wires in carotid intervention showed be used with extreme caution and under strict maneuvers to reduce the perforation possibilities and may be replaced with atraumatic tip wires that may provide more safety to the procedures.Even if perforation happens US availability and operator's familiarity with rapid scanning is crucial to help complication definitions and diagnosis, also small hematomas can be conservatively managed and followed up and reserve coiling for large branches and large hematomas, but coiling materials should always be available and ready to use.

Leave Comments
TCTAP 2021 Virtual
Apr 12, 2021
Good strategy! Congratulations on the great result!