Lots of interesting abstracts and cases were submitted for TCTAP 2021 Virtual. Below are accepted ones after thoroughly reviewed by our official reviewers. Don't miss the opportunity to explore your knowledge and interact with authors as well as virtual participants by sharing your opinion!
TCTAP C-004 . Presentation
Presenter
Tjen Jhung Lee
Authors
Tjen Jhung Lee1, Kumara Gurupparan Ganesan1
Affiliation
National Heart Institute, Malaysia1,
TCTAP C-004
CORONARY - Acute Coronary Syndromes (STEMI, NSTE-ACS)
Double Whammy - Inferior and Anterior Myocardial Infarction in the Same Patient, in the Same Day
Tjen Jhung Lee1, Kumara Gurupparan Ganesan1
National Heart Institute, Malaysia1,
Clinical Information
Patient initials or Identifier Number
133728
Relevant Clinical History and Physical Exam
71-year-old retired army officer, who is status post CABG in 2002, LIMA to LAD, SVG to RCA and SVG to Intermediate artery. Subsequently, his LIMA graft had totally occluded in 2004, requiring him to undergo PCI to native LAD. In 2015 he had PCI to SVG RCA done. His comorbidities include Hypertension, Diabetes and Dyslipidemia.His baseline Ejection Fraction on ECHO is 65%, no hypokinesia.He presented on 9/10/2020 with chest pain, ECG showed ST elevation in inferior leads, treated as Inferior MI.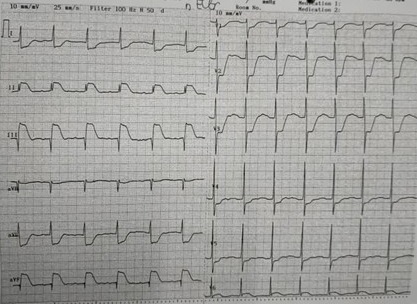 Relevant Test Results Prior to Catheterization
We decided to perform thrombolysis in view of acute MI in a patient status post CABG. ECG after thrombolysis showed resolution of ST segment elevation (ECG 2). His chest pain also resolved.Urgent 2D ECHO at bedside showed EF of 35-40%, global hypokinesia.
3 hours after thrombolysis, he had chest pain and acute confusion. Cardiac monitor showed VT followed quickly by VF. Defibrillated and CPR done for 15 minutes. ECG after ROSC showed new onset Left Bundle Branch Block. Decided for immediate CAG.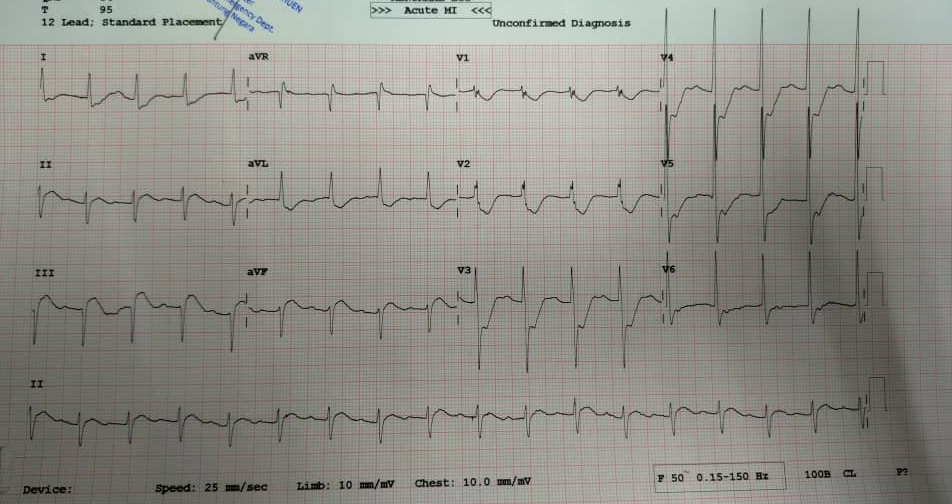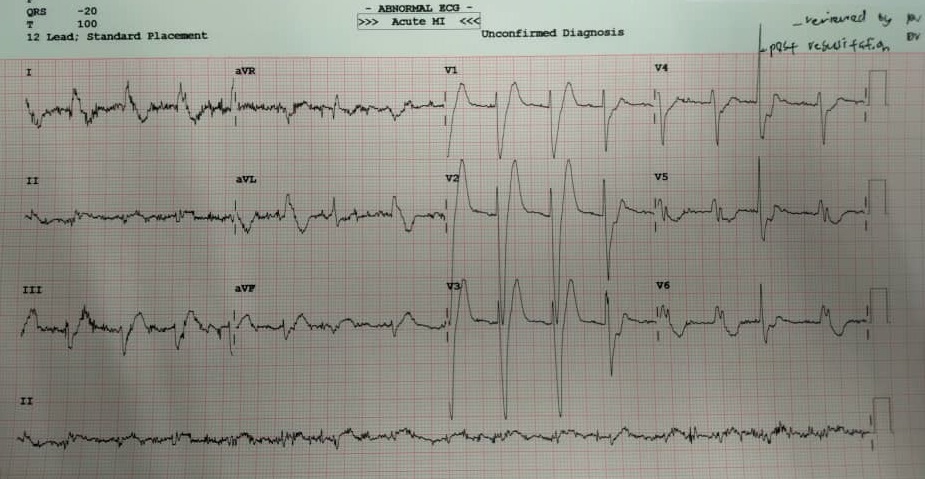 Relevant Catheterization Findings
Urgent angiogram and graft study was performed after CPR and ROSC.
Patient profoundly hypotensive and HR 30-40 with complete heart block, thus we access both femoral arteries and the femoral vein.Left femoral artery - IntraAortic Balloon Pump 1 to 1 AugmentationLeft femoral vein - Transvenous pacing wireRight femoral artery - Angiogram
LMS moderate distal diseaseLAD mild ISR, vessel patentRCA, LCX CTOSVG IM - 99% acute occlusion at distal graftSVG RCA - 100% total occlusion mid graft, thrombus laden

Angio of LMS LAD.avi

Angio of SVG to IM.avi

Angio of SVG RCA.avi
Interventional Management
Procedural Step
Diagnosis: Acute occlusion of SVG to RCA causing inferior MI, and acute subtotal occlusion of SVG to IM causing anterior MI in cardiogenic shock.According to the CVLPRIT-SHOCK trial, we should restore flow in the culprit vessel. In this case, as the patient had both inferior and anterior MI, we sought to quickly restore perfusion in both the SVG RCA and SVG IM vessels.
Beginning with the SVG RCA, we used a MB-1.0 guiding catheter, wired into the SVG to distal RCA with a RUNTHROUGH FLOPPY wire, and due to the heavy thrombus burden, performed thrombus aspiration with an EXPORT catheter. Red thrombus aspirated. Despite thrombus aspiration, there was residual thrombus at the mid segment of the graft. Further direct thrombus aspiration with the guide catheter was successful in removing the thrombus and restoring TIMI 3 flow to the SVG RCA
We then quickly used to JR Guiding 6Fr catheter to engage the SVG IM vessel and used the same wire into the distal IM vessel. Predilated with 2.5x15 TREK balloon, then Stented with DES ONYX 3.5x18mm at 18 atmospheres. Stent was well expanded with TIMI 3 flow into the IM and it's branches.

15 final shot RCA TIMI 2.avi

18 after balloon.avi

20 afeter stenting.avi
Case Summary
Patient survived the stormy procedure, intubated on 2 low dose inotropes with IABP support and had sinus tachycardia rate 98 thus the external pacemaker removed. He gradually recovered and was weaned from life support over the course of 1 week and discharged well.
This case illustrates the sequence of management in patients presenting with MI with history of CABG. More importantly, this case highlights the rare but dangerous occurrence of concurrent inferior and anterior myocardial infarction and the ECG changes that are associated with bilateral MI. Revascularization of both culprit arteries is of utmost importance and done in a timely fashion.
Leave Comments
TCTAP 2021 Virtual
Apr 12, 2021
Great case study! It's very interesting and educational.