Lots of interesting abstracts and cases were submitted for TCTAP 2021 Virtual. Below are accepted ones after thoroughly reviewed by our official reviewers. Don't miss the opportunity to explore your knowledge and interact with authors as well as virtual participants by sharing your opinion!
TCTAP C-089 . Presentation
Presenter
Je Hyung Park
Authors
Je Hyung Park1, Dong Hyun Kim1, Su-Kyung Kwon1, Wongong Chu1, Jin-ho Mun1, Sang-Su Lee1
Affiliation
Pusan National University Yangsan Hospital, Korea (Republic of)1,
TCTAP C-089
ENDOVASCULAR - Complications
Psedoaneurysm of Popliteal Artery as a Delayed Complication of JETSTREAM Atherectomy
Je Hyung Park1, Dong Hyun Kim1, Su-Kyung Kwon1, Wongong Chu1, Jin-ho Mun1, Sang-Su Lee1
Pusan National University Yangsan Hospital, Korea (Republic of)1,
Clinical Information
Patient initials or Identifier Number
YPK
Relevant Clinical History and Physical Exam
We performed atherectomy with JETSTREAM in this lesion as endovascular treatment. After surgery, the ABI improved and he was discharged without and specifics. Six days after atherectomy, he visited the emergency room, complaining of calf pain and swelling. The vital signs were stable, and there was no decrease in hemoglobin.
Relevant Test Results Prior to Catheterization
Pseudoaneurysm and hematoma were found in popliteal artery by CT angiogram.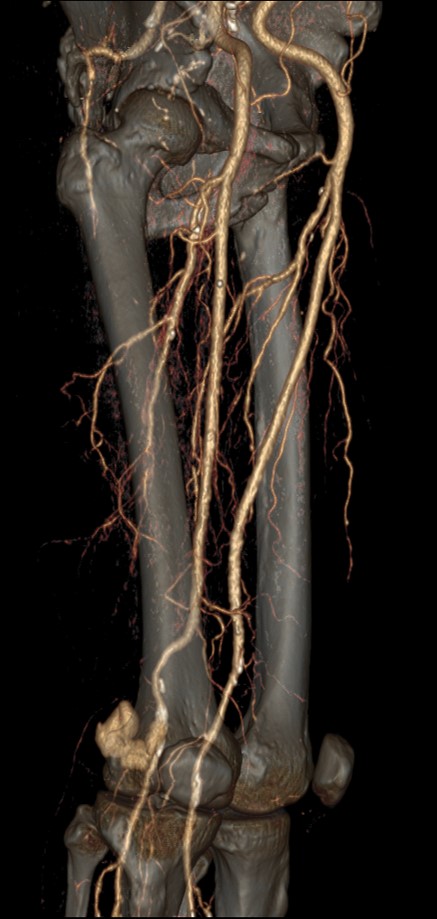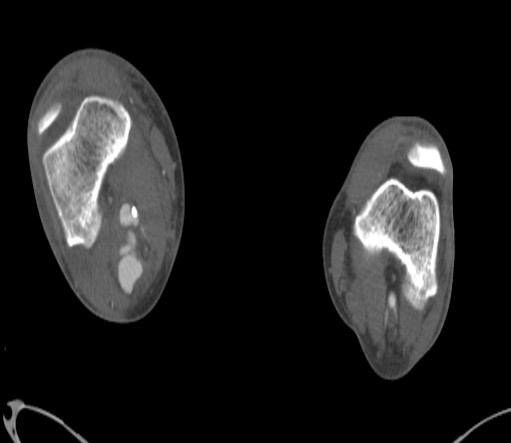 Relevant Catheterization Findings
During the follow-up after hospitalization, the pain and swelling of the lower extremities worsened, and emergency surgery was performed due to suspected popliteal arterial rupture and compartment syndrome.
Interventional Management
Procedural Step
Mechanical athrectomy with JETSTREAM1. supine position and general anesthesia2. drap with betadine from umbilicus to both toe3. direct puncture directly by ultrasound guided4. 7Fr sheath inserted and angiogram : nearly total occlusion at popliteal artery 5. 014 wire passage to posterior tibial artery supported rubicon catheter.6. ballon angioplasty at Rt. distal SFA, popliteal artery and posterior tibial artery(2.5cmx220mm)7. EMBOSHIELD deploy at Rt. Tibio-peroneal trunk8. Mechanical atherectomy at Right popliteal artery with JETSTREAM(2.4-3.4, luminal diameter twice and blade up twice)9. removal of filter10. drug coated balloon angioplasty with IN.PACT Admiral 6cmx150mm11. final angiogram : blood flow to the popliteal artery is intact12. removal of device and hemostasis
Emergency surgical exploration1. general anesthesia2. prone position3. longitudinal incision at popliteal fossa4. rupture of popliteal artery was found5. The upper and lower parts of the rupture site were clamped.6. performed endarterectomy and patch angioplasty with bovine patch 7. skin wall closure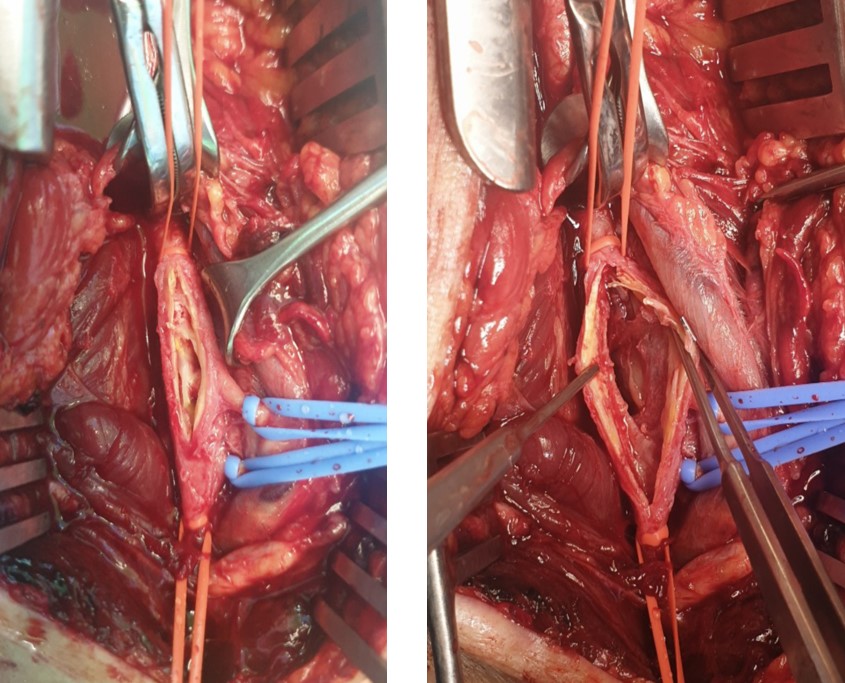 Case Summary
Peripheral atherectomy is utilised for the treatment of heavily calcified plaques in peripheral arterial lesions. Of the various atherectomy devices, The JETSTREAM Atherectomy System (Boston Scientific Corporation) is commonly used in lower extremity percutaneous interventions. As complications of JETSTREAM, embolization(9.9%) and dissection(8%) were reported, but the formation of pseudoaneurysm was rare.It is important to know the rare complications associated with JETSTREAM, since endovascular therapy in peripheral arterial disease has become increasingly common. Pseudoaneurysm is one of the rare complications associated with the use of JETSTREAM atherectomy device.
Leave Comments
TCTAP 2021 Virtual
Apr 12, 2021
Congratulations on the successful result!