Lots of interesting abstracts and cases were submitted for TCTAP 2021 Virtual. Below are accepted ones after thoroughly reviewed by our official reviewers. Don't miss the opportunity to explore your knowledge and interact with authors as well as virtual participants by sharing your opinion!
TCTAP C-096 . Presentation
Presenter
Saurabh Dhumale
Authors
Debdatta Bhattacharyya1, Saurabh Dhumale1
Affiliation
NH-Rabindranath Tagore International Institute of Cardiac Sciences, India1,
TCTAP C-096
IMAGING AND PHYSIOLOGIC LESION ASSESSMENT - Imaging: Intravascular
Optical Coherence Tomography Guided Angioplasty in a Patient with In-stent Re-stenosis
Debdatta Bhattacharyya1, Saurabh Dhumale1
NH-Rabindranath Tagore International Institute of Cardiac Sciences, India1,
Clinical Information
Patient initials or Identifier Number
TKB
Relevant Clinical History and Physical Exam
A 62-year-old diabetic normotensive gentleman had undergone PTCA and stenting to LAD in 2011 with Paclitaxel-eluting stent(3X24mm). He was re-admitted for investigation of chest pain associated with shortness of breath on exertion. During the past 10 years, he had erratic control of diabetes and he continued to smoke. On examination, he was in sinus rhythm with no signs of congestive heart failure with well-controlled blood pressure.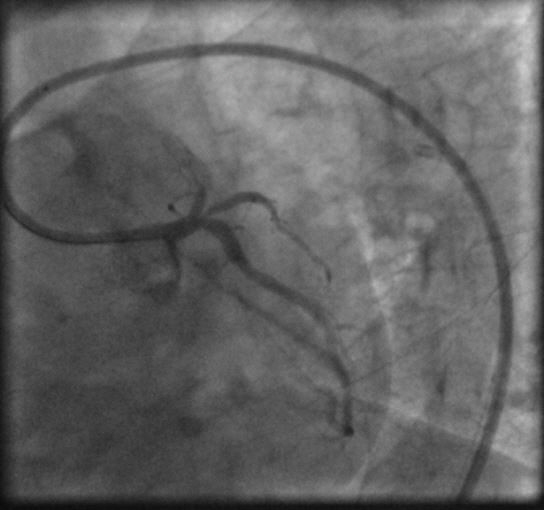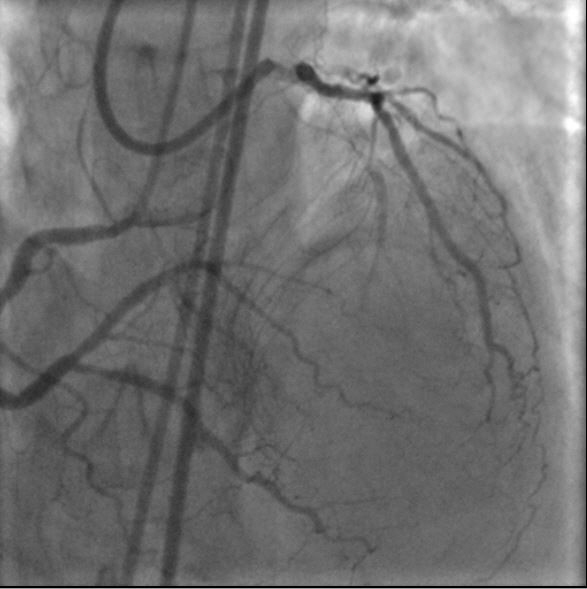 Relevant Test Results Prior to Catheterization
12 lead ECG showed sinus rhythm with left bundle branch block.Echocardiography showed hypo kinesis in the LAD territory with ejection fraction of 45%.Hemoglobin:12.3 gm% Serum Creatinine: 0.8mg/dl, LDL Cholesterol: 108 mg/dl.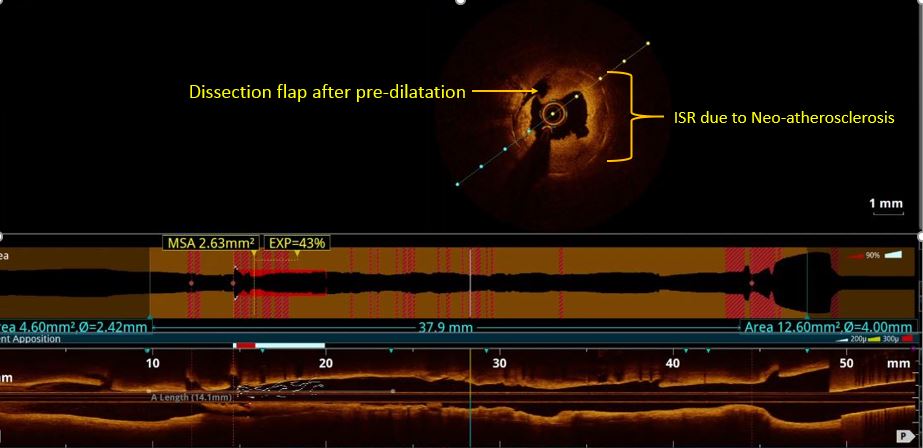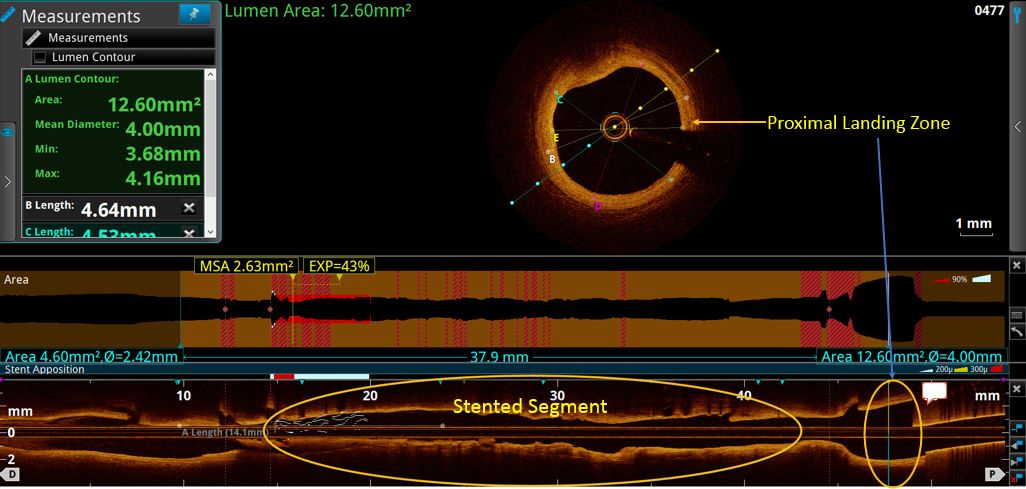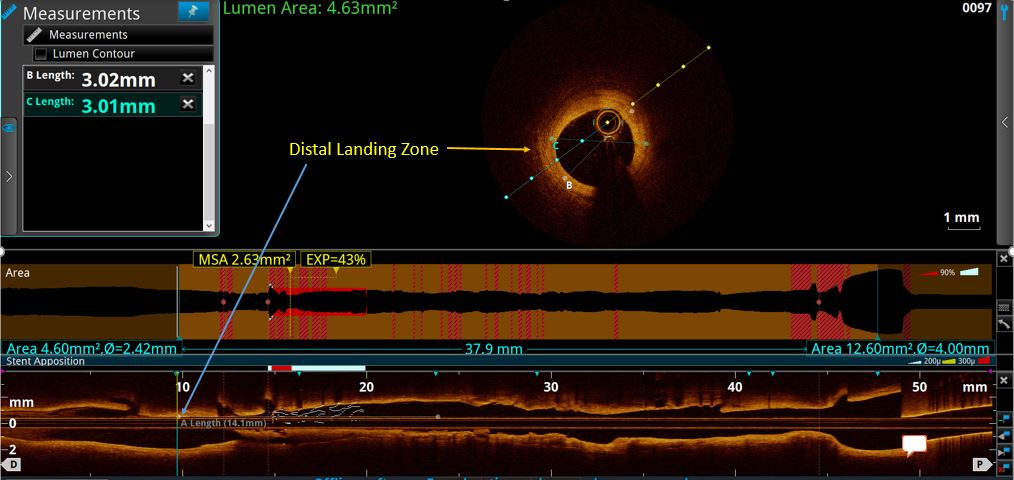 Relevant Catheterization Findings
LAD was occluded proximally just prior to the proximal edge of the stent, with a nipple and faint antegrade flow suggestive of a micro-channel formation in a case of CTO. The Circumflex was non-dominant and free from significant disease and supplied epicardial collaterals to the distal LAD. The RCA was a large dominant artery which supplied extensive collaterals to the LAD territory via septal collaterals.

TKB1.avi

TKB2.avi

TKB Pre PCI OCT Run.mp4
Interventional Management
Procedural Step
Arterial access was obtained both from right and left femoral arteries. The Left coronary artery was engaged with 7F XB 3.5 guide catheter and the right coronary artery was engaged with a 6F JR 3.5 diagnostic catheter. Simultaneous injections were taken to assess the length of the CTO. The CTO was crossed with a 0.014"X180 cm Run Through Intermediate wire aided with micro-catheter support and guided by retrograde injections from the right side to confirm the position of the wire in the true lumen in distal LAD. Thereafter, the artery was dilated with 1.5X15mm Traveler & 2.5X12mm NC Traveler Balloons. Thereafter, OCT run was performed with a Dragonfly Optics OCT catheter, following which further pre-dilatations were carried out by a 3.0X15mm NC traveler balloon. Following this stenting was carried out from LAD to LMCA with a 3.5X40mm DES. Following this post dilatations were carried out using a 3.5X12mm balloon at 20 ATM and then 4.0X12mm balloon at 8ATM. A final OCT run was performed after post-dilatations to ensure proper stent apposition and exclude any edge dissections. A small segment of the stent appeared to be under-expanded and was further treated with high pressure balloon dilatations with a 3.5X12mm NC traveler balloon at 20ATM.

TKB3.avi

TKB Post PCI OCT Run.mp4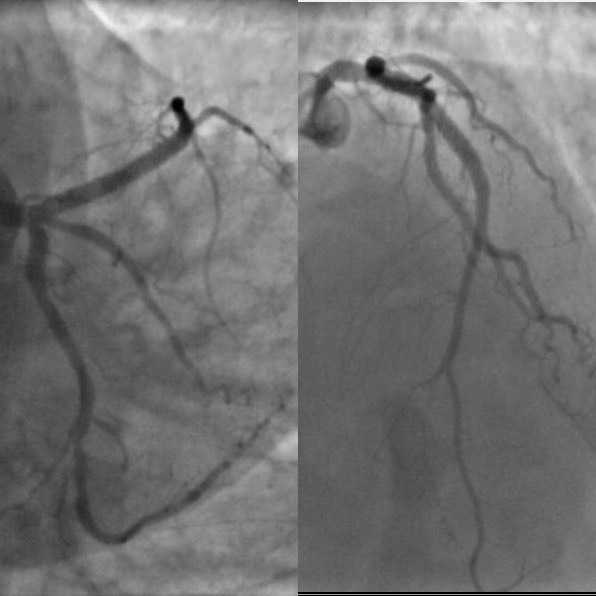 Case Summary
This 62-year-old gentleman who had a PTCA with a 3X24mm paclitaxel eluting stent in 2011, had poor risk factor control, which resulted in diffuse ISR with complete occlusion of stent. Fortunately, LV function was relatively preserved due to development of collaterals from the RCA and Circumflex arteries. Diffuse ISR is a difficult condition to treat and requires good understanding of the underlying cause. OCT rendered excellent images in this case, demonstrating neo-atherosclerosis, stent under-sizing, spotty calcification & neo-vascularization. It helped in the decision making regarding the choice of proximal and distal landing zones diameter of the new stent and optimal stent expansion.
Leave Comments
TCTAP 2021 Virtual
Apr 12, 2021
Thanks for sharing your report. It's very helpful for us.