Lots of interesting abstracts and cases were submitted for TCTAP 2021 Virtual. Below are accepted ones after thoroughly reviewed by our official reviewers. Don't miss the opportunity to explore your knowledge and interact with authors as well as virtual participants by sharing your opinion!
TCTAP C-012 . Presentation
Presenter
Amjad Ali
Authors
Amjad Ali1
Affiliation
Interventional Cardiologist Metro Hospital, India1,
TCTAP C-012
CORONARY - Acute Coronary Syndromes (STEMI, NSTE-ACS)
Primary Angioplasty of Severely Calcified Right Coronary Artery in a Triple Vessel Coronary Artery Disease Patient Using Antegrade Wire Escalation Technique
Amjad Ali1
Interventional Cardiologist Metro Hospital, India1,
Clinical Information
Patient initials or Identifier Number
Mr. R.R.
Relevant Clinical History and Physical Exam
I am presenting a case of 79 years old gentleman who was diagnosed as a case of evolved inferior wall myocardial infarction with complete heart block and shifted to our hospital for PCI. His pulse rate was 48/minute and BP was 86/60 mmHg. He was a known case of hypertension on irregular treatment.
Relevant Test Results Prior to Catheterization
12 leads ECG showed evolved inferior and lateral wall infarction with Mobitz type I AV block.Echocardiogram showed basal and mid inferior, posterior and lateral wall hypokinesia with moderate mitral regurgitation and left ventricleEF= 35%.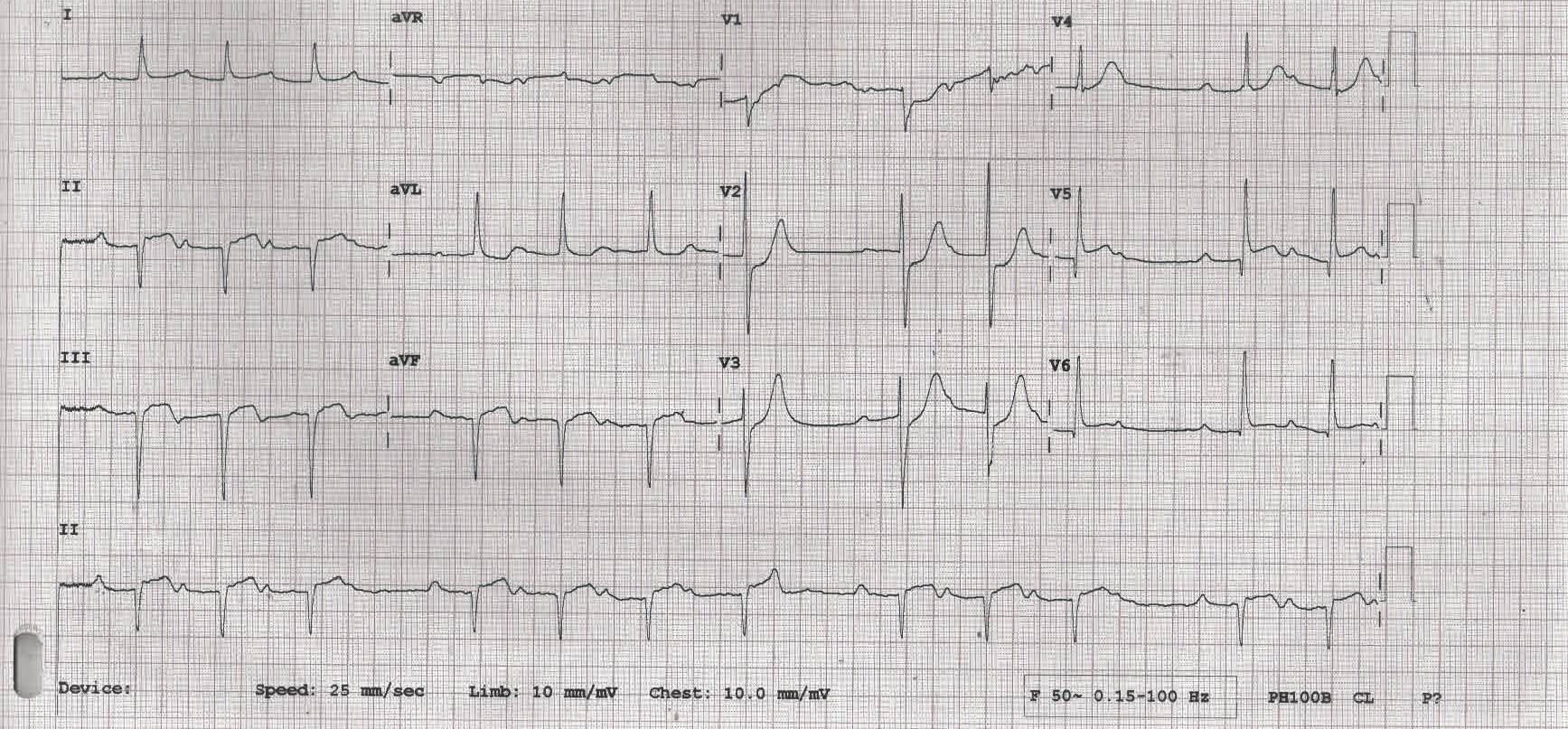 Relevant Catheterization Findings
CAGLMCA- long, distal plaqueLAD- diffusely diseased, 90-95% stenosisLCX- nondominant and has proximal significant diseaseRCA- severely calcified showing tram track calcification and occluded distally

2_mpeg4.avi

3_mpeg4.avi
Interventional Management
Procedural Step
Right coronary artery was engaged with 7 french Judkins right catheter, and 6f Guidezilla was kept at proximal RCA. Distal RCA lesion was tried to cross by workhorse wire but could not be succeeded. Finally, the lesion was crossed by pilot 150 wire with the help of a microcatheter with great difficulty. Serial pre dilatation was done and intracoronary abciximab and nicorandil were given because of slow flow. Two large overlapping drug-eluting stents were deployed with the help of Guidezilla from PDA to proximal RCA. Serial post dilatations were done by non-compliant balloons and good TIMI III flow was achieved in the distal vessel.

8_mpeg4.avi

10_mpeg4.avi

15_mpeg4.avi
Case Summary
It was a case encountering triple vessel disease with severely calcified right coronary artery occluded by thrombus in acute ST-elevation MI patients.The lesion was crossed by the CTO wiring technique using a pilot 150 wire with a microcatheter.Distal vessel calcification guides us to cross the lesion.Extra guiding support was taken by a Guidezilla from the starting of the procedure which helps to deliver large balloons and stents.In these types of primary angioplasty, we have to follow the steps of the CTO technique.
Leave Comments
TCTAP 2021 Virtual
Apr 12, 2021
Thanks for sharing your report.