Lots of interesting abstracts and cases were submitted for TCTAP 2021 Virtual. Below are accepted ones after thoroughly reviewed by our official reviewers. Don't miss the opportunity to explore your knowledge and interact with authors as well as virtual participants by sharing your opinion!
TCTAP C-074 . Presentation
Presenter
Wongsakorn Luangphiphat
Authors
Wongsakorn Luangphiphat1, Jutatip Na Witayanan1, Purich Surunchupakorn1, Thamarath Chantadansuwan1, Wirash Kehasukcharoen1
Affiliation
Central Chest Institute of Thailand, Thailand1,
TCTAP C-074
CORONARY - Complications
Uncommon Jailed Wire Complication
Wongsakorn Luangphiphat1, Jutatip Na Witayanan1, Purich Surunchupakorn1, Thamarath Chantadansuwan1, Wirash Kehasukcharoen1
Central Chest Institute of Thailand, Thailand1,
Clinical Information
Patient initials or Identifier Number
45
Relevant Clinical History and Physical Exam
A 45-year-old male, ex-smoker, HT, DLP. Presented with inferior wall STEMI which CAG diagnosed TVD underwent PPCI to RCA 9 months ago. After staging PCI to LCx he was arranged for elective PCI on this admission.
Relevant Test Results Prior to Catheterization
Laboratory showed Hct 44%, Cr 0.93 mg/dL, eGFR 99ml/min/1.73 m2, LDL 74 mg/dL and HDL 40 md/dL.Echocardiography showed LVEF 53%, inferior wall hypokinesia. Mild MR.
Relevant Catheterization Findings
LAD showed diffuse 70-80% lesion from proximal to mid LAD with a tight lesion at proximal DG1. PCI to both LAD and DG1 was planned with provisional T stent over the bifurcation. Sion Blue and Sion wire were placed in LAD and DG1 respectively. After stented the mid LAD and DG1, a 3.0/34 mm DES was deployed from LAD ostium to overlap with mid LAD stent. Angiogram post stenting showed good flow in both LAD and DG1, but the wire in DG1 was unable to be pulled out.

1.avi

2.avi

3.avi

4.avi

5.avi
Interventional Management
Procedural Step
Attempts to remove entrapped side branch wire with various devices and techniques were failed. Stent enhanced cinefluorography showed severely deformed proximal part of stent where it was squeezed by pulling side branch wire loop. Planned to remove both entrapped wire and deformed stent together but there's no specific device for this purpose. Since a small balloon (2.0/15 mm) could pass into the collapsed stent. When inflated inside the distorted stent it will act as a core to counter while pulling lasso wire loop. These would form a strong combination grasp of distorted stent that could help pull everything out. However proximal portion of stent could be pulled out only to the left main while distal portion remained intact, and promptly recoiled back into LAD when pulling released. After several attempts of combination pulling, maintained effort for longer than 20 seconds could stretch the lasso loop until it detached from the stent and successfully removed. Angiogram post wire removal confirmed stent was recoiled back into LAD completely. IVUS revealed severe stent distortion and malposition was confined only in the complicated segment, which was successfully re-expanded by high pressure inflation and covered by another DES (4.0/22 mm).

6.avi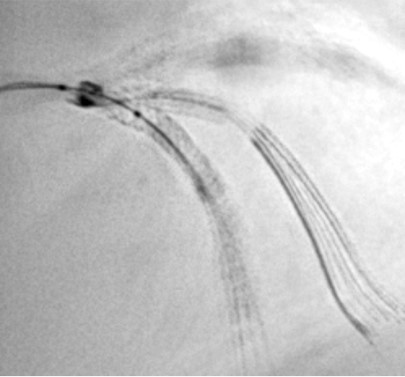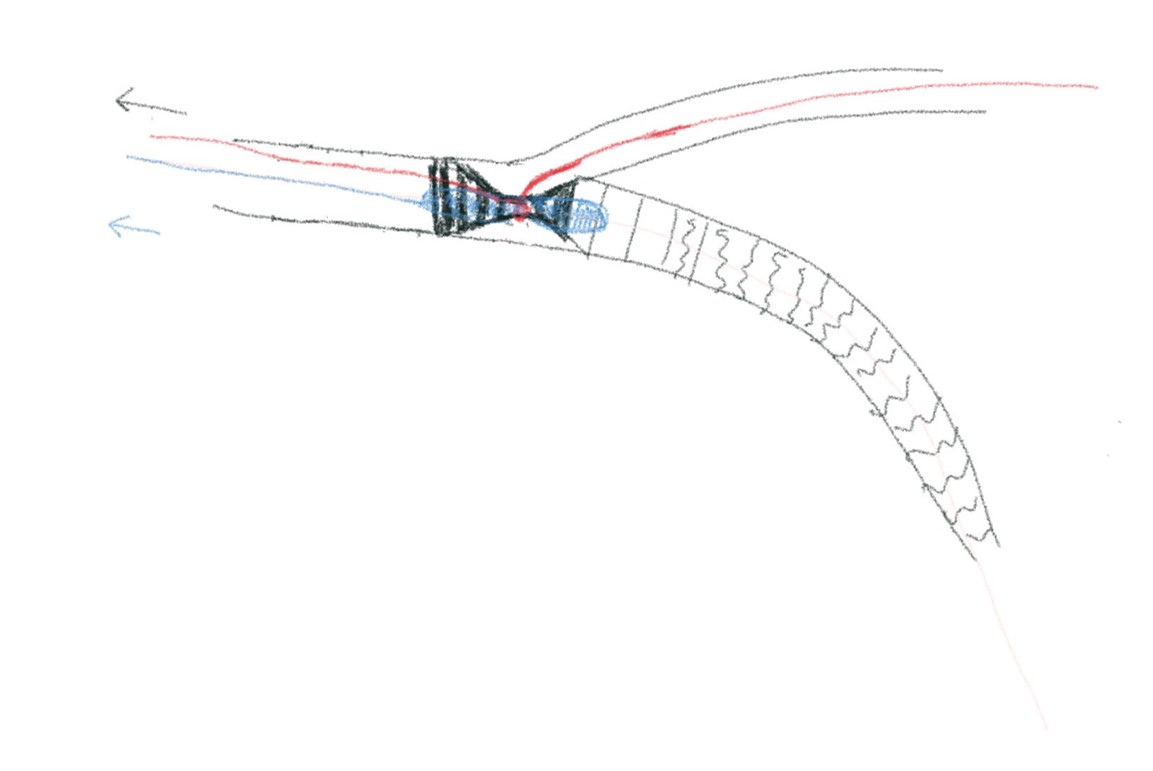 9.avi
Case Summary
Beware the angle and curve of the wire at the lesion site after ballooning and before stenting. If in doubt, do not pull the jailed sidebranch guidewire forcefully because the wire may fracture or it can damage the stent as shown in our case. Most reported cases of entrapped wires involved treatment of bifurcation lesions. A small balloon inflated inside the distorted stent as a core + forcefully pulling of lasso wire loop= A strong combination to grasp the stent.
Leave Comments
TCTAP 2021 Virtual
Apr 12, 2021
Thanks for sharing your report.