Lots of interesting abstracts and cases were submitted for TCTAP 2021 Virtual. Below are accepted ones after thoroughly reviewed by our official reviewers. Don't miss the opportunity to explore your knowledge and interact with authors as well as virtual participants by sharing your opinion!
TCTAP C-049 . Presentation
Presenter
Fani Suslina Hasibuan
Authors
Fani Suslina Hasibuan1, Achmad Fauzi Yahya1
Affiliation
Hasan Sadikin Hospital, Indonesia1,
TCTAP C-049
CORONARY - Complex and Higher Risk Procedures for Indicated Patients (CHIP)
IVUS Guided PCI in Chronic Total Occlusion of Very Old Saphenous Vein Graft
Fani Suslina Hasibuan1, Achmad Fauzi Yahya1
Hasan Sadikin Hospital, Indonesia1,
Clinical Information
Patient initials or Identifier Number
Mr M
Relevant Clinical History and Physical Exam
An 82-year-old man presented with angina CCS III refractory to medical therapy was staged to have PCI of chronic total occlusion of saphenous vein graft to RCA. He had bypass surgery 27 years prior to admission (graft report was lost). Three months before he underwent PCI to native proximal LAD and 3.0 x 26 mm was deployed. His coronary risk factors included hypertension and ex-smoker. His physical examination was normal.
Relevant Test Results Prior to Catheterization
His laboratory results within normal limit. The baseline ECG was normal.Echocardiography showed reduced preserved LVEF (52% by Biplane) with hypokinetic in inferolateral and inferior wall.
Relevant Catheterization Findings
1. Native vesselsshowed LM was normal. The proximal LAD stent was patent. There was collateralfrom distal LAD to distal RCA. The proximal LCX and RCA were occluded.2. The SVG-RCAwas occluded located in mid SVG. There was no other graft was observed.

Interventional Management
Procedural Step
A 7 Fr JR 3.5 guiding catheter was engaged into the SVG ostium. Attempt to cross the lesion with Fielder FC wire but it was unsuccessful. Following antegrade wire escalation using Fielder XT, Gaia First and Miracle 6 facilitated by microcatheter APT (APT Medical), the CTO was crossed. Then a 2.0 x 20 mm semi compliant balloon was used to predilated. Intravascular imaging with IVUS demonstrated mixed plaque with mild-moderate calcification. We had difficulty in positioning distal protection device (Filter EZ Wire
TM
(Boston Scientific) to distal graft but it was managed well after using buddy wire and performing further predilation using 2.5 x 15 mm semi-compliant balloon. A 3.5 x 34 mm DES was deployed at 14 atm. Angiography demonstrated under expansion at distal stent, so we did post dilatation using non-compliant balloon 3.75 x 12 mm and inflated 12 atm. IVUS evaluation showed good expansion and apposition and there was no stent edge dissection. Filter EZ Wire deflated and removed. Final angiogram TIMI 3 flow. Patient was discharged two days later and DAPT plan for 12 months.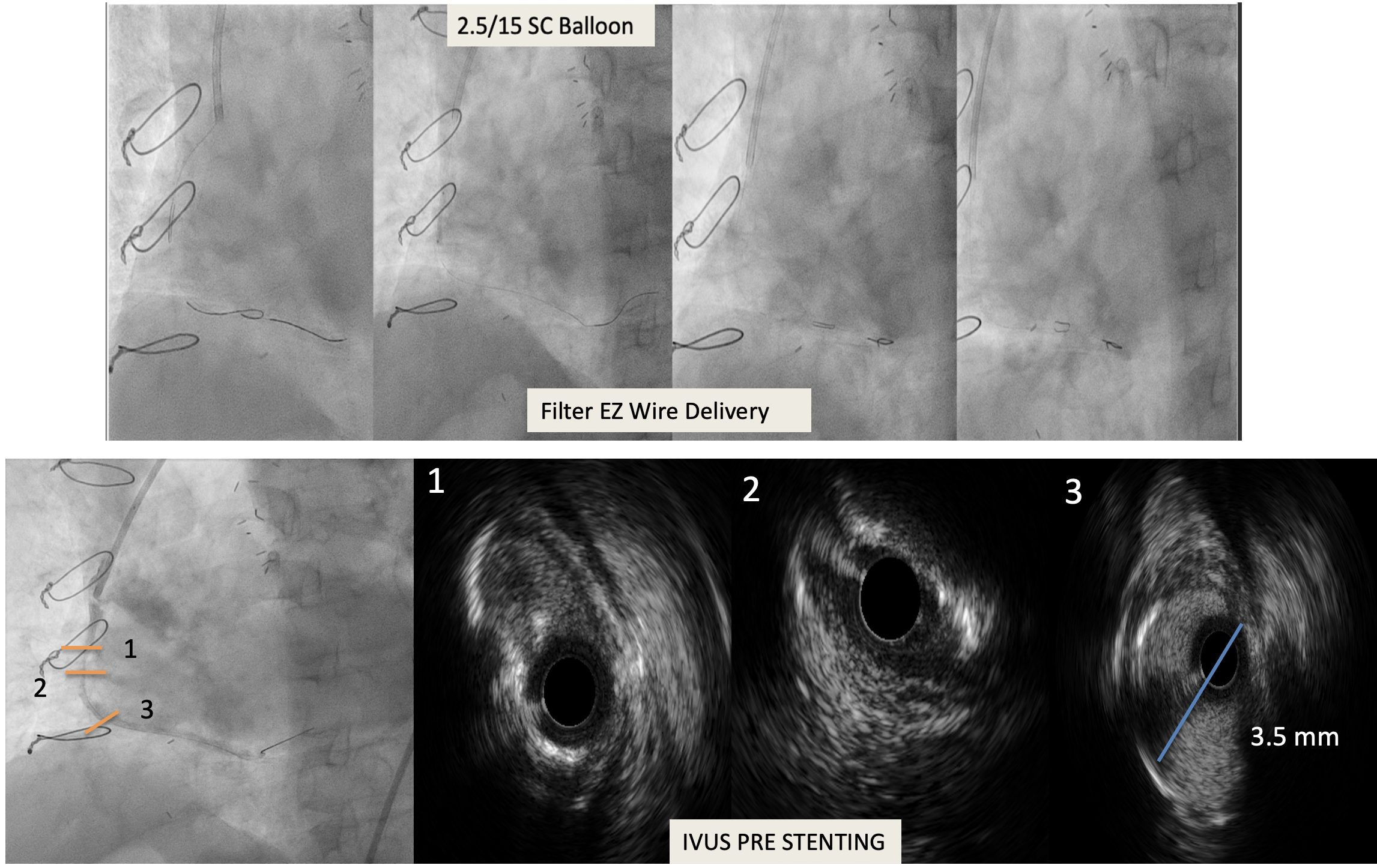 SVG_POST_STENTIVUS_2_3.mp4

Coronary_15_fps_Low_48_48.mp4
Case Summary
Intervention of CTO Saphenous vein graft is a high-risk procedure, as there is a frequent association of distal embolization and no reflow during the intervention. The alternate of a redo-CABG is not often available, and therefore, PCI is often the only option. Therefore, knowledge of the techniques of maximizing the benefits will go a long way to improving the results in this patient.
Leave Comments
TCTAP 2021 Virtual
Apr 12, 2021
Very interesting study!