Lots of interesting abstracts and cases were submitted for TCTAP 2021 Virtual. Below are accepted ones after thoroughly reviewed by our official reviewers. Don't miss the opportunity to explore your knowledge and interact with authors as well as virtual participants by sharing your opinion!
TCTAP C-108 . Presentation
Presenter
Sunip Banerjee
Authors
Sunip Banerjee1
Affiliation
SG Cardiac Care, India1,
TCTAP C-108
STRUCTURAL HEART DISEASE - Others (Structural Heart Disease)
Multiple Intervention as a Sequle of Infarct
Sunip Banerjee1
SG Cardiac Care, India1,
Clinical Information
Patient initials or Identifier Number
G Pan
Relevant Clinical History and Physical Exam
Patient (54 yrs/Female) had a MI and presented with postMI angina on 27.07.2015
•CAG revealed MVD and patient went through CABG on 03.08.2015
•Patient readmitted with newly developed chest discomfort on 03.02.2016
•CAG revealed LIMA-> LAD occluded. Asub-mitral aneurysm was noted.
•PTCA was done and LAD was stented on 05.02.2016.
•Patient still had persistent symptom (with preserved EF) in spite of maximum medical management.
•Cardiac MRI was advised on 28.11.2019.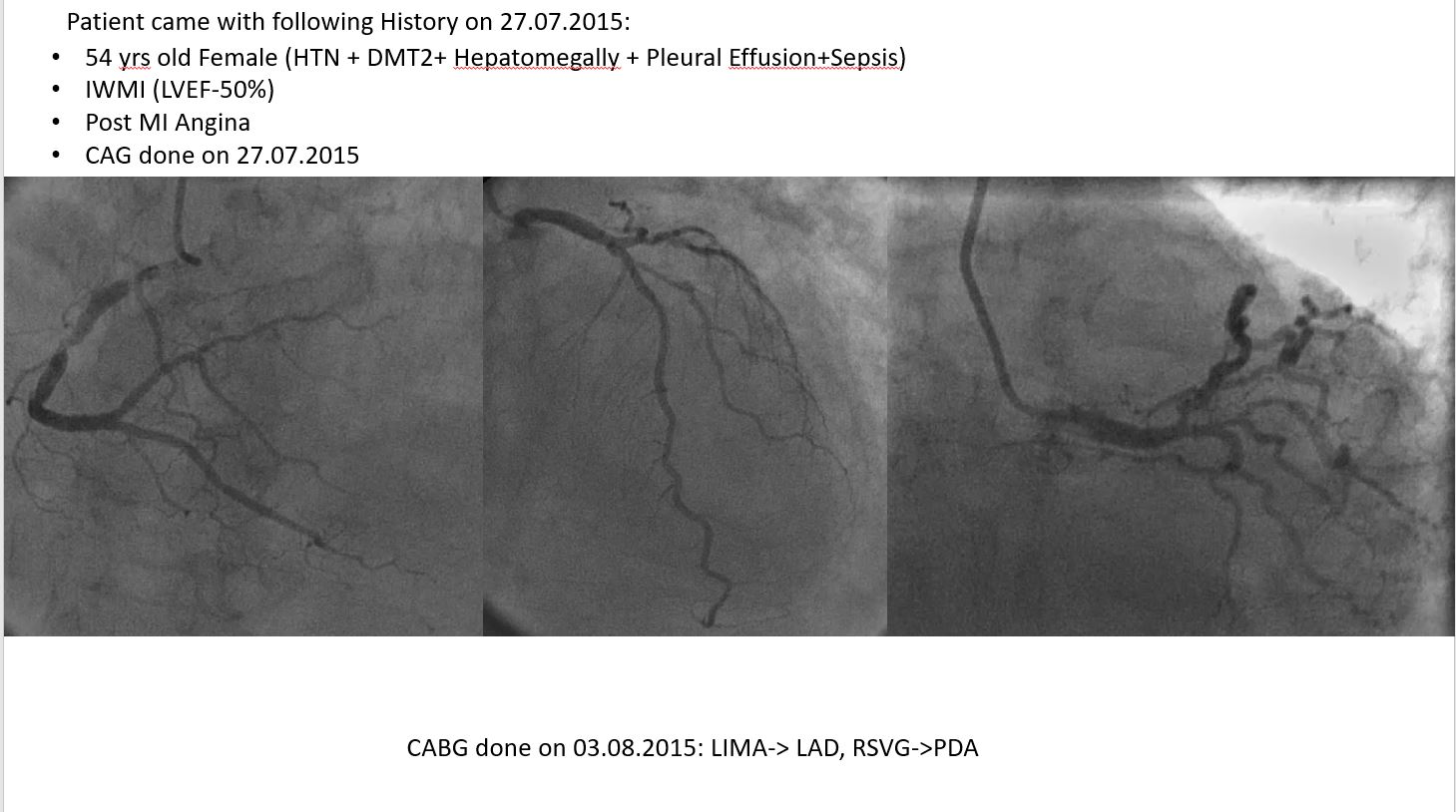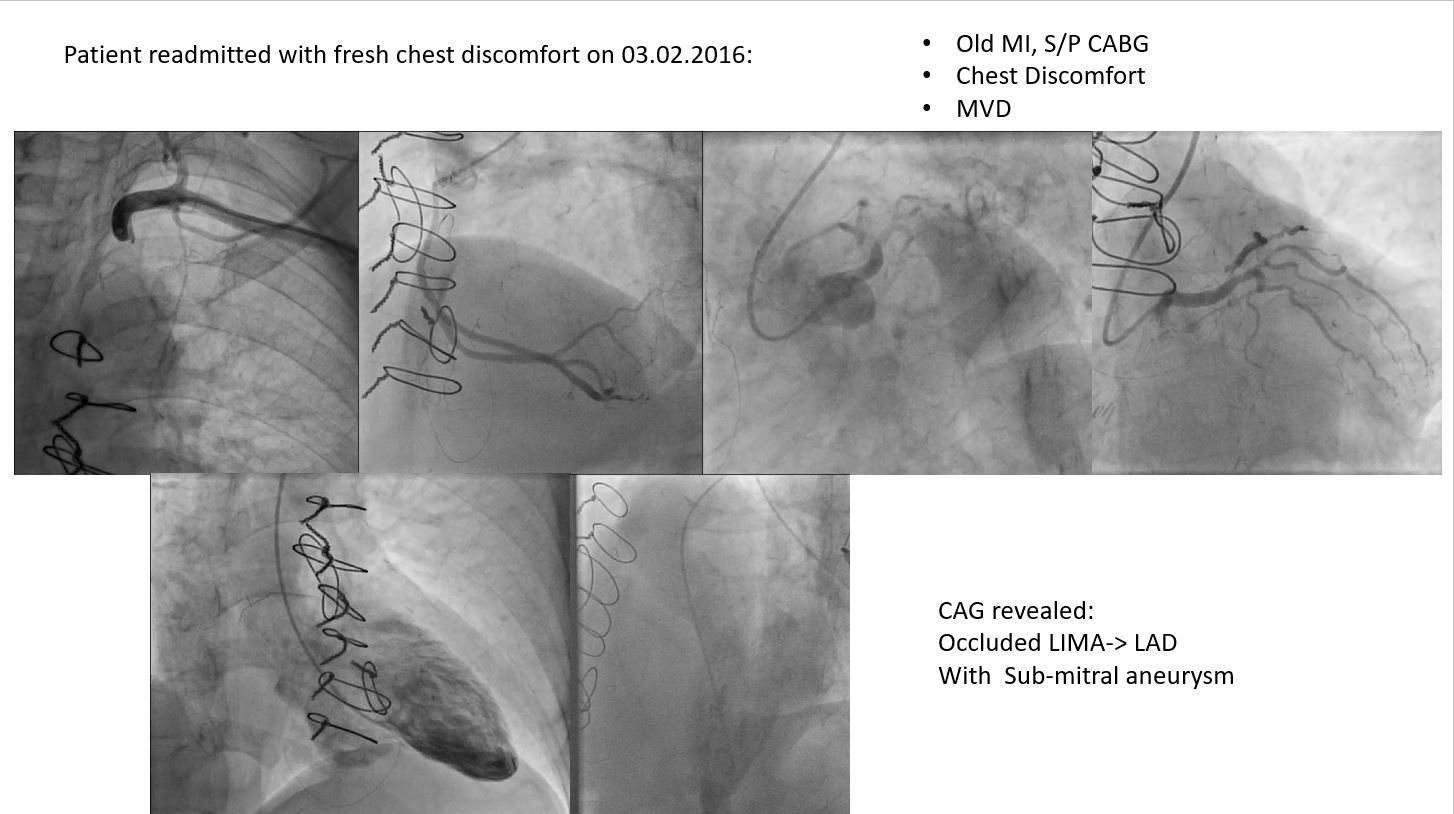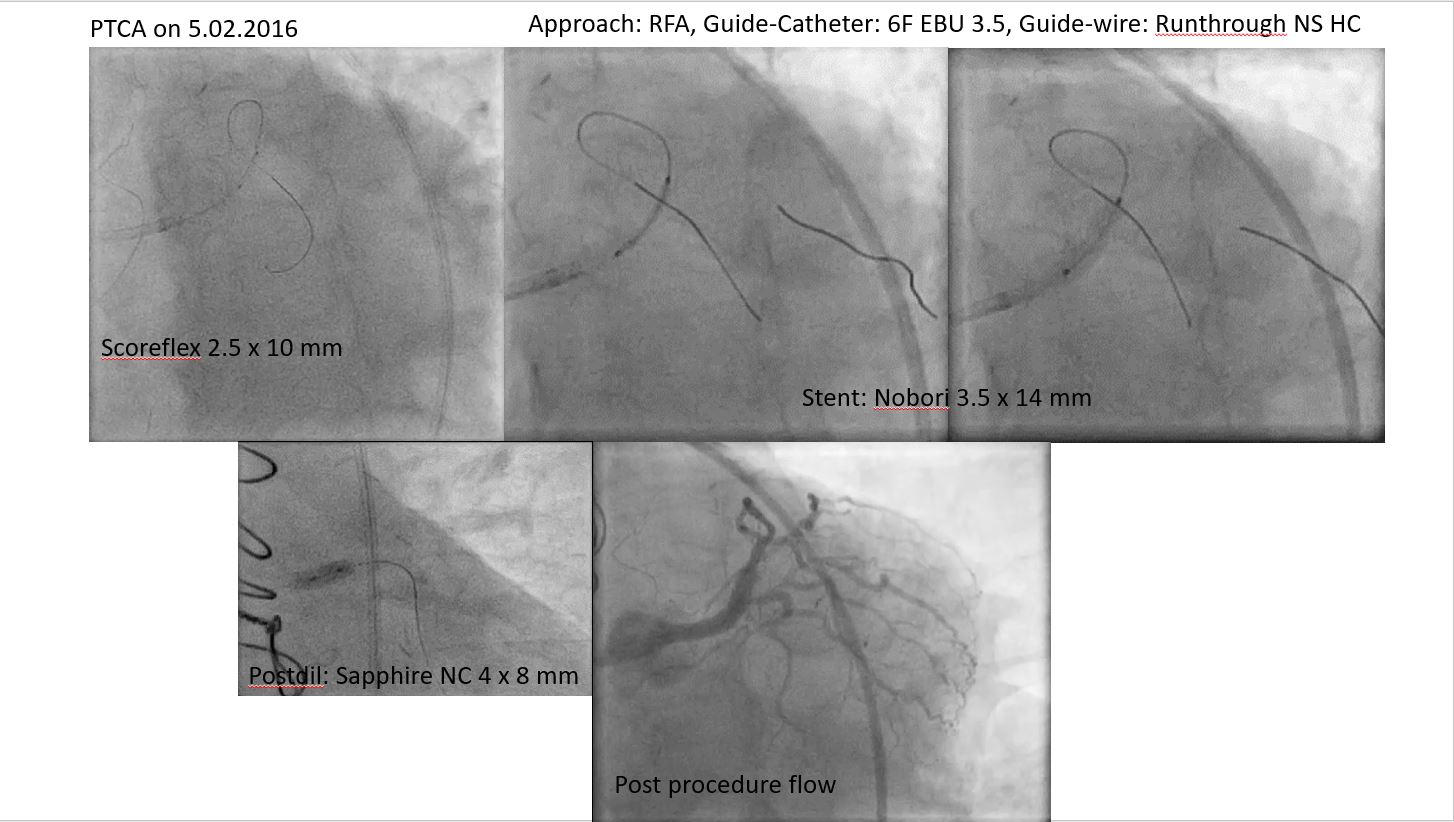 Relevant Test Results Prior to Catheterization
MRI on 05/12/2019: Indication: Inferior Wall Aneurysm. Finding: LVEF-56%, No LVOT obstruction. No LVH. An aneurysm of size 3.2 x 2.5 x 2.4 cm with neck size is seen arising from basal & mid inferior wall. The RV is Normal with preserved systolic function.Normal atrial diameter. No LV thrombus.Lungs and mediastinum are within normal limits.

MRI 01.wmv

MRI 02.wmv

MRI 03.wmv
Relevant Catheterization Findings
CAG revealed:Patent stent in LAD and patent SVG graft in PDA.

Catheterization (1).mp4

Catheterization (2).mp4

Catheterization (3).mp4
Interventional Management
Procedural Step
Produre name: LV aneurysm closure performed under GAClinical presentation: Recent acute coronary syndromeAccess: Right femoral artery- arteriotomyHeparin: 5000 IUCatheter: 5F JR.3.0Wire: 0.035" Teremu wire, 0.035" Exchange length Amplatzer wireDevice: 26 mm. Cere ASD Occluder.Delivery system: 12F Steer Ease Introducer.Haemodynamic Data: SPO2- 100%, Hb-11.1Procedure: Arteriotomy of right common femoral artery done and steer Ease Introducer was taken up to Ascending aorta. 5F JR-3.0 diagnostic catheter was taken to cross the aortic valve and engage the LV aneurysm. Then Amplatzer wire was placed into LV aneurysm. The 12F Steer Ease Introducer was taken over the Amplatzer wire and 5F JR 26 mm Cere ASD Occluder device was deployed and released after confirming its position by TEE. Post procedure LV angiogram showed occluder device was correctly position and no residual leak/aneurysm expansion was seen.Arteriotomy closed and patient was extubated on table.

Device closure (1).mp4

Device closure (2).mp4

Device closure (3).mp4
Case Summary
Conclusion:There is significant discrepancy in sizes via various imaging modalities, which makes sizing challenging.Tiding over this problem by oversizing may not be feasible as the disc on ventricular side may impinge on mitral leaflets/ subvalvular apparatus.Sizing also involves assessment of depth of aneurysm.Mostly ASD closure devices are appropriate choices.
Leave Comments
TCTAP 2021 Virtual
Apr 12, 2021
Thank you for sharing your study. We've learned a lot from you!