Lots of interesting abstracts and cases were submitted for TCTAP 2021 Virtual. Below are accepted ones after thoroughly reviewed by our official reviewers. Don't miss the opportunity to explore your knowledge and interact with authors as well as virtual participants by sharing your opinion!
TCTAP C-090 . Presentation
Presenter
Cheng-Chun Wei
Authors
Cheng-Chun Wei1
Affiliation
Shin Kong Memorial Hospital, Taiwan1,
TCTAP C-090
ENDOVASCULAR - Peripheral Vascular Disease and Intervention
A Case of Left Iliac Vein Total Occlusion Complicated with Fractured Self-expandable Stent
Cheng-Chun Wei1
Shin Kong Memorial Hospital, Taiwan1,
Clinical Information
Patient initials or Identifier Number
Mr. Duboin
Relevant Clinical History and Physical Exam
The 69 y/o fisherman suffered from left leg chronic ulceration and stasis dermatitis for 1 year in Palau. He denied any cancer or coagulation disorders. He had hypertension and diabetes without well controlled. He visited local clinics and left deep vein thrombosis was suspected. He was prescribed with some coumadin and diuretics but his symptoms fluctuated. Therefore, he visited our hospital for the interventional therapy.
Relevant Test Results Prior to Catheterization
Compression vein echo showed partial thrombosis over left popliteal vein and superficial femoral vein.CT showed left iliac vein total occlusion and the pathophysiology was May-Thurner syndrome.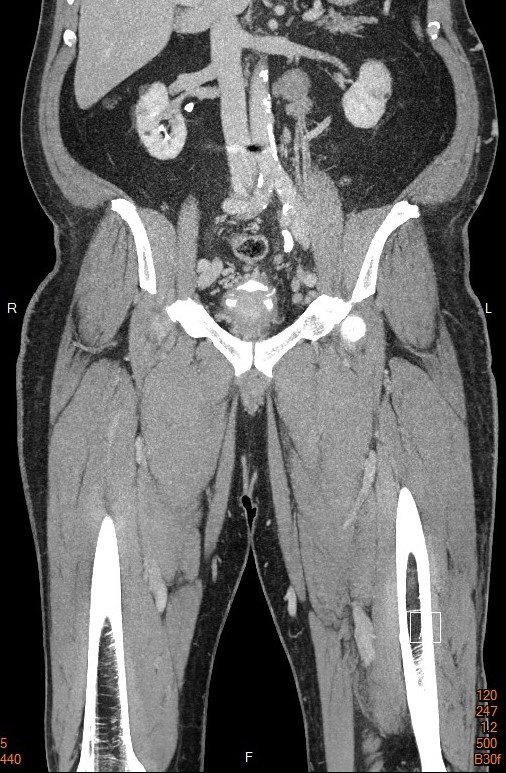 Relevant Catheterization Findings
The venography from popliteal vein showed partial thrombosis with small caliber of SFV and a large collateral. Delayed venous flow was noted especially over left common femoral vein. A giant collateral from left CFV to right CFV was found. Some channels or tortuous collaterals were identified inside CTO. We also performed venography from IVC and showed ambiguous entry.

angio from IVC.AVI

SFV and collaterals.AVI

pre-venography.AVI
Interventional Management
Procedural Step
We approached from right IJV and left CFVbi-directionally. The CTO route was ambiguous and no clear stump over iliac bifurcation, so we started with knuckle wire antegradely. Due to extreme vessel tortuosity and poor back-up, the conventional knuckle could not succeed. We tried guide-extension and balloon anchor to stabilize the GC from both sides. Bi-direction wire overlapped each other after some efforts. R-CART was done and retro GWcrossed the lesion to IVC. After externalization, balloon angioplasty was performed with 8mm BC. 12mm VENVO stent was deployed. The VENOVO stent is designed for the iliofemoral veins with strong radial force, and crush resistance. The spent stuck in the halfway of deployment and the possible mechanism of was spur byMTS. Manual retraction was tried but the balloon could not cross destroyed strut. We tried another strut and did BADFORM technique. Another E-luminexx covered the fractured VENOVO stent successfully.

rCART and wire cross.AVI

Venovo stent stucked.AVI

maunal retraction of stent.AVI
Case Summary
We experienced a rare complication of stent fracture when deploying a self-expandable stent in a very tortuous iliac vein. Our case demonstrated several possible bailout methods for this difficult situation.
Leave Comments
TCTAP 2021 Virtual
Apr 12, 2021
Thanks for sharing your report. It's very helpful for us.