Lots of interesting abstracts and cases were submitted for TCTAP 2021 Virtual. Below are accepted ones after thoroughly reviewed by our official reviewers. Don't miss the opportunity to explore your knowledge and interact with authors as well as virtual participants by sharing your opinion!
TCTAP C-048
Presenter
Michael N. Gergis
Authors
Michael N. Gergis1
Affiliation
Aswan Heart Center (Magdi Yacoub Foundation), Egypt1,
TCTAP C-048
CORONARY - Complex and Higher Risk Procedures for Indicated Patients (CHIP)
CHIP NSTEMI; When Complexity Turns Fruitful at 40 Days
Michael N. Gergis1
Aswan Heart Center (Magdi Yacoub Foundation), Egypt1,
Clinical Information
Patient initials or Identifier Number
Z. A.
Relevant Clinical History and Physical Exam
- 65 years lady, DM, HTN - Presented with high-risk NSTEMI and was referred for urgent coronary angiography- borderline hemodynamics with bilateral basal crepitation- She rapidly deteriorated and developed pulmonary edema and she was electively intubated.- She was immediately rushed to the Cath lab
Relevant Test Results Prior to Catheterization
Echo: severely impaired LVEF = 20% with moderate MRShe is known to have multi-vessel CAD for 3 years and she refused any intervention at that time.

pre 1.wmv

pre 2.wmv
Relevant Catheterization Findings
Left main ostial and distal severe stenosis (Medina 1-1-1)LAD: shows tight ostial calcific stenosis followed by mid segment long severe stenosisLCX: retroflexed origin, ostial severe stenosis at the origin of 1st OM branch. The LCX shows proximal long significant stenosisRCA: CTO at the ostium with faint TIMI I and retrograde filling via contralateral septal collateralsHeart team was urgently held and she was turned down by surgeons due to frailty and severely impaired LVEF

pre 2..wmv

pre 3.wmv

pre 4.wmv
Interventional Management
Procedural Step
> IABP was inserted- Engagement of the LM was difficult due to ostial lesion, it was fished by a BMW wire and the guiding was positioned over it.- Sion wire over corsair microcatheter was steered successfully into the 1st OM branch- Difficulty to wire the LCX proper- Predilatation for distal left main/ostial LCX and LAD, after which the LCX trunk was wire successfully. > IVUS assessment was done for proper vessel sizing- Further proper preparation by non-compliant balloons - PCI to distal LCX and mid LAD followed by PCI to LM-LAD and LCX by cullotte technique- followed by kissing balloon inflations and final POT (3 KBI and 3 POTS were performed, one after each stent) - Final result was good with TIMI III flow > Post PCIIVUS assessment- MSA at LAD was7.9 mm2 at LCX, 9.2 mm2 at LAD, 12.5 mm2 at LMT- Patient was transferred to ICU on high dose of Noradrenaline and adrenaline- Extubated after2 days and IABP removed at day 4 > She suffered hectic ICU course:- She developed CIN requiring dialysis for 4 sessions- She developed 2attacks of hematemesis (stress ulcer ) and received PRBCS- She developed hospital acquired pneumonia and received culture-based antibiotics. > She was discharged home after 3 weeks.- She came for follow up at outpatient clinics after 2 weeks and after 40 days > Her LVEF recovered completely, she is doing fine, ambulatory and symptom-free.A long story with fruitful end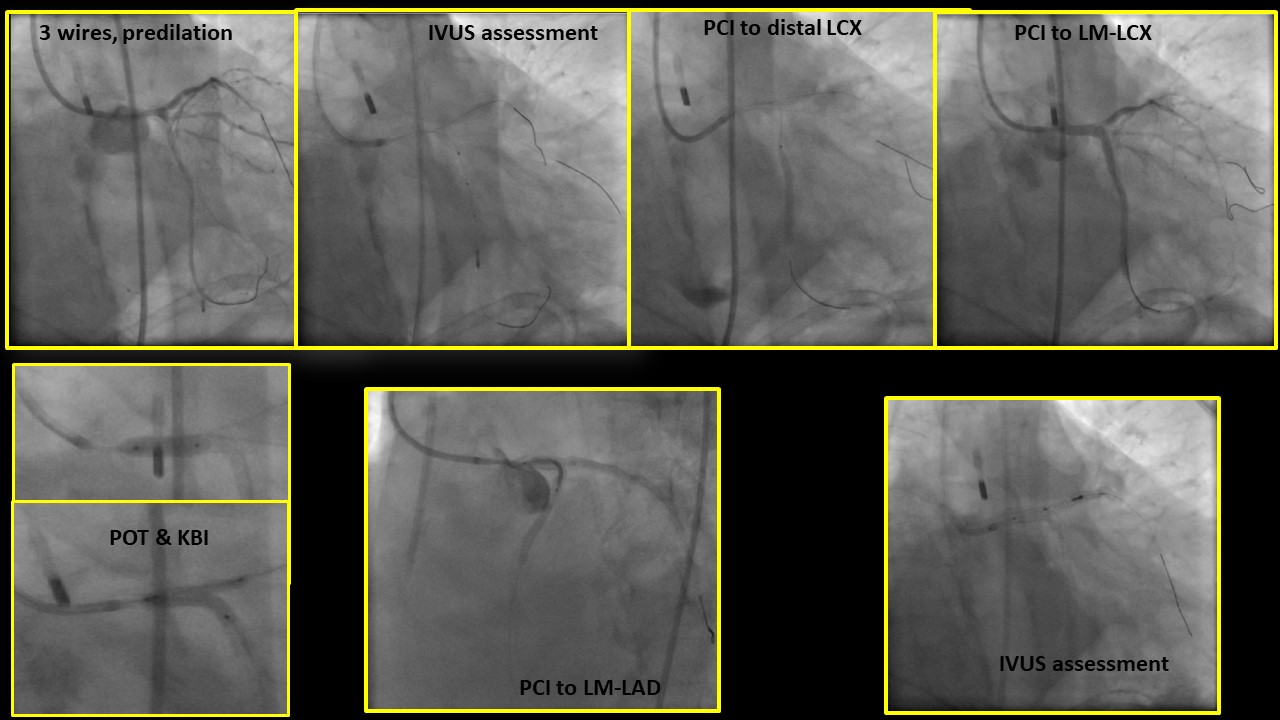 post 2.wmv

post echo.wmv
Case Summary
CHIP is not uncommon in daily practice.CHIP PCI is not a one-man show.CHIP usually require a longer ICU stay, so be prepared and backed up with a powerful ICU team.Do not lose hope, severely Impaired LVEF recovers with optimum revascularization.
Leave Comments
Michael N. Gergis
Apr 23, 2021
Complete revascularization paid off with recovery of severely impaired LV (15% to 45%)
Complex PCI with IABP support
TCTAP 2021 Virtual
Apr 12, 2021
Good strategy! Congratulations on the great result!