Lots of interesting abstracts and cases were submitted for TCTAP 2021 Virtual. Below are accepted ones after thoroughly reviewed by our official reviewers. Don't miss the opportunity to explore your knowledge and interact with authors as well as virtual participants by sharing your opinion!
TCTAP C-039
Presenter
Chia-Chang Lin
Authors
Chia-Chang Lin1, Jun-Ting Liou2
Affiliation
TSGH, Taiwan1, Tri-Service General Hospital, Taiwan2,
TCTAP C-039
CORONARY - Chronic Total Occlusion
Difficult RCA Chronic Total Occlusion - Choose the Right Way to the Roma
Chia-Chang Lin1, Jun-Ting Liou2
TSGH, Taiwan1, Tri-Service General Hospital, Taiwan2,
Clinical Information
Patient initials or Identifier Number
Mr. Tseng
Relevant Clinical History and Physical Exam
A 71-year-old male patient was admitted for frequent effort chest tightness and exaggerated exertional dyspnea for 2 months. That chest discomfort could be partially relieved by sublingual NTG. He underwent PCI with bare-metal stenting at both LCX and RCA 11 years ago. His coronary risk factors were hypertension, type 2 diabetes mellitus and dyslipidemia. No significant abnormality of physical exam. His electrocardiogram (ECG)demonstrated T wave inversion of lead II, III and aVF.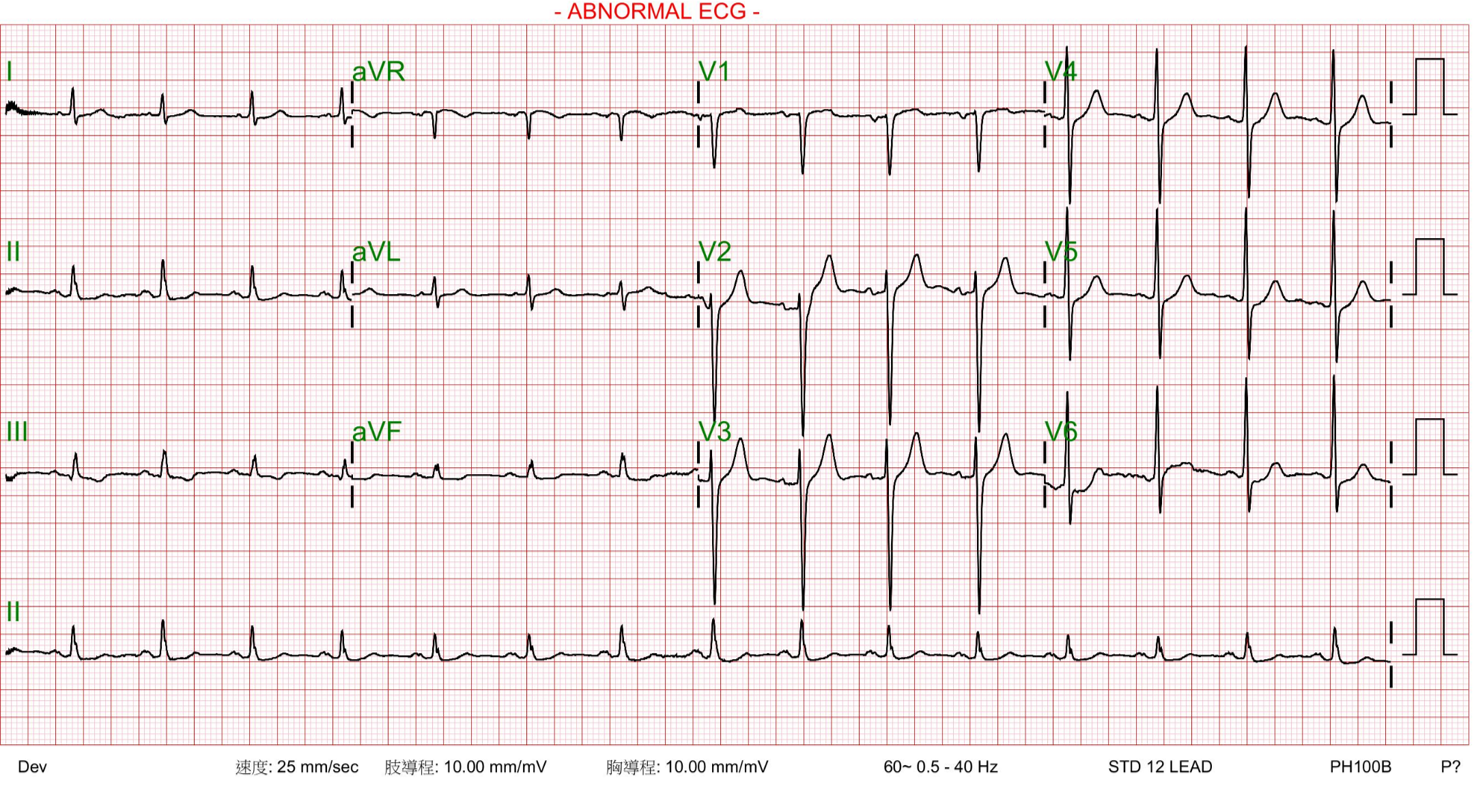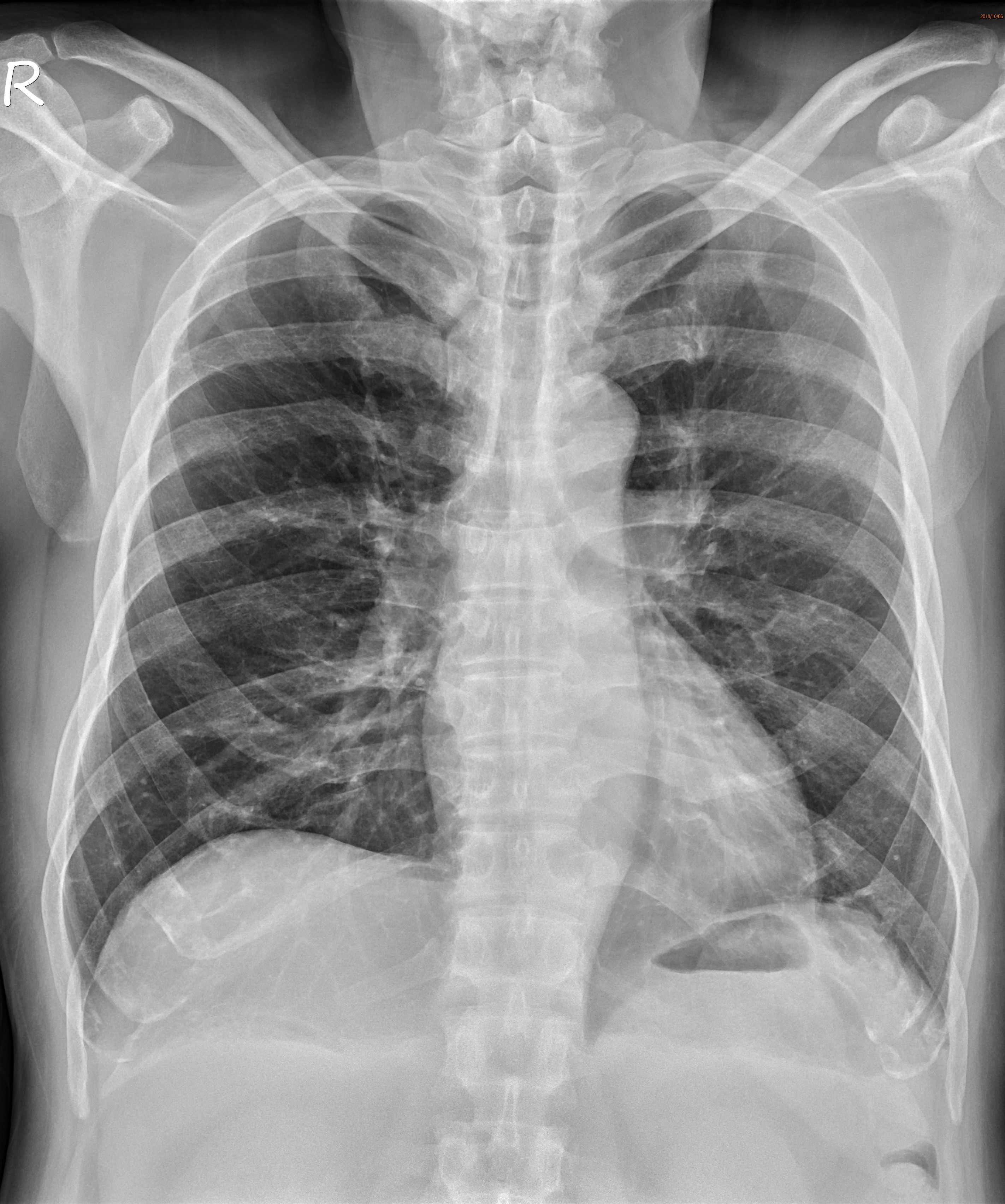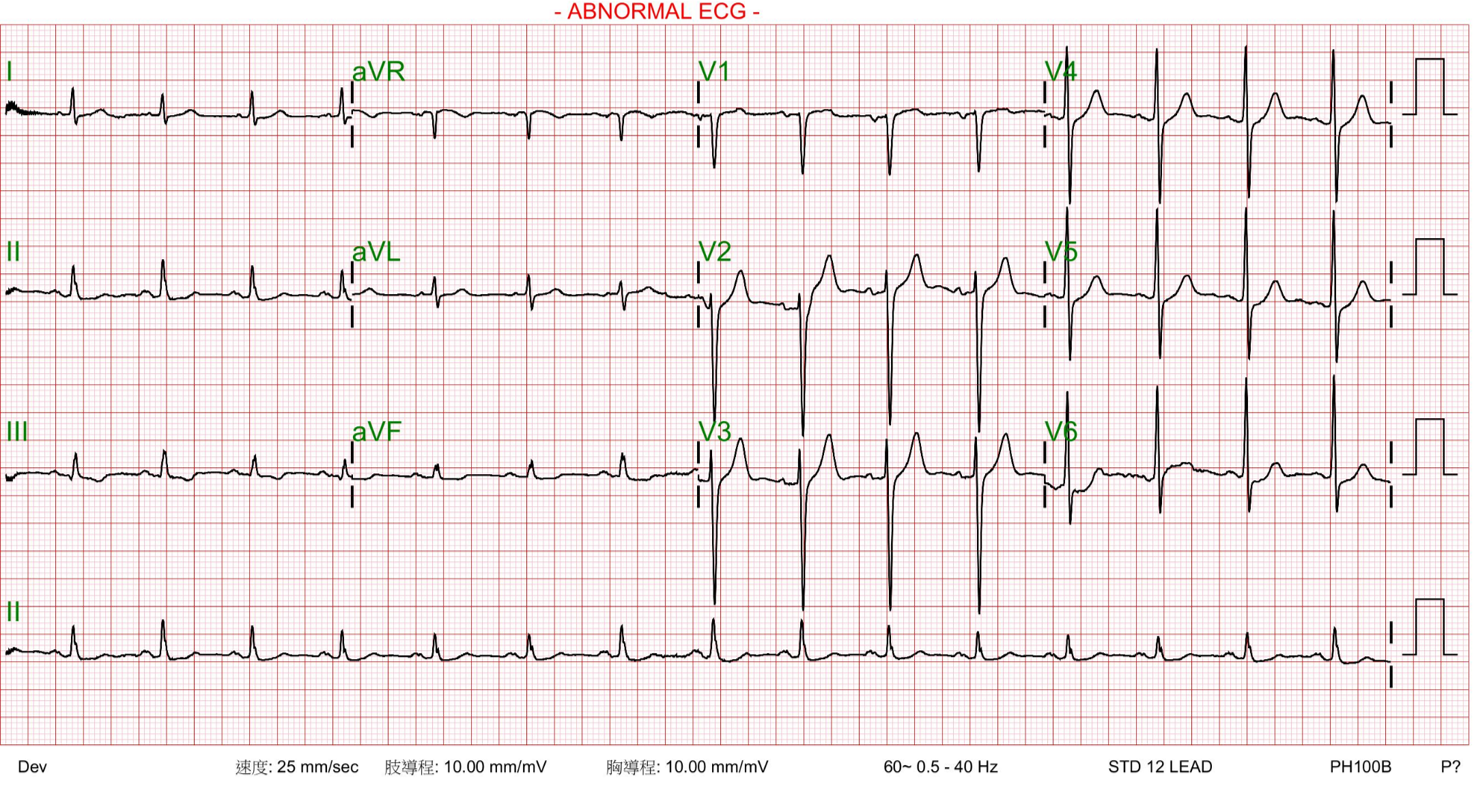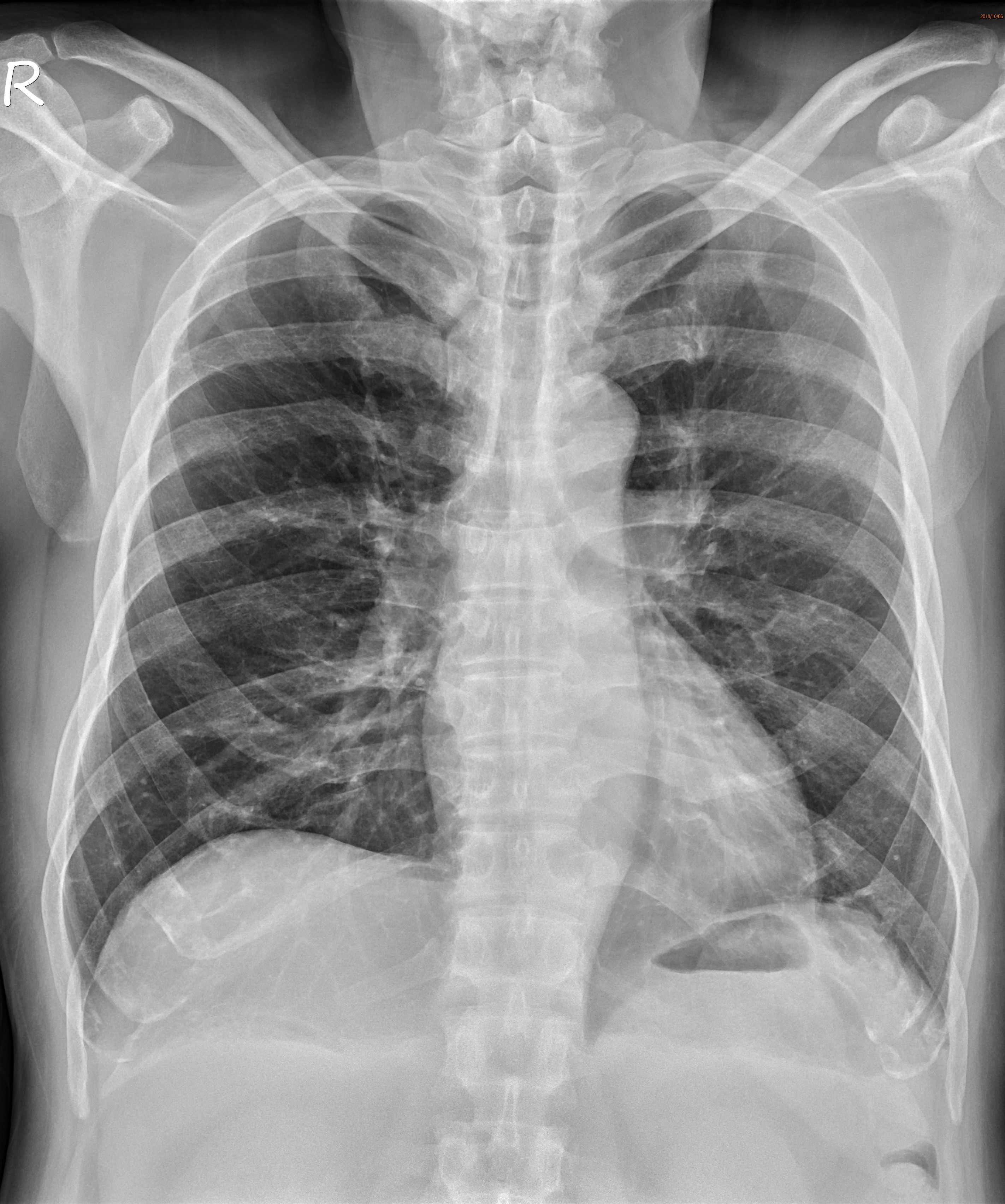 Relevant Test Results Prior to Catheterization
Echocardiography showed normal ejection fraction without regional wall motion abnormalities.

Tl-201 MPI:
Severe ischemia at inferior wall of the left ventricle ( suggest hypoperfusion degree 65~70 % of
RCA
territories)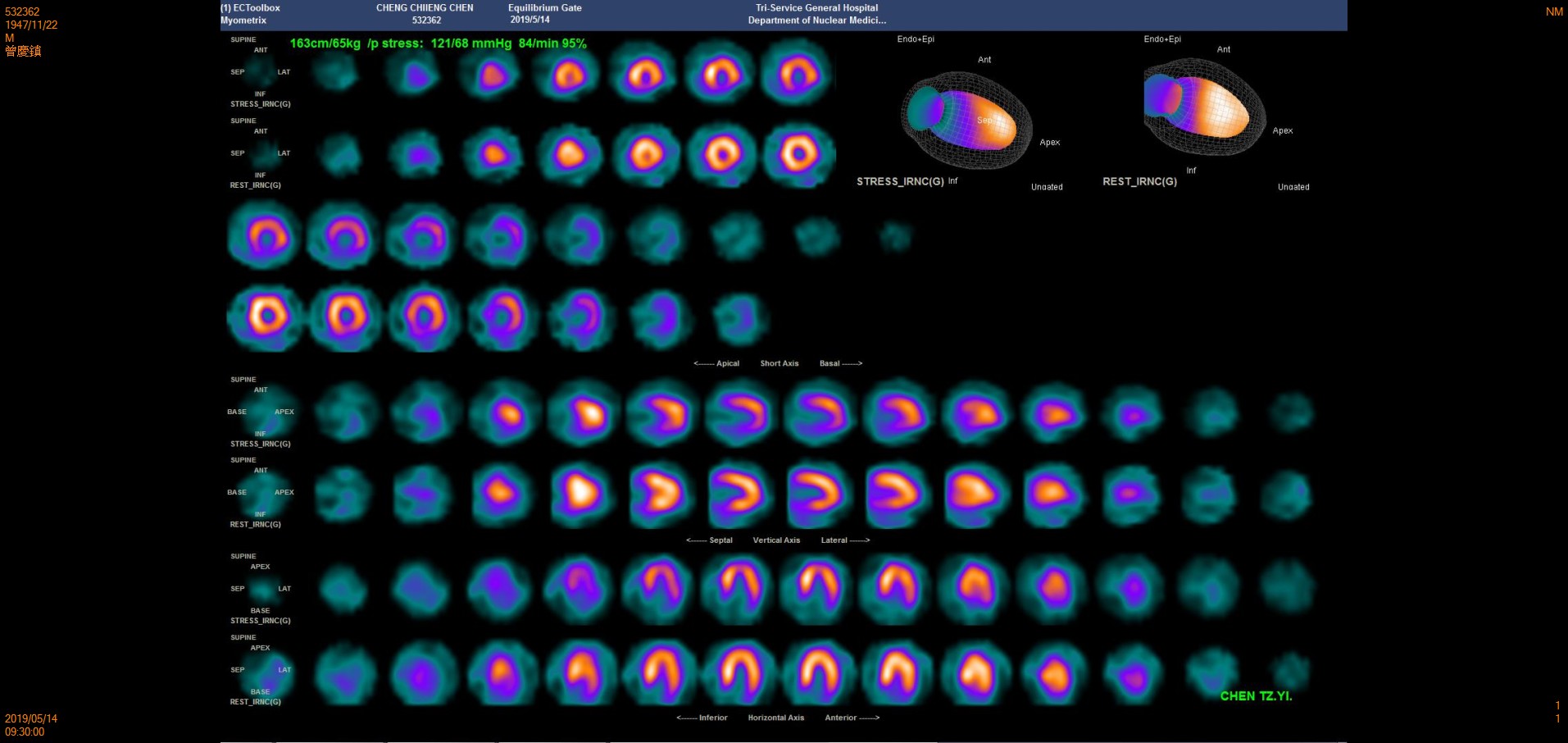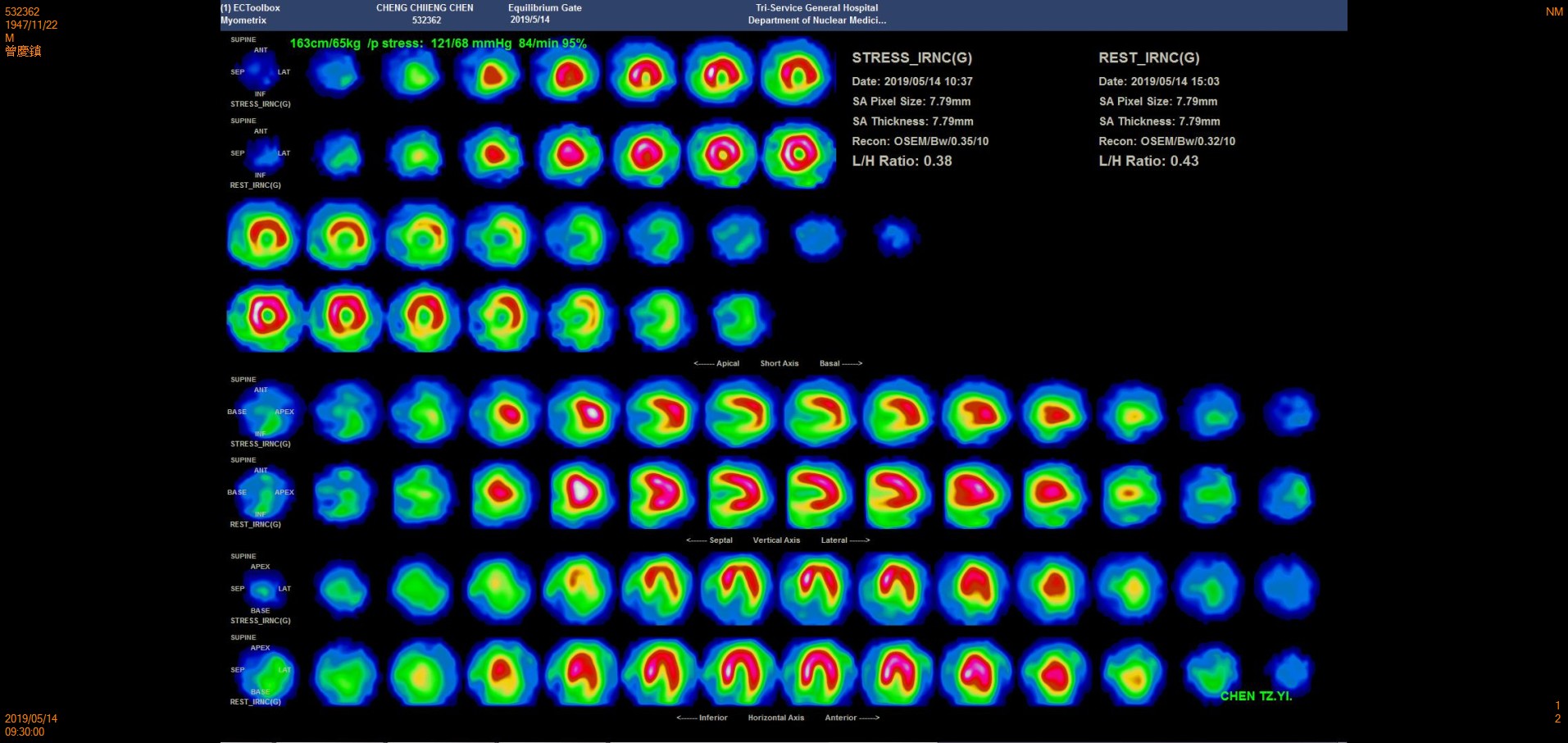 Relevant Catheterization Findings
1. Left coronary angiogram showed significant stenosis from proximal to middle part of LAD. De novo tandem lesions at proximal and distal LCX. Both LAD and LCX gave collateral flow to RCA.
2. The right coronary angiogram showed in-stent chronic total occlusion (CTO) at mid RCA, diffusely extending to distal RCA trifurcation segment. The PDA received several collateral channels from LCX and septal artery of LAD. The J-CTO score was 3.

CAG- LAO Cran.wmv

CAG- Caud.wmv

CAG- AP Cran.wmv
Interventional Management
Procedural Step
A 6Fr sheath was inserted thorough left radial artery and, left coronary artery was engaged with a 6 Fr EBU 3.0 guiding catheter. 0.014-inch SION wire was inserted into LAD and another Gaia III wire loaded in a Corsair 135cmmicrocatheter was inserted into LCX (total in-stent restenosis). Pre-dilation performed with Euphora NC 3.0 x 15 mm balloon atLAD and a Sapphire NC 2.5 x 15 mm balloon at LCX (Kissing balloon technique). Owing to difficult dilatation of LCX ostium ISR, we used a 3.0x10 mm Cutting balloon. An Ultimaster 3.5x24 mm stent was properly deployed at LM, crossing to the proximal portion of LAD. A Sequent Please 2.75x25 mm drug-coated balloon was dilated at ISR lesion of LCX stent strut. Then final kissing balloon was performed with Euphora NC 3.5 x 15 mm balloon at LADand Euphora NC 3.0 x 15 mm balloon at LCX. Final angiogram and IVUS showed that the procedure was successful.

Distal RCA stenting.wmv

Reversed CART wire過.wmv

RCA final -LAT.wmv
Case Summary
1. The rate of BMS-ISR is high, especially in multiple coronary risk factors group.2. Drug-coated balloon should be considered whether in BMS-ISR or DES-ISR.3. Cuttingballoon angioplasty was associated with some procedural advantages, such as use of fewer balloons, less requirement for additional stenting, and a lower incidence of balloon slippage.
Leave Comments
TCTAP 2021 Virtual
Apr 12, 2021
Good strategy! Congratulations on the great result!