Lots of interesting abstracts and cases were submitted for TCTAP 2021 Virtual. Below are accepted ones after thoroughly reviewed by our official reviewers. Don't miss the opportunity to explore your knowledge and interact with authors as well as virtual participants by sharing your opinion!
TCTAP C-065 . Presentation
Presenter
Ting-Wei Kao
Authors
Ting-Wei Kao1, Chin-Chou Huang2
Affiliation
National Taiwan University Hospital, Taiwan1, Taipei Veterans General Hospital, Taiwan2,
TCTAP C-065
CORONARY - Complications
Longitudinal Stent Deformation Caused by Optical Coherence Tomography Pullback in Percutaneous Coronary Intervention
Ting-Wei Kao1, Chin-Chou Huang2
National Taiwan University Hospital, Taiwan1, Taipei Veterans General Hospital, Taiwan2,
Clinical Information
Patient initials or Identifier Number
3050655-9
Relevant Clinical History and Physical Exam
A 57-year-old gentleman suffered from abrupt chest pain for 4 times this month. The most recent episode occurred 48 hours ago after drinking alcohol and lasted 20 minutes. Radiating to throat, the pain was accompanied by sweating and vomiting. He denied underlying medical illness and as a never-smoker. Baseline echocardiography was otherwise unremarkable except dilated aortic root.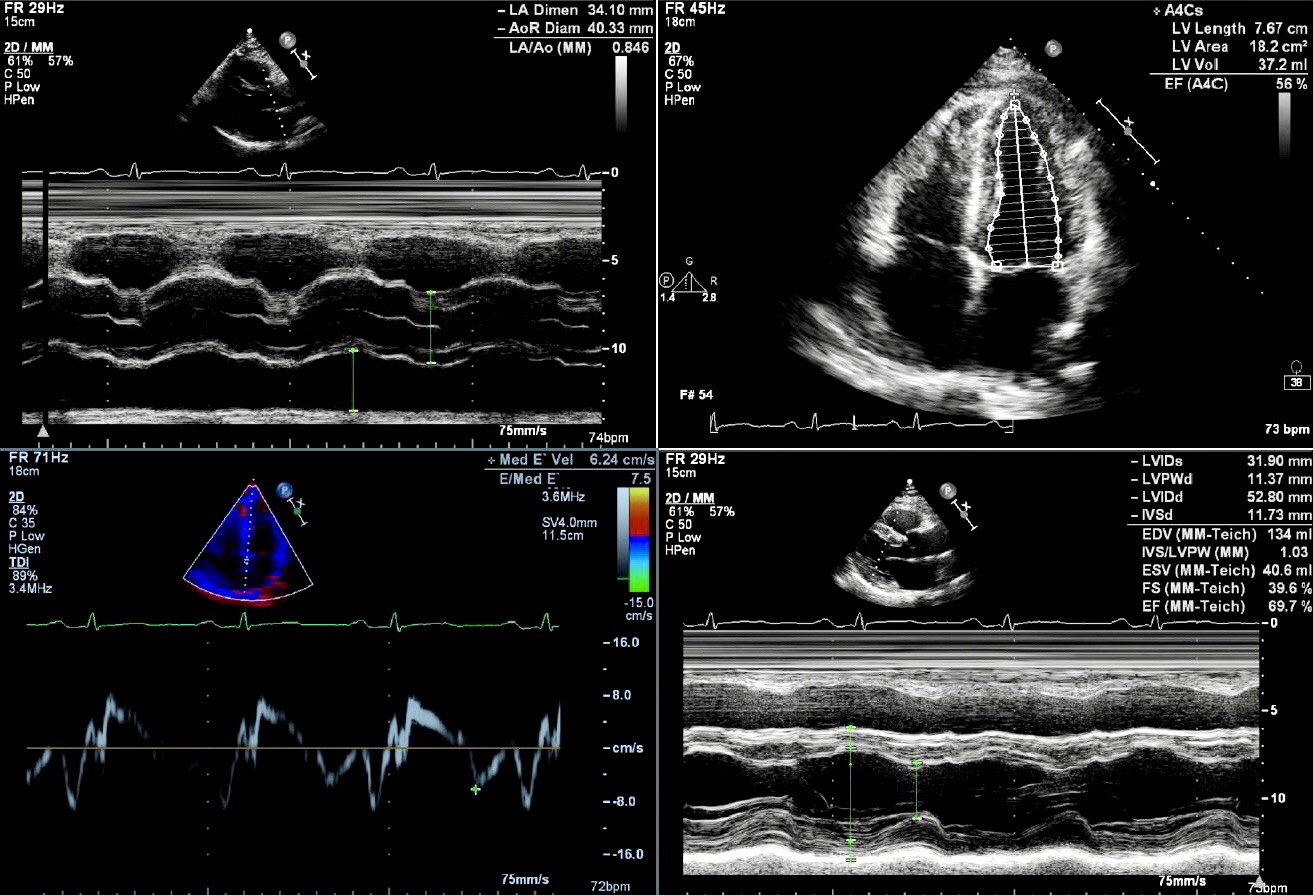 Relevant Test Results Prior to Catheterization
At emergency room, his vital signs were stable and with intact hemodynamics. Laboratory study suggested elevated high sensitivity troponin-T, while no ST-T change was documented on initial electrocardiogram. 2 days later, the patient underwent treadmill exercise test. ST elevation onset 6 minutes later, and percutaneous coronary intervention was emergently performed.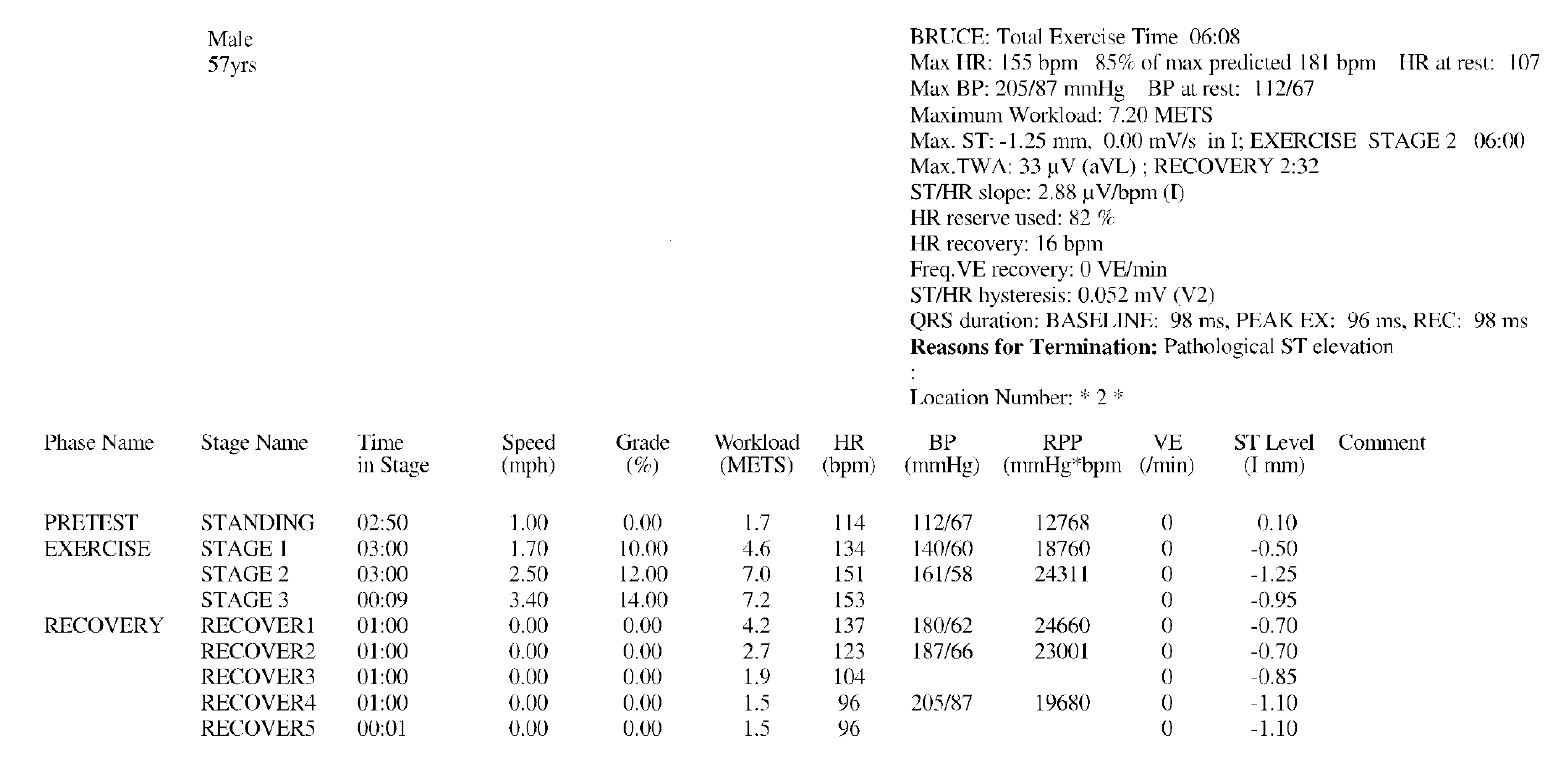 Relevant Catheterization Findings
Assessed from right femoral artery, 90% discrete stenosis at middle right coronary artery (RCA) was demonstrated by coronary angiography, and optical coherence tomography (OCT) illustrated local plaque rupture.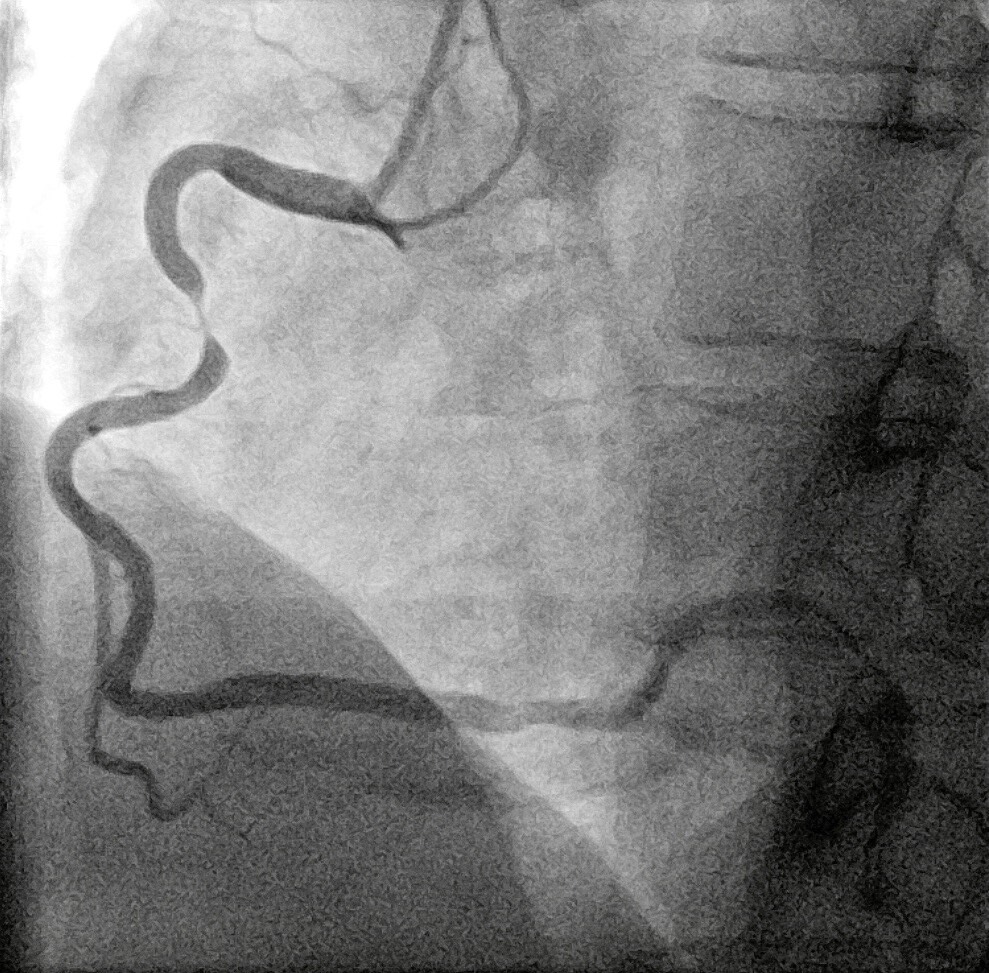 Interventional Management
Procedural Step
RCA ostium was engaged with a 4/7-French guiding catheter, followed by Fielder FC guide wire reaching distal segment after piercing through culprit lesion. Due to high thrombus burden, aspiration with Pronto LP catheter in conjunction with intracoronary administration of loading dose Aggrastate was performed. After confirmation of lesion status and landing zone by OCT [Fig A], a 3.5 mm x 28 mm drug eluting stent (Xience Sierra) was deployed uneventfully. No remarkable finding was noted while OCT pullback [Fig B]. Subsequent in-stent post-dilation with Ikaz uchi 3.0 mm x 15 mm balloon at 18 atmospheres, Accuforce 3.5 mm x 20 mm balloon at 30 atmospheres, and Accuforce 4.0 mm x 20 mm balloon at 12 atmospheres were strenuous to crossover the primary stent. OCT reassessment at this moment exhibited distal longitudinal stent deformation (LSD) [Fig C]. Fortunately, eventual TIMI III flow was realized.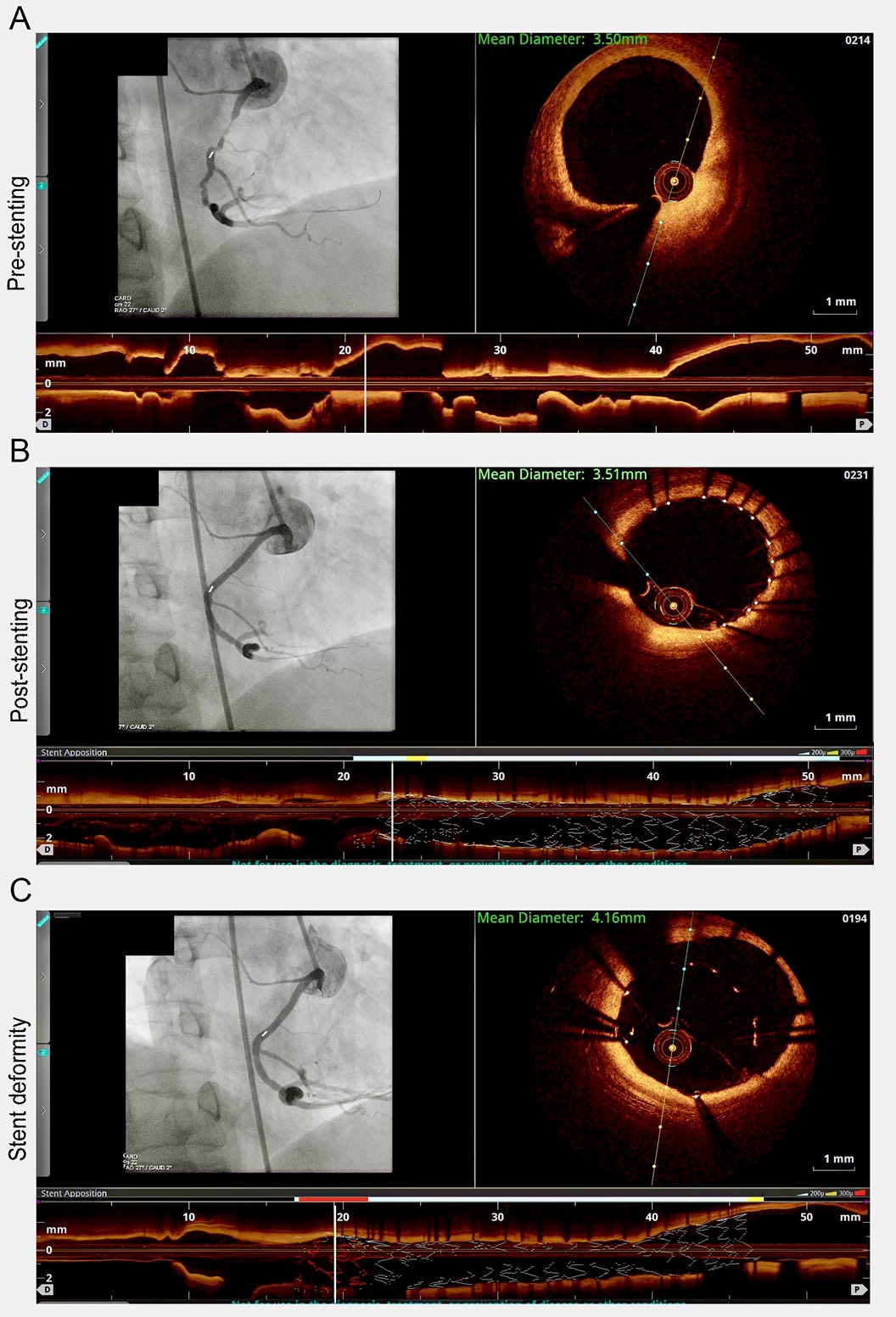 Case Summary
We published here the first LSD case owing to OCT illustration. In conjunction with stent composition and lesion characteristics, intracoronary deployment of the secondary device, including OCT, may arise LSD. Awareness of this complication is mandatory to improve successful stenting rate as well as to direct industrial refinement of future stent design.
Leave Comments
TCTAP 2021 Virtual
Apr 12, 2021
It's very well organized. Thanks for sharing!