Lots of interesting abstracts and cases were submitted for TCTAP 2021 Virtual. Below are accepted ones after thoroughly reviewed by our official reviewers. Don't miss the opportunity to explore your knowledge and interact with authors as well as virtual participants by sharing your opinion!
TCTAP C-003
Presenter
Koon Wee Koay
Authors
Koon Wee Koay1, NEE HOOI TAN, Muhamad Ali SK Abdul Kader1
Affiliation
Penang General Hospital, Malaysia1,
TCTAP C-003
CORONARY - Acute Coronary Syndromes (STEMI, NSTE-ACS)
Culprit Confusion During Primary Percutaneous Coronary Intervention: Do You Touch the Chronic Total Occlusion?
Koon Wee Koay1, NEE HOOI TAN, Muhamad Ali SK Abdul Kader1
Penang General Hospital, Malaysia1,
Clinical Information
Patient initials or Identifier Number
Mdm SNS
Relevant Clinical History and Physical Exam
Mdm SNS is a 33 years old lady who had a history of young stroke with right hemiparesis presented to a district hospital with acute onset of chest pain associated with dyspnea and sweating which lasted for 1 hour. Upon arrival at the district hospital, her blood pressure 120/80mmHg, pulse rate 96 beats per minute, oxygen saturation 98% under room air.Physical examination was normal.She was referred to Penang General Hospital for Primary Percutaneous Coronary Intervention after ECG was done.
Relevant Test Results Prior to Catheterization
ECG showed sinus rhythm and ST elevation at lead I, aVL and V2 with reciprocal changes at lead II, III and aVF.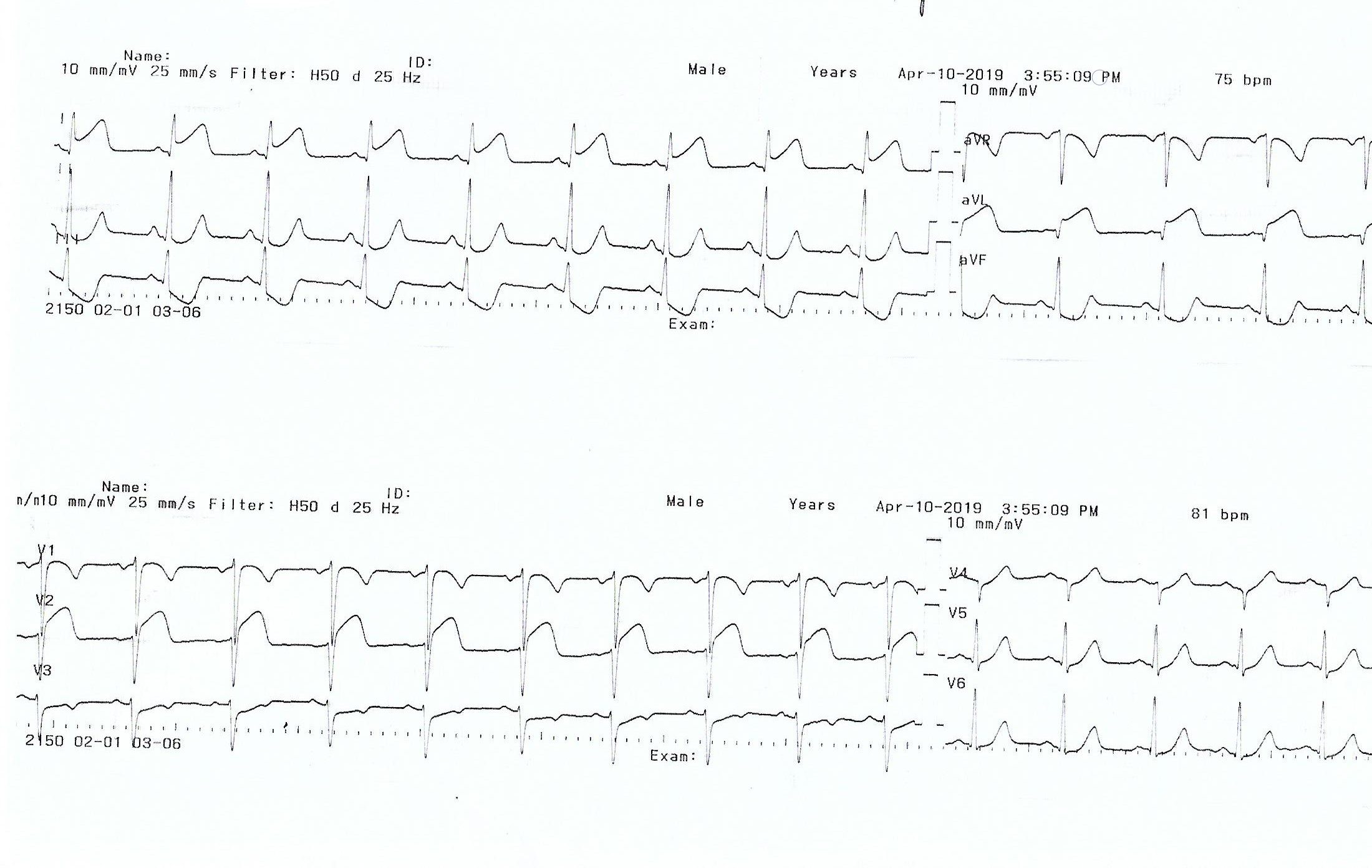 Relevant Catheterization Findings
Coronary angiography showed smooth Right Coronary Artery, smooth Left Circumflex Artery and total occlusion of Mid-Left Anterior Descending artery with TIMI flow 0.

video slide 8.wmv

video slide 9.wmv

video slide 11.wmv
Interventional Management
Procedural Step
Primary Percutaneous Coronary Intervention was done to mid-LAD.Right femoral artery puncture was done, coronary guide catheter XBLAD was used. Occluded Mid-LAD was crossed with Runthrough Floppy Wire, predilated with Tazuna balloon and stented with drug eluting stent Angiolite 3.0 x 24mm.Post stenting noticed that the stented 'LAD' artery course is 'unusual' from the LAO-Caudal view.We suspected that this might be a 'false LAD' and decided for bilateral contrast injection. Left femoral artery puncture was done. Contralateral contrast injection showed a retrograde flow to the 'true LAD'. This showed that we had stented the Proximal LAD into Diagonal branch instead of true LAD.This patient was actually having a chronic total occlusion of LAD and an acute total occlusion at Diagonal artery. This explained the ECG changes of ST elevation at lead I and aVL.We decided to open the CTO LAD as the jailed portion of LAD-Diagonal was still new.CTO LAD was crossed with Fielder XTR wire, predilated with Tazuna balloon and stented with drug eluting stent Xpedition 3.0 x 28mm through Culotte technique and finally postdilate both LAD stent and Diagonal stent with kissing balloon inflation technique.Accuforce balloon was used to postdilate the LAD stent and Lacrosse balloon was used to postdilate the Diagonal stent during the kissing balloon inflation.The final result was acceptable, achieved TIMI 3 flow over both LAD and Diagonal.Patient was subsequently discharged well after day 5.

video slide 17.wmv

video slide 25.wmv

video slide 39.wmv
Case Summary
We need to have high index of suspicion when coronary angiography showed 'unusual' artery course. Multiple angiographic view is vital whenever there is doubt. The first stent was actually at Diagonal branch instead of LAD. The true LAD is a chronic total occlusion confirmed by contralateral contrast injection.Treating a Chronic Total Occlusion in acute STEMI can be challenging and it can be done in certain case when patient is hemodynamically stable and the operator has experience in managing chronic occlusion. For this case, it will be more difficult to cross the Chronic Total Occlusion of mid-LAD in the future once the jailed proximal LAD- Diagonal stents endothelialized.
Leave Comments
TCTAP 2021 Virtual
Apr 12, 2021
Great case study! It's very interesting and educational.