TCTAP BEST YOUNG SCIENTIST AWARD
You can be next TCTAP young scientist!


In keeping with its mission to support the young physicians who need to develop and enrich their academic and clinical work experience, TCTAP is presenting TCTAP Best Young Scientist Award annually in the amount of 5,000 USD.

Following young cardiologists are eligible to be granted TCTAP's academic award.
| | |
| --- | --- |
| • | Career within 5 years of the start of their fellowship or training period |
| • | Those who can share their own patient care experience with knowledge and understanding in the clinical practice in TCTAP |
| • | Those who can introduce new, advanced solutions to complicated issues in TCTAP |
Benefits
The winner will be
| | |
| --- | --- |
| • | Invited as Faculty of the Year 2014 |
| • | Given a scholarship of 5,000 USD |
| • | Invited to the conference ceremony in the Main Arena during TCTAP 2014 |
Qualifications and Procedures
This award will be bestowed on a winner after the conference, from cases or abstracts selected by scientific committee as described in these qualifications and procedures.
Eligible candidates must be chosen by the scientific committee to obtain an opportunity to present their cases or abstracts in any of the following sessions during TCTAP 2013.
- Late Breaking Clinical Trials
- Moderated Abstract Competition
- Moderated Complex Case Competition
- Challenging Case Competition with Experts' Review
Eligible candidates must be selected by a panel of experts as the best case or abstract of the session.
The selected best case or abstract presenters must provide a Self-Introduction, Curriculum Vitae (CV) and Letters of recommendation after the conference to the secretariat of TCTAP.
Award notification was send on November 25, 2013 to the winners along with official faculty invitation to TCTAP 2014.
1st Best Young Scientist Award:


Nikos Werner, MD (Med, Klinnik II, Germany)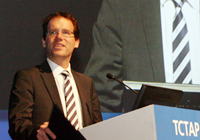 Nikos Werner, MD (Med. Klinik II, Germany), who presented his TAVI case last year, was presented with the Best Young Scientist Award in recognition of his accomplishments in interventional cardiology.



See the details
Contact
If you have any questions, please feel free to contact us at emiliecho@summitmd.com.